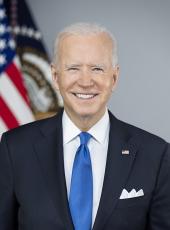 What They Are Reading in the States: Local Officials Join President Joe Biden and Attorney General Merrick Garland in White House Meeting to Reduce Gun Violence
Yesterday, President Joe Biden and Attorney General Merrick Garland met with local leaders, including law enforcement, elected officials, and a community violence intervention expert, to discuss the efforts to address gun violence in cities across America.
The meeting followed the June announcement of the Administration's Comprehensive Strategy to Prevent and Respond to Gun Crime and Ensure Public Safety, which implements measures to reduce violent crime through investments in community policing, community violence intervention programs and efforts to restrict the flow of guns in and out of communities.
In attendance were Washington, D.C. Mayor Muriel Bowser, San Jose Mayor Sam Liccardo, Brooklyn Borough President, former New York Police Department Captain and Brooklyn Borough President Eric Adams, Memphis Police Chief C.J. Davis, Wilmington Police Chief Robert Tracy, Superintendent of the Chicago Police Department David Brown, Newark Police Lieutenant Anthony Lima, and community-based public safety advocate Aqeela Sherrills.
Read the clips below:
Syracuse.com: White House touts Syracuse for using Covid aid to fight gun violence
[By Mark Weiner, 7/12/21]
Washington – Three top advisers to President Joe Biden today singled out Syracuse, Utica and Watertown as good examples of how cities can use federal Covid relief funds to battle gun violence and crime.
The Upstate New York cities were included in a memo that encouraged local and state governments to use some of the $1.9 trillion in aid from the American Recuse Plan on efforts to reduce crime.
The White House made the memo public today before Biden met with mayors, local leaders and law enforcement officials to discuss ways to counter gun violence and rising crime in some cities.
All told, White House advisers Susan Rice, Gene Sperling and Julie Rodriguez praised nine cities for using some of the $350 billion in Covid relief aid for state and local governments on new or expanded efforts to reduce gun violence.
The advisers said cities are already using the money to hire more police officers and set up more training and accountability programs for community policing.
"The administration has clarified that these funds can also be used to support evidence-based community violence intervention programs, summer employment and educational opportunities, and other investments that we know will reduce crime and make our neighborhoods safer," the memo said.
The memo touted Syracuse for its plan to spend $4 million in American Rescue Plan aid for public safety by reactivating a gunshot detection system known as ShotSpotter, collaborating with mental health providers to assist with mental health-related police calls, and to increase police transparency.
Syracuse Mayor Ben Walsh asked police to reactivate the city's ShotSpotter technology in April, eight months after it was canceled in a flurry of pandemic-related budget cuts. The technology helps police locate and track gunfire in the city.
Utica won praise for its plans to spend some Covid relief money on gun violence prevention programs. Watertown was singled out for using some of the federal aid to rehire four police officers who lost their jobs during the pandemic.
"We know that the rise in violent crime over the last 18 months is a complex and multi-dimensional challenge for communities around the country, and that it requires a comprehensive response," the White House advisers wrote. "And we know that cities and states need a strong partner in the federal government to get that done. That's why we've been heartened to see communities moving already to use the funding in the Rescue Plan to bolster public safety."
Among those invited to meet with Biden at the White House today is Brooklyn Borough President Eric Adams, New York City's Democratic mayoral nominee.
The other cities citied as good examples by the White House for using some of their Covid aid to address violence were Philadelphia, Cincinnati, Kansas City, Albuquerque, Tucson and Walla Walla, Washington.
Fox 13 Memphis: MPD Chief meets with President Biden on gun crime intervention plan
[7/12/21]
MEMPHIS, Tenn. — The White House is stepping in to help reduce gun crime in Memphis and across the country.
President Joe Biden's new plan focuses on allowing cities to use the $350 billion of the American Rescue Plan for immediate police needs like hiring and training.
Biden held a roundtable discussion Monday with Memphis' new police Chief C.J. Davis and other law enforcement officials from across the country about reducing violent crime.
"We have to find balance. We can't continue to arrest crime away. We need to get guns off the street, hold people accountable and ensure that our communities get the kind of protection they need," said Chief Davis.
The President's plan includes giving police departments federal tools to address summer violent crime, investing in more community violence interventions, and expanding summer programs and job opportunities.
Chief Davis said there should be some correlation between the President's plan and the George Floyd Justice in Policing Act to maximize the impact.
"Right now, black and brown communities are being terrorized by gun violence. We need to ensure we give people an opportunity to stay out of the criminal justice system and those individuals who continue to commit violent crime they need to be dealt with by the criminal justice system," said Chief Davis.
White House Deputy Press Secretary Karine Jean-Pierre said the administration wants to give cities the tools they need to make the most impact.
"One of the things that we have seen especially with community violence programs if it's done correctly, if it's done hand-in-hand and there is enough funding there, it actually, we see a difference. We see crime coming down by 60 percent. That's what the data shows us," said Jean-Pierre.
Memphis is one of several cities already committed to using this funding to improve public safety and expand community services.
Part of the city's plan includes hiring and training more police officers and paying overtime for officers.
Councilman JB Smiley said that's a good start, but in addition to more officers on patrol, he wants the department to hire mental health officers.
"Not just to deal with folks in the community who are having mental health crisis but also to deal with the officers to make sure that they are in addition to being physically fit, mentally fit to do the job," he said.
Some of the money will be used for youth programs and hiring and training staff to work in violence intervention.
Smiley said some of those programs shouldn't be limited to afterschool or summer activities.
"What about teaching the young people critical thinking skills, conflict resolution skills," said Smiley. "I think we should dedicate to creating vital programs specifically for youth as opposed to a program with entire violence."
Councilwoman Jamita Swearengen said this is also an opportunity to reinvest in community policing.
"One thing we need to do is restore relationships, and there is a distance between the constituents in the neighborhoods. They don't feel that they're friends, and we need to restore that," said Swearengen.
KTVU: Biden meets with San Jose mayor over crime
[By Henry Lee, 7/12/21]
Washington, D.C. - San Jose Mayor Sam Liccardo met with President Biden at the White House on Monday to discuss ways to crack down on gun violence.
"It was a very robust meeting," Liccardo said after emerging from the meeting in the Roosevelt Room.
"The president is genuinely engaged with local communities, trying to understand what's happening on the ground and looking proactively for partnerships that will enable us all to reduce gun violence," the mayor said.
The meeting happened less than two months after the deadly mass shooting at a VTA railyard in San Jose.
"It's clear that creative leaders you see standing around me have been leading innovative efforts to tackle violence in their own communities," said Liccardo, flanked outside the White House by other mayors and city leaders.
San Jose has approved sweeping gun-control measures, including requiring gun buyers to buy liability insurance and require gun sales to be recorded on video.
For the president, what he wanted from the mayors was simple: "Hear directly from each of them about reducing violent crime, particularly gun violence in our communities," Biden said.
The president he was concerned with "stemming the flow of firearms used to commit violent crimes."
Biden said his plan includes federal funding for law enforcement, "to be able to hire police and pay them overtime in order to advance community policing."
But he said intervention and social services are another part of his plan, providing housing, job support and mental health-and drug treatment to help steer those away from violence.
"We utilize trusted community members and encourage more community policing, we can intervene before the violence erupts," the president said.
Karine Jean-Pierre, White House principal deputy press secretary said, "This surge and rise of crime these last 18 months is unacceptable, and so what the government has done, the federal government has done is come up with a holistic, whole-of-government approach."
Mercury News: What happened during Mayor Sam Liccardo's meeting with President Biden on gun violence?
[By Maggie Angst, 7/12/21]
Less than two weeks after San Jose leaders made moves to enact a first-in-the-nation measure to make firearm owners pay for gun violence, Mayor Sam Liccardo traveled to the White House on Monday to meet with President Joe Biden to discuss strategies to combat a surge in gun violence across the country.
Alarmed by the rise in such crimes, Biden touted his new federal crime prevention plan as he pushed back on progressive calls to defund the police and instead urged more funding for law enforcement.
The president hosted a handful of big city leaders, who offered federal officials insight into the approaches they're taking to reduce the harm of gun violence in their own cities during a two-hour session that the mayor of San Jose described as "an exciting moment." Attorney General Merrick Garland, Washington D.C. Mayor Muriel Bowser, New York City favorite mayoral candidate Eric Adams and several police chiefs, including Chicago Police Supt. David Brown, also attended.
"This president is genuinely interested in what is happening in local communities and what new ideas they're trying," Liccardo said in an interview after the meeting. "Because while there might be significant roadblocks to get new laws passed by Congress, there is a lot that can be done through executive order and reallocating resources to local communities."
Monday's meeting in Washington D.C. came about six weeks after the Bay Area's deadliest mass shooting where nine employees at a VTA rail yard in San Jose were gunned down by their long-disgruntled colleague.
Although the FBI does not release full crime statistics until September, the National Commission on COVID-19 and Criminal Justice estimates that the U.S. homicide rate rose by 30% last year and gun assaults increased by 8% in big cities. Black and Brown Americans continue to be disproportionately harmed by gun violence. In Oakland, for instance, the city so far this year has seen a dramatic rise in gun crimes, including homicides, shootings, armed robberies and even mass shootings.
Biden last month laid out a plan for tackling gun violence that largely called for investing in, rather than defunding, the police, which is a stance Liccardo also has taken in San Jose. Both have distanced themselves from calls by some public safety reform advocates to spend more money on mental health and other social services instead of police departments.
As part of Biden's strategy, he is encouraging jurisdictions across the country to draw on their designated $350 billion in coronavirus relief funds to support law enforcement such as hiring more police officers and crafting new crime prevention programs. The funds can also be used to pay for programs and jobs aimed to reach at-risk youths before they head down a path of crime and violence.
In San Jose, the city has allocated $20 million of its federal COVID relief funding to create a program called Resilience Corps, whose goal is to employ hundreds of young adults in high-poverty and high-unemployment neighborhoods in jobs such as tutoring, food distribution, wildfire safety and disaster resilience.
"We know when we utilize trusted community members and encourage more community policing, we can intervene before the violence erupts," Biden said during the meeting.
Since the May 26 fatal mass shooting at a San Jose VTA light rail station, San Jose leaders have taken several bold steps related to gun reform.
In mid-June, they passed a new law that requires gun retailers to video-record all firearm purchases, making San Jose the largest city in California and among the first major cities in the United States to do so. Then just two weeks later, the City Council approved the mayor's sweeping gun control plan, most notably forging ahead with plans to become the first U.S. city to mandate that gun owners carry liability insurance and pay the city a fee to spare taxpayers the financial toll of gun violence.
Liccardo said he used Monday's meeting to provide the president and his senior advisors with more details about San Jose's gun control reforms but also to hear about methods and programs that other cities are attempting.
"This is a reality that is afflicting every big city in the nation," he said in an interview. "And it's going to take a lot of collaboration. Certainly the federal government can help and cities can learn from one another about the best ideas that are having the most impact."
[…]
Delaware News Journal: As Delaware's gun violence climbs, Wilmington police chief heads to White House to strategize
[By Esteban Parra, 7/12/21]
Wilmington Police Chief Robert Tracy was among several law enforcement officers, elected officials and a community leader who gathered at the White House on Monday to discuss President Joe Biden's comprehensive strategy to reduce gun crimes.
Biden said he wanted to meet with these leaders to discuss the strategy, which includes a "zero-tolerance policy" for rogue gun dealers and a new focus by the Justice Department to try to stop the illegal sale of firearms. Biden also said he wanted to hear from the group gathered Monday in the Roosevelt Room on what the federal government can be doing to help communities facing this gun violence.
"There's a lot of more to my strategy, but that's at the core," Biden said as Tracy sat to his left. "It's about coordinating at a federal, state, local level. That's what ultimately we're going to talk about today."
[…]
"In our community, we have established strong multi-jurisdictional partnerships and work closely with our local, state and federal counterparts to recover illegal firearms and to suppress gun violence," Tracy said. "We have adopted proven crime strategies and embraced some of the latest technological developments, leveraging the National Integrated Ballistic Information Network (NIBIN) as well as Group Violence Intervention and a host of strategies to blend traditional law enforcement methods with intervention, prevention and social services to interrupt the shooting cycle and prevent gun crime.
"We look forward to continuing to work with all of our partners," he added, "as we address this critical issue confronting communities across the country."
[…]
As part of the president's comprehensive strategy, cities and states can use their portions of $350 billion in direct aid from Biden's COVID-19 rescue plan, approved by Congress in March, on public safety efforts, including hiring more police officers.
Mayor Mike Purzycki said he wants to tackle the root causes of crime by devoting at least $30 million of the roughly $55 million the city will receive in federal relief funds to improve neighborhoods.
Chicago Sun Times: Police Supt. Brown at White House said AG Garland pledged 'significant' help to fight crime in Chicago
[By Lynn Sweet, 7/12/21]
WASHINGTON — Chicago Police Supt. David Brown, after a White House meeting with President Joe Biden, Attorney General Merrick Garland and other officials to discuss the president's crime fighting strategies, said Garland made a "significant commitment" to help the city where he was born.
With Chicago battling unrelenting gun violence, Brown said Garland promised whatever the city needs from the Justice Department, "We would get those resources."
Brown made a day trip from Chicago to the White House as Biden is emphasizing his crime-prevention plans and the extra money being pumped to local governments, including Chicago, from COVID relief bills that could be used to hire more police and pay for overtime.
You get that — Biden is for funding the police — not defunding the police.
The slogan "defund the police" embraced mostly by the far left nationally and in Chicago has been and continues to be used by Republicans and former President Donald Trump as a potent rallying cry against Democrats.
After the meeting, Brown and others who huddled with Biden and Garland talked to reporters outside the West Wing.
I asked Brown about Garland. When Garland was born, his parents lived near 79th Street and Jeffery Boulevard on the South Side. He grew up in north suburban Lincolnwood.
Brown said Garland mentioned his Chicago connection when they talked before Biden's meeting. On June 23, Biden unveiled a comprehensive crime-fighting package. Chicago was one of five cities to get a federal "strike force" within a month, with a focus on gun trafficking.
It looks like some elements of the strike force will soon be announced. "We'll be rolling out something in the coming days," Brown said.
Garland, said Brown, pledged to "help out with Chicago and he offered whatever we needed from DOJ, we would get those resources," whether it be the strike force or additional prosecutions or "fast-tracking investigations. So there was a significant commitment."
Brown said Biden and Garland had a "sense of urgency" when it came to addressing Chicago's violence and offering "what can we do now, adding resources now, to have an impact on violence in our city."
[…]
"This president is making it clear he's going to redefine the ecosystem of public safety, and that includes identifying the role of police, schools, families, resources, employment. This is where we need to go as a country, and I have to take my hat off to this president. Why did it take so long before we heard the gunshots that families were listening to and hearing every night?"
[…]
CBS Chicago: Police Supt. David Brown Meets With President Biden At White House Amid Spike In Chicago Violence; New Plan Will Focus On Gun Trafficking
[By Chris Tye, 7/12/21]
CHICAGO (CBS) — Chicago Police Supt. David Brown was headed back to Chicago late Monday after meeting with President Joe Biden in Washington to talk about the city's crime problem.
Just this past weekend, 48 people were shot and 11 of them were killed. And on Monday, President Biden and U.S. Attorney General Merrick Garland vowed to help with a new approach.
[…]
"One of the things we discussed was the sense of urgency around violence," Brown said at the White House following his meeting with President Biden.
[…]
The message from the White House, as Brown put it, was, "We can start the investigative process both on tracing guns, but focus on gun trafficking."
It has been a month since the Department of Justice announced the formation of so-called Strike Teams to target gun violence in cities like Chicago. The mayor says the rollout of the Strike Force program expected any day, and intra-state gun trafficking is what they hope to snuff out.
"Making serious consequences a thing that happens in our cities with gun trafficking," Brown said.
When police retrieve guns committed in crimes in Chicago, it is often from Indiana or the Deep South.
"That pipeline up I-65 is going to be critically important – so Gary, Indianapolis, and beyond," Mayor Lightfoot said. "Making sure that the U.S. Attorneys, ATF, and other federal resources are really focused on stopping gun trafficking will make a world of difference here in the city."
"Staggering" and "sobering" is how Deputy Attorney General Lisa Monaco described this summer of violence nationally.
At the White House meeting Brown joined three other police chiefs and other elected and community leaders in a meeting with President Biden and Attorney General Garland – including Washington, D.C. Mayor Muriel Bowser; San Jose Mayor Sam Liccardo; Brooklyn Borough President and Democratic New York City mayoral nominee Eric Adams; Memphis Police Chief C.J. Davis; Wilmington, Delaware Police Chief Robert Tracy; Newark Police Lt. Anthony Lima; and Community Based Public Safety Collective co-founder Aqeela Sherrills.
Details on how the strike teams will work being kept under wraps, but it is essentially a deeper coordination between authorities in multiple states. It is an effort to work in lock-step to fast track investigations and prosecutions of those trafficking weapons.
[…]
WTOP: At White House, Bowser seeks help in curbing gun violence
[By Jack Pointer, 7/12/21]
D.C. Mayor Muriel Bowser and other urban leaders met with President Joe Biden at the White House on Monday to discuss efforts to prevent gun violence.
The mayor advocated for more assistance, she said in a statement Monday, and singled out other opportunities in which the federal government can better support public safety, such as authorizing the mayor to deploy the D.C. National Guard.
The meeting came amid an overall drop in violent crime in D.C., yet an increase in gun violence. Per the District, 2% of all city blocks account for 41% of all of gunshot-related crimes.
So, the District is employing what it calls a "whole-of-government approach," which comprises police-based strategies — such as a gun-recovery unit and the department's summer crime initiative — as well as hospital-based and community-based intervention.
Federal funding would be part of that. Under Bowser's proposed budget, the District would invest over $214 million in federal and local money to gun-violence prevention and related services over the next four years.
Of this, for example …
$13.8 million would be spent on youth safety initiatives.
$5.6 million would create over 100 Department of Public Works jobs for at-risk people.
$7 million would help D.C.'s departments of Behavioral Health, Transportation and Public Works respond to nonemergency 911 calls "for mental health distress, minor traffic crashes and parking complaints."
$9 million would be used for capital investments in priority neighborhoods.
Nearly $2 million would be spent on expanded recreation opportunities.
"It is encouraging to have a president and attorney general committed to working with local leaders to maximize federal resources deployed in cities to address not only law enforcement strategies, but also community violence prevention strategies," Bowser said Monday.
WUSA: Mayor Bowser Seeks President Biden's Help as DC Hits 100 murders
[By Bruce Leshan, 7/12/21]
WASHINGTON — The death of a 45-year-old man led D.C. to hit a sad milestone Friday night: Willie Parker became the 100th person to be killed in 2021 in the District.
[…]
D.C. Mayor Muriel Bowser was at the White House Monday, joining President Biden and local leaders from around the country who are scrambling to deal with a surge in murders in a number of cities.
The president said one key is stemming the flow of firearms used to commit violent crimes.
"You and I, mayor, have talked about this before," he said, nodding to Bowser.
Biden pointed to billions in the American Rescue Plan that state and local governments can use to put more officers on the street, including $59 million for D.C. to help reduce gun violence and build safer neighborhoods.
The White House said $3.4 million will be used to hire 100 new police cadets, $11.4 million to help returning citizens and $7.8 million for more violence interrupters.
"People care about safety, they care about fair policing and justice, and they care that the police and the community work together," Bowser said.
[…]
For many victims, there's a sense that police and political leaders need to do much more. The White House is requesting $300 million more in next year's budget for community policing, and $750 million more for federal law enforcement.
Joseph R. Biden, What They Are Reading in the States: Local Officials Join President Joe Biden and Attorney General Merrick Garland in White House Meeting to Reduce Gun Violence Online by Gerhard Peters and John T. Woolley, The American Presidency Project https://www.presidency.ucsb.edu/node/337017