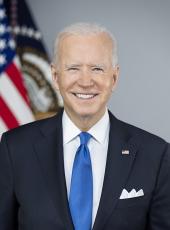 What They Are Reading in the States: Heeding President Biden's Call, Eli Lilly Caps Insulin at $35
Across the country, local news organizations are highlighting the announcement by Eli Lilly to cap out-of-pocket expenses for its insulin products at $35 a month, heeding calls from President Joe Biden for drugmakers to lower prices and cap out-of-pocket expenses for insulin for all Americans.
Eli Lilly's announcement follows President Biden's historic Inflation Reduction Act, which last year capped insulin prices at $35 a month for seniors on Medicare with diabetes. The announcement also comes on the heels of President Biden's powerful State of the Union address, in which the President made clear that this life-saving benefit should apply to everyone, not just Medicare beneficiaries.
This action, driven by the momentum from the Inflation Reduction Act, could benefit millions of Americans with diabetes in all fifty states and U.S. territories. The President continues to call on Congress to finish the job and cap costs at $35 for all Americans.
Read below for a sampling of what Americans are reading in the states:
Nevada
Las Vegas Sun: Thanks to Biden, road to affordable health care in US has one less barrier
Add another "W" to President Joe Biden's policy win total after a combination of public pressure and Biden's Inflation Reduction Act (IRA) led drug maker Eli Lilly to announce steep cuts in the cost of insulin.
Alabama
AL.com: More than half a million Alabamians could benefit from insulin price cap, White House says
This morning, officials with the White House urged lawmakers to back efforts to cap all insulin costs at $35 per month. Eli Lilly, one of the largest drug makers in the country, announced yesterday it would decrease costs by 70 percent and heed President Joe Biden's State of the Union call to cap prices at $35.
Arizona
KGUN-TV (Tucson, AZ): Insulin costs lowered by major manufacturer Eli Lilly
On Tuesday insulin prices for one of the largest manufacturers capped all out-of-pocket expenses at 35 $. The Biden administration and other democrats have been pushing for lower costs, and insulin provider Eli Lilly acted.
California
San Francisco Chronicle: Lilly aims to cap insulin at $35 per month. What does that mean for consumers?
About 85 million Americans are on Medicaid, including 13 million in California, according to federal figures.
Florida
Bay News 9 (Spectrum Tampa, FL): Central Florida nonprofit welcomes insulin price slash for diabetics
Eli Lilly's announcement comes as President Joe Biden continues to put public pressure on drug companies to reduce prices for diabetes care. In an estimate distributed Thursday, the White House says more than 10% of Floridians over the age of 18 have diagnosed diabetes, nearly 2 million people.
Action News Jacksonville: Insulin manufacturer announces 70% cut on insulin products and $35 monthly cost cap
This announcement comes as President Joe Biden has asked lawmakers to support extending a $35 cap on out-of-pocket insulin to Medicare recipients. But now that Eli Lilly, a major company, has decided to act, Todd hopes others will follow.
Georgia
Atlanta Journal Constitution: Democrats celebrate as Eli Lilly announces $35 insulin cap for all customers
In his State of the Union address last month, President Joe Biden also called on Congress to approve McBath's and Warnock's proposals. "There are millions of other Americans who do not — are not on Medicare, including 200,000 young people with Type 1 diabetes who need these insulin — need this insulin to stay alive," the president said. "Let's finish the job this time. Let's cap the cost of insulin for everybody at $35."
Indiana
Indiana Daily Student (Bloomington IN): Eli Lilly to cap out of pocket price of insulin at $35
Eli Lilly's price reduction is consistent with the Biden administration's Inflation Reduction Act, which also capped the cost of insulin at $35.
Louisiana
KPLC (NBC Lake Charles, LA): Medicare patients grateful for insulin price cap, hope to see it expanded
The new cost of insulin could be beneficial for millions of Americans on Medicare, thanks to President Joe Biden's historic Inflation Reduction Act.
Missouri
KSHB-TV (NBC Kansas City, MO): Diabetics celebrate $35 insulin cap, in some cases
Kansas Rep. Sharice Davids, D-District 3, pushed for the passage of the Inflation Reduction Act.
She says the focus is now on lowering costs for everyone, which President Biden addressed in his State of the Union speech.
North Carolina
Queen City News: Eli Lilly news a major relief for insulin users
Eli Lilly, one of the leading manufacturers of insulin, capped out-of-pocket costs at $35. This comes after President Biden asked for the move last year, and it partially became law for Medicare patients. "We're delighted to see the industry heading the President's call and lowering their prices in response to pressure from the White House and stakeholders across the country to make drugs more affordable for people," said Christen Linke Young, deputy assistant to the President for Health and Veteran Affairs.
Virginia
VA: WSET (ABC Lynchburg, VA): How many Virginians could potentially benefit from Eli Lilly's insulin price cap?
Drugmaker Eli Lilly has chosen to cut some insulin prices, capping out-of-pocket costs at $35.
President Joe Biden has praised the move, using it to highlight the Inflation Reduction Act capping insulin prices for seniors on Medicare last year.
Texas
KENS 5 (San Antonio, TX): Needed affordable insulin? Read this now.
President Biden signed the Inflation Reduction Act of 2022 which caped insulin prices for people on Medicare D put people on private insurance plans could still have different rates. Then, on Wednesday, Eli Lilly and Company announced "price reductions of 70% for its most commonly prescribed insulins and an expansion of its Insulin."
Local Media Conglomerates
Nexstar: Lawmakers say there's still more to do after Eli Lilly's insulin cap announcement
Last year, Congress tried and failed to pass a law limiting insulin costs, but they did pass a provision to cap the price of insulin for seniors on Medicare. "We were able to stand up to big pharma and achieve lower costs for the American people through legislation that Congress passed this year," Deputy Assistant to the President for Health and Veterans Affairs Christen Linke Young said. "Today's action is really building on that momentum."
Gray TV: Insulin price cap helps
The decision to cap the price of insulin puts Eli Lilly in compliance of a provision in the Inflation Reduction Act, but does so for all, not just seniors with Medicare, as the legislation states. Many are hoping this will convince other companies to do the same. Deputy Assistant for Health and Veteran Affairs, Christen Linke Young, explains how the decision to cap the price of insulin will have a large impact on Americans. "There are millions of Americans across the country who rely on insulin, who do not have Medicare and who rely on commercial health insurance in order to get access to their prescriptions," said Linke Young. "Today's announcement is a big step forward. It represents the major insulin manufacturer in the country, repeating the president's call to lower their prices and ensure that insulin is affordable for everyone who needs it."
Joseph R. Biden, What They Are Reading in the States: Heeding President Biden's Call, Eli Lilly Caps Insulin at $35 Online by Gerhard Peters and John T. Woolley, The American Presidency Project https://www.presidency.ucsb.edu/node/359892