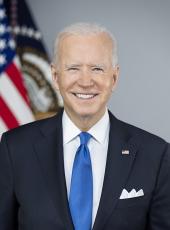 WHAT THEY ARE READING IN THE STATES: Biden-Harris Officials Visit 25 States to Tout Historic Investments Across 25 States on Rural Infrastructure Tour
Earlier this month, President Biden visited Iowa to launch the Building a Better America rural infrastructure tour to highlight his administration's unwavering commitment to ensuring rural communities get the resources they need to thrive. In the weeks since then, Cabinet members, deputy secretaries, and other senior administration officials have crisscrossed the country to over 25 states to meet with, listen to, and deliver infrastructure investments to rural communities.
President Biden's Bipartisan Infrastructure Law is sending billions of dollars to revitalize and rebuild rural communities across the country. Supporting Americans living in rural areas remains a top priority for the Biden Administration, and Bipartisan Infrastructure Law delivers on the President's promises to provide high-speed internet, safe roads and bridges, modern wastewater systems, clean drinking water, reliable and affordable electricity, and good-paying jobs in every rural community. As part of this effort, the Biden Administration is also committed to working with communities to help them access federal resources and improving transparency. Strong infrastructure in rural communities is good for jobs, good for keeping the economy moving, good for lowering prices, and good for America.
Across the month of April, the White House also made several billion dollars in funding and technical assistance announcements for rural communities, including a Rural Playbook, the Rural Partners Network, rural water funding, climate-smart infrastructure, wildfire mitigation priority projects, rural watershed and flood mitigation funding and conservation funding.
See below for a sampling of the local coverage:
ALASKA
Alaska Native News: Secretary Haaland Highlights Historic Funding from President Biden's Bipartisan Infrastructure Law to Bolster Resilience, Create Jobs
[4/20/22]
Secretary of the Interior Deb Haaland kicked off a week-long trip to Alaska Tuesday, where she met with local, state, elected and Alaska Native leaders; Interior Department employees; and stakeholders to highlight ongoing efforts to support sustainable economies across the state. During her first day of meetings in Anchorage, Secretary Haaland discussed the more than $138 million available to the state in fiscal year 2022 through President Biden's Bipartisan Infrastructure Law […] In Alaska, these critical infrastructure investments and funding opportunities will help ensure communities, particularly in rural and Indigenous communities, have healthy lands and waters, continued access to the outdoors, and the foundation for future jobs and economic opportunity.
Indian Country Today: Secretary Haaland tours Alaska's national parks and public lands to commemorate Earth Week
[4/25/22]
Nearly $100 million in funding is available this year for Alaska's national parks, public lands and critical services, including from the Land and Water Conservation Fund, the fiscal year 2022 Omnibus Bill and other revenue sources in fiscal years 2021 and 2022. Alaska is set to receive nearly $40 million in funding for transportation improvements for multiple projects through the Federal Lands Transportation Program, in coordination with the U.S. Department of Transportation, including projects at Denali National Park Preserve, Sitka National Historic Park, and Wrangell-St. Elias National Park Preserve.
Anchorage Daily News: At symposium, Alaska communities pursue their share of 'transformational' infrastructure bill funding
[4/11/22]
The federal infrastructure bill signed last year could transform Alaska similar to how the trans-Alaska pipeline did more than 40 years ago, Alaska leaders say. […] "This is going to be an Alaska that is better cared for than ever before. An Alaska with a higher quality of life, whether you're in Anchorage or whether you're in a remote village," Murkowski said, addressing a standing-room-only crowd in the Dena'ina Convention Center in Anchorage.
ARIZONA
Arizona Public Radio: U.S. Energy Secretary Granholm discusses renewable energy on Navajo Nation
[4/14/22]
U.S. Energy Secretary Jennifer Granholm visited the Navajo Nation Thursday to discuss renewable energy development on tribal lands. She and Arizona Congressman Tom O'Halleran met with Navajo President Jonathan Nez and several Navajo Council delegates. They toured the Kayenta Solar facility that provides 55-megawatts of power, electrifying about 36,000 homes on the reservation. The Department of Energy recently awarded the tribe $1.2 million grant to construct a solar microgrid and battery storage to provide energy for two dozen homes in the Kayenta Chapter.
Lake Powell Life: Energy Secretary Visits Kayenta
[4/15/22]
Navajo Nation President Jonathan Nez welcomed U.S. Secretary of Energy Jennifer Granholm and Congressman Tom O'Halleran (D-AZ) to Kayenta, Ariz. on Thursday. […] "Through the hard work of the Kayenta community, 24 Navajo families will have clean electricity in their homes for the very first time. This is a remarkable achievement thanks to the collaboration of the Navajo Nation and the Biden-Harris Administration […] "The future of renewable energy on the Navajo Nation is very bright," [Nez said].
COLORADO
Colorado Public Radio: $33M set aside for fire mitigation and response in Colorado
[Caitlyn Kim, 4/12/22]
Interior Secretary Deb Haaland and National Forest Service Chief Randy Moore were in Boulder Monday to highlight federal funding to fight wildfires. Moore announced $131 million in funding through the bipartisan infrastructure bill for 10 Western states to start work on wildfire mitigation efforts, while Haaland focused on the $5 billion over the next five years the bill spends to bolster the federal response to fire. Colorado is expected to receive over $33 million. "This is an opportunity for us to come from a place of wanting to a place of having," said Moore. For a long time, we've known what to do. But we've not had the ability to do at a scale that made a difference on the landscape. This gives up an opportunity to mitigate at the scale the fires are occurring if we want to make a difference." […] "What we've been able to do this year," Sen. Michael Bennet said, "is demonstrate that the country for the first time really recognizes the scale of the challenge that we have."
Daily Camera: Boulder County set to benefit from $18 million designated for wildfire mitigation across Colorado
[Deborah Swearingen, 4/11/22]
Forest Service Chief Randy Moore; Interior Secretary Deb Haaland; Sens. Michael Bennet and John Hickenlooper, both D-Colorado; and Rep. Joe Neguse, D-Lafayette; visited Heil Valley Ranch to announce the wider $131 million initial funding for the Forest Service's 10-year wildfire strategy. Colorado's $18 million share is part of that gift. The two national forests in Colorado set to receive funding are an important source of water for the Colorado Front Range, making it a critical landscape to reduce the likelihood, intensity and size of wildfires. The area dubbed the Colorado Front Range includes 3.5 million acres and is set to receive a total of $170.4 million between now and fiscal year 2024, which includes future planned funding.
Colorado Newsline: Colorado to receive $18.1M for wildfire mitigation projects along Front Range
[Sara Wilson, 4/12/22]
Colorado will receive over $18 million this fiscal year from the federal government to treat thousands of acres susceptible to increasingly damaging wildfires, part of a strategy leaders hope will emphasize lowering fire risk before disaster strikes. The Colorado Front Range is one of 10 landscapes selected by the U.S. Department of Agriculture and U.S. Forest Service to benefit from an initial $131 million investment with funding from last year's Bipartisan Infrastructure Law. […] Haaland said the financial investments enabled by last year's bipartisan legislation will facilitate a "collaborative, multi-jurisdictional approach" to reducing wildfire risk. Wildfires, after all, do not discriminate between land managed by the county, private citizens, the Forest Service or the National Park Service, and experts say the best approach is informed by all land managers.
GEORGIA
Southeast AgNet Radio Network: Rural Partners Network – USDA Initiative to Benefit Georgia Communities
[Clint Thompson, 4/21/22]
The Rural Partners Network will bridge the information gap between rural America and the federal government. Communities in Georgia will be among the first to benefit. "We've selected several communities and counties where we know there has been persistently difficult times, high levels of poverty. We know that when you're in those circumstances, it's very difficult to access resources because you just don't know how to play the game," U.S. Department of Agriculture (USDA) Secretary Tom Vilsack said. "We're hiring three to five folks in every state. They're going to work with community leaders and they're going to say, 'What's the plan?' 'What's the vision?' What opportunities do you think the federal government could be helpful with? What departments need to be engaged?"
Albany Herald: U.S. Agriculture Secretary Tom Vilsack announces $12.5 million in Radium Springs funding during Albany visit
[Alan Maudlin, 4/21/22]
Funding of a $12.5 million package announced on Thursday during a stop in Albany by U.S. Agriculture Secretary Tom Vilsack will provide a major boost to Radium Springs, including an amphitheater, a scenic overlook and $4.5 million for trail construction. The funding is part of the $1.2 trillion Infrastructure Investment and Jobs Act, also called the Bipartisan Infrastructure Bill, which gained final approval in Congress in November 2021 […] "This is the culmination of an arc that has now come home to southwest Georgia," said U.S. Rep. Sanford Bishop, D-Albany, who traveled with Vilsack and Mitch Landrieu, senior advisor in charge of implementation of the Investment Infrastructure and Jobs Act. "This is a once-in-a-generation investment."
IOWA
KCCI Des Moines: President Biden unveils ethanol plan in Iowa speech
[4/12/22]
The president's trip to Iowa isn't just about investing in the state's biofuel industry. This is part of a broader initiative to invest more in rural America. The White House is calling it the "Rural Playbook." During his visit, the president touted the bipartisan infrastructure bill that passed last year. It provides billions of dollars for rural communities to improve roads and bridges, water quality, and high-speed, broadband internet access. Iowa is slated to get $5 billion from that infrastructure bill. Iowa roads will see the greatest investment with nearly three and a half billion dollars dedicated to fixing them. The plan dedicates $400 million just to fixing the high number of deficient bridges across our state. More than $600 million will go to updating our public water systems, and $100 million is slated to bring high-speed internet access to rural areas.
Iowa Starting Line: Axne and Buttigieg Highlight Infrastructure Bill's Investment In Rural Iowa
[Nikoel Hytrek, 4/21/22]
Highlighting the potential for new opportunities such as expanded partnerships at airports, job creation, and how Iowa's infrastructure could be made safer and more effective, Axne celebrated the bill. "All told, this law includes more than 375 programs that rural communities across the third districts are eligible for and it's expected to invest more than $5 billion in Iowa," Axne said. "Our rural areas are going to benefit tremendously from this and that's why I'm so excited about this law." […] "It will make the difference in so many communities to ensure they have success," Axne said. "This is vital to the growth of rural Iowa and urban Iowa. Normally we would fall on the back end of getting as much infrastructure funding, but with a windfall like this it's going to take us a long way."
Iowa Capital Dispatch: Buttigieg promotes federal infrastructure funding for rural Iowa
[Katie Akin, 4/21/22]
More than $5 billion headed to Iowa through the federal infrastructure bill will particularly help rural areas, Secretary of Transportation Pete Buttigieg and U.S. Rep. Cindy Axne said Thursday. "We know how essential infrastructure can be, especially in rural areas and in the kinds of communities that I saw as I got to know Iowa so well," Buttigieg said.
Creston News Advertiser: Iowa projects eligible for federal funding
[John Van Nostrand, 4/22/22]
Congresswoman Cindy Axne (IA-03) and United States Secretary of Transportation Pete Buttigieg provided comments Thursday via a video press conference to discuss the influence of the Bipartisan Infrastructure Law on rural Iowa and America.
Funding is also for repairs to rural roads and bridges. Although 19% of America's population is considered rural, about half of the country's roadways are in the same area.
The Gazette: Buttigieg touts infrastructure funding for Iowa: 'Bridges aren't Republican or Democrat'
[Erin Murphy, 4/21/22]
Buttigieg and U.S. Rep. Cindy Axne, both Democrats, spoke to Iowa reporters Thursday on a press call about infrastructure funding and projects. "You do notice some of the folks who campaigned or argued against this legislation who now seem to be very happy for this funding to be coming to their districts or their states," Buttigieg added. "I guess I'd say the sincerest form of flattery is when a politician who was not for one of these policies winds up agreeing with how great they are in practice."
MISSISSIPPI
Mississippi Today: Mississippi selected for new program connecting rural communities with federal resources
[Julia James, 4/20/22]
Federal government officials, together with Congressman Bennie Thompson, traveled to the Delta Wednesday to announce a new program aimed at connecting rural communities with more resources. Mississippi was selected as one of five states for the pilot program of the Rural Partners Network, with an initial emphasis on Delta communities. "If Greenwood is the gateway to the Delta, we want places like Greenwood to have a gateway to the federal government so they can access the resources they need to thrive," said White House Domestic Policy Advisor Susan Rice.
MONTANA
KECI (NBC Missoula, MT): USDA will invest in six Montana watershed infrastructure projects
[4/23/22]
According to the USDA, $330,000 will go into flood prevention, dam rehabilitation, and watershed restoration projects, which will be an addition to the Bipartisan Infrastructure Law's nationwide investment of $166 million earlier this year. "President Biden's Bipartisan Infrastructure Law is a once-in-a-generation opportunity to rebuild our infrastructure, create good-paying jobs and build new economic opportunity," Vilsack said. "Our watershed programs help communities rebuild after natural disasters and prepare for future events. This includes communities that we've historically underserved. The President believes we will grow the economy from the bottom up and middle out and this will occur in partnership with rural communities. That's what Building A Better America is all about."
NEVADA
Las Vegas Review-Journal: Granholm, Lee, Cortez Masto tout Nevada's role in clean energy
[Colton Lochhead, 4/15/22]
U.S. Energy Secretary Jennifer Granholm on Friday highlighted clean energy initiatives and decarbonization efforts while on a swing through Southern Nevada…The infrastructure law, signed last fall, dedicated $7.5 billion towards electric vehicle charging stations and $3.2 billion for home weatherization. Nevada's share of those funds is $38 million for electric vehicle charging stations and $24 million for weatherization.
KSNV (NBC Las Vegas, NV): Energy Secretary meets with Rep. Susie Lee, Catherine Cortez-Masto in Las Vegas
[4/15/22]
Energy Secretary Jennifer Granholm stopped by the valley to talk about clean energy on Friday. She met with representative Susie Lee and US Senator Catherine Cortez-Masto. They toured the NV Energy Beltway Center Complex, which they say uses new technology to help with energy efficiency, as well as briefings from the NNSS Remote Sensing Laboratory at Nellis Air Force Base and Defense Nuclear Nonproliferation.
NEW HAMPSHIRE
Portsmouth Herald (Seacoast Online): Biden expresses optimism in Portsmouth and not just about infrastructure. GOP fires back.
[Ian Lenhan, 4/19/22]
Biden primarily focused his first trip to Portsmouth since taking office in January 2021 on investments from the $1.2 trillion bipartisan infrastructure law he signed in November…"I'm more optimistic about America today than I've ever been in my whole career because I see the future that's within our grasp," Biden said. "We can't be afraid, though. We're the only nation on Earth ... that has always turned every single solitary crisis we've had into an opportunity. That's exactly what we're going to do today if we do it together."
WMUR (ABC Manchester, NH): Biden: Infrastructure projects in Portsmouth save money, create jobs
[Jennifer Crompton, 4/19/22]
On his second trip to New Hampshire in less than six months, President Joe Biden visited Portsmouth to tout the infrastructure law, using projects taking place in the harbor to make his case. Biden spoke inside a New Hampshire Port Authority warehouse, telling the small crowd of invited guests about how a recently widened ship-turning basin in the river means bigger ships can come and go more easily from Portsmouth Harbor. He said the improvements save the $90,000 per day it otherwise costs an unloaded ship to wait until the tide is right.
NEW MEXICO
Bloomberg Law: Small Waterworks Navigate 'Once in a Generation' Flood of Money
[4/28/22]
Normally the $350,000 repair on top of other needed upgrades would be a fortune in the rural, largely Hispanic part of Taos County, a community of 800 people tucked between the Sangre de Cristo Mountains and the Rio Grande River gorge. But the federal government is handing out $11.7 billion earmarked for drinking water system improvements under the new infrastructure law, and it's prioritizing such underserved, drought-stricken areas. It's a "once in a generation" opportunity to "cure nagging problems that many of our rural water systems are trying to address," said Mike Hamman, former water adviser to New Mexico Gov. Michelle Lujan Grisham (D).
OHIO
Cleveland Plain Dealer: EPA administrator, HUD secretary tout federal investments in lead remediation during Cleveland visit
[Courtney Astolfi, 4/18/22]
U.S. Environmental Protection Agency Administrator Michael Regan Monday pointed to the high rates of lead poisoning among Cleveland children, particularly minority kids living in poverty, as an "unacceptable" harm that the federal government is attempting to fix through the bipartisan infrastructure bill. […] They said President Joe Biden's bipartisan infrastructure bill -- passed by Congress in November – would offer historic levels of funding to eradicate lead hazards in homes and pipes. Ohio is set to receive $70 million this year from the bill to replace contaminated pipes, with more funding over the next four years, Brown said. The EPA has encouraged Ohio and other states to prioritize the distribution of that money for disadvantaged communities, including Black, brown, Indigenous and low-income ones, which are disproportionately affected by poisoning. Regan said he had spoken with all governors, including Ohio's, to ensure the federal money reaches such communities "who need it most."
CBS Youngstown: Youngstown looking to update old lead pipes
[Gerry Ricciutti, 4/19/22]
Just about every home in one West Side Youngstown neighborhood pre-dates World War II. One problem with that is that many of the homes, if not all of them, have lead water lines. "We have more of these lead pipes, lead-contaminated pipes, than any state in the country but Illinois," said Senator Sherrod Brown, D-Ohio. Washington is now pushing to use billions from the recently passed federal Infrastructure bill to replace those lines.
Ohio Business Journal: EPA Chief, Officials Tour Area Targeted for $1.6M Lead Pipe Project
[4/20/22]
U.S. Environmental Protection Agency Administrator Michael Regan visited a West Side neighborhood Tuesday that is expected to receive $1.6 million to replace lead pipes this summer. The EPA chief was joined by U.S. Sen. Sherrod Brown, U.S. Rep. Tim Ryan and Youngstown Mayor Tito Brown to tour the community and meet residents. "There are more than 600,000 lead service lines in Ohio today, and between 6-10 million nationwide," Regan said in a news release following the event. "Thanks to the leadership of Senator Brown, Congressman Ryan and President Biden, Ohio will see more than $71 million to address pollution from lead pipes under the Bipartisan Infrastructure Law in 2022 alone."."
SOUTH CAROLINA
ABC Myrtle Beach/Florence: SC congressional leaders pledge funds to rural communities for infrastructure upgrades
[Simone Jameson, 4/22/22]
Congressman James E. Clyburn, U.S. Department of Commerce Secretary Gina Raimondo, U.S. Environmental Protection Agency Administrator Michael S. Regan, and Senior Advisor to the President and Infrastructure Implementation Coordinator Mitch Landrieu joined together in efforts to rebuild infrastructure in Orangeburg, and other rural communities. "The money is now there," said Clyburn at a specially-called conference at the Orangeburg County Library Friday. The congressional leaders toured the Orangeburg water treatment plant and railroad corner redevelopment project and discussed ways to address water infrastructure needs with local leaders. All efforts are a part of the Biden Administration's initiative to help all rural South Carolinians have safer roads, lead-free water, and access to affordable high-speed internet.
WEST VIRGINIA
FOX Charleston: Federal infrastructure legislation may support rural communities in West Virginia
[Bob Aaron, 4/28/22]
A White House webinar Thursday showed how to reach that playbook. USDA Rural Development's Ryan Thorn offered to help people reach the right federal agency to assist even if it was not his and noted the scope of the problem. "Here in West Virginia we have more than 3,200 miles of roads and highways in poor condition, more than 1,500 bridges and more than 250,000 residents who lack adequate broadband service," Thorn said.
WISCONSIN
WTMJ-TV: Transportation Secretary Pete Buttigieg talks jobs and opportunity in Wisconsin
[Charles Benson, 4/19/22]
"We have a chance to level the playing field right now," said Sec. Buttigieg. "Because we're creating so many jobs, that we need everybody's help, talent and participation, not just because it's the right thing to do from an equity and justice perspective, but also because that's what it's going to take to actually deliver all of these projects."
Spectrum News: Training the next generation: Workers needed for nation's infrastructure projects
[Nathan Phelps, 4/19/22]
With a little guidance from instructors, Transportation Secretary Pete Buttigieg got behind the controls of an excavator and started moving dirt. It's something he'd like to see other people doing as the nation gears up to revitalize its infrastructure through a bipartisan $1.2 trillion law. But those projects need a workforce to bring them to fruition. "The bottom line is, we can't leave any talent on the table. We need to recruit a whole generation of workers from every background and every walk of life," Buttigieg said during a tour of the Operating Engineers Local 139 training facility in Coloma.
WUWM 89.7 (NPR): Transportation Secretary Buttigieg urges Wisconsin high schoolers to eye infrastructure work
[Chuck Quirmbach, 4/20/22]
U.S. Transportation Secretary Pete Buttigieg says the nation is counting on tomorrow's road builders, crane operators and other heavy equipment users.
WSAW-TV: Transportation Secretary Buttigieg promotes infrastructure bill in Waushara County
[Drew Sutherland, 4/19/22]
"1.2 trillion dollars to do everything from clean up our drinking water, to deliver high-speed internet to every household in this country, to the transportation infrastructure -- about $660 billion of it, that we're setting up for the future," Buttigieg said.
La Crosse Tribune: Federal, state officials tour West Salem wastewater treatment plant
[Steve Rundio, 4/20/22]
[U.S. Representative Ron] Kind, along with federal Environmental Protection Agency administrator Michael Regan, Gov. Tony Evers and other elected officials, gathered Wednesday at the village of West Salem's wastewater treatment plant to discuss the economic impact of clean water and the role of state and federal governments in funding clean water projects. Lawmakers said funding from the recent infrastructure law signed by President Joe Biden will assist communities across Wisconsin. Kind said Wisconsin's share is $147 million in the first year. "Under President Biden's leadership, we're finally able to get together in a bipartisan fashion and get this done," Kind said. "We're going to be able to do more projects like this. There's such a backlog of demand out there."
WXOM-TV: MTU La Crosse unveils first pair of electric busses
[Bowen Kedrowicz, 4/2/22]
Environmental Protection Agency Administrator Michael Regan completed his three-day Wisconsin tour visiting West Salem and La Crosse Wednesday morning to talk about President Biden's 'Bipartisan Infrastructure Law'. Joined by Wisconsin elected officials, the meeting in La Crosse focused on public transportation, as the infrastructure law granted 5.6 billion dollars to the federal transit administration to fund grants for no emission public transportation. The City of La Crosse unveiled its first pair of electric busses that produce no emissions.
Joseph R. Biden, WHAT THEY ARE READING IN THE STATES: Biden-Harris Officials Visit 25 States to Tout Historic Investments Across 25 States on Rural Infrastructure Tour Online by Gerhard Peters and John T. Woolley, The American Presidency Project https://www.presidency.ucsb.edu/node/355670