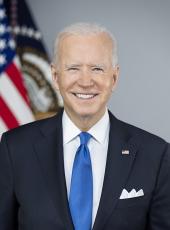 What They are Reading in the States: Biden-Harris Officials Tout the State and Local Impacts of the Bipartisan Innovation Act
Local news outlets across the country are highlighting the urgent need for final passage of the Bipartisan Innovation Act – an essential piece of legislation that will lower costs, boost domestic manufacturing, and help America outcompete China.
Commerce Secretary Gina Raimondo, Labor Secretary Marty Walsh, and National Security Council experts highlighted the economic impact of the legislation in states including Pennsylvania, Texas, Utah, Idaho, New Jersey, Montana, and Massachusetts. They outlined how the Bipartisan Innovation Act would invest $52 billion in domestic semiconductor production, creating thousands of jobs, lowering costs, and strengthening our national security by making here at home.
See below for a sampling of the local coverage:
Houston Chronicle: Commerce secretary warns Texas faces 'disproportionate' risk as computer chip supplies slow
[By James Osborne, 4/11/21]
Texas and its large technology and defense sectors face particular risk as global supplies for computer chips become increasingly tight, Commerce Secretary Gina Raimondo said Monday. […] "All states would be impacted but Texas would be disproportionately effected (if the legislation doesn't pass)," Raimondo said. "You have a number of defense contractors in Texas that are utterly dependent on chips... You have the tech industry around Austin, Houston and Dallas. And you have a number of companies in the chip industry…. Chip companies are going to have to expand. The question is do they do it in the U.S. or in Europe or Asia," Raimondo said. "If congress doesn't move now, were going to lose out forever.
Pittsburgh Post-Gazette: Pennsylvania could see huge benefits if it goes all in on semiconductor chip production, officials say
[Ashley Murray, 4/12/22]
"Pittsburgh is a hub of high tech jobs, and increasingly the epicenter of artificial intelligence and autonomous driving. All of those jobs in Pittsburgh require chips, artificial intelligence requires sophisticated chips," Ms. Raimondo said. "So all that research [from the universities], all the good biotech stuff coming out of UPMC — chips, chips, chips. Can't do any of it without chips." "The current U.S. dependence on a limited number of overseas production facilities to produce almost all these chips, including all of our most advanced chips, is a really profound national security risk," said Tarun Chhabra, special assistant to the president and senior director for Technology & National Security on the National Security Council. "If we lost access to those chips overseas for whatever reason, it's hard to overstate the potential economic impacts."
Pennsylvania Capital-Star: Top Biden officials say Pa. will benefit from approval of bill boosting semiconductor industry
[John L. Micek, 4/12/21]
Such major Pennsylvania employers as Lockheed Martin, and research hubs such as Carnegie Mellon University, would be hobbled if congressional negotiators don't swiftly come to agreement on legislation aimed at improving American competitiveness in the global semiconductor market, seni0r Biden administration officials warned Tuesday. "We can't wait. Other countries aren't waiting," U.S. Commerce Secretary Gina Raimondo said during a press call with Pennsylvania journalists. "We're going to work as hard as we can to get this done. It's just too important for economic and national security." […] "Chips are at the forefront of ours' and our allies' response to Russia's war in Ukraine," Raimondo said, referring to America's sanctions on Russian President Vladimir Putin's government…. We already seeing an effect on Putin's ability to carry out the war. Russia is running low on precision-guided munitions, and Russian car-makers have shut down production. It shows national security risk to the United States because we are so overly reliant on foreign manufacturers."
Salt Lake Tribune: America is short semiconductors. Here's how Utah could be part of the solution.
[By Bryan Schott, 4/14/22]
"It's those chips we need for military equipment, artificial intelligence, quantum computing, communication devices. Our extreme dependence on other countries for semiconductors means we're very vulnerable. If there's a COVID outbreak, a natural disaster, political instability that disrupts a foreign semiconductor facility, we feel it here in the United States," Raimondo said. Raimondo warned Utah would not be immune from a chip shortage. "If we don't increase domestic production of semiconductors, Utah's tech sector and Silicon Slopes is chock full of fast-growing, innovative tech companies. All of them need advanced chips to provide products and keep their companies going," she said. Texas Instruments operates a chip manufacturing plant in Utah.
Nj.com: Could a chip manufacturer be lured to new N.J. tech hub? Biden official says yes.
[By Jonathan Salant, 4/19/22]
On a conference call with reporters from New Jersey and New York, Raimondo singled out the new New Jersey Innovation and Technology Hub in New Brunswick as a potential site for chip production, saying it could be an attractive place to locate. "Semiconductor demand is through the roof," Raimondo said. "These companies are definitely going to make investments in expanding their facilities and they want to do this in the United States." The legislation is designed to help the U.S. better compete with China by offering incentives to chip manufacturers to make their products domestically. That would help improve a supply chain that relies on foreign manufacturing and has led to shortages of automobiles and other products that rely on computer chips. And it would improve national security by making the U.S. less dependent on foreign manufacturers, Raimondo said. "Other countries are all wooing these same companies," she said. "What we've heard from these companies is if Congress doesn't quickly pass this act, those companies are going to have no other choice but to expand their facilities in these other countries. There is a very, very real risk that these companies are not going to build in America."
Billings Gazette: Tech in the Mountain West crucial to microchip expansion, Commerce Sec. Raimondo says
[Tom Lutey, 4/13/22]
Calling the United States dangerously short on microchips and overly reliant on foreign suppliers, U.S. Commerce Secretary Gina Raimondo on Wednesday advocated for a manufacturing expansion bill beneficial to the tech economy of the Rocky Mountain West, including Montana. In a press call with reporters from Montana, Idaho, Utah and Washington, Raimondo said the chip shortage is as bad as it's even been, posing a threat to the manufacture of military equipment, farm machinery and automobiles. The only way out, the secretary said, is expanding U.S. production of microchips, or semiconductors. Congress is currently reconciling two bills getting at the same chip problem.
Idaho Statesman: Biden commerce secretary says chip bill would benefit Idaho
[By John Sowell, 4/14/22]
In a call Wednesday with reporters from Idaho, Utah and Montana, Raimondo stressed the importance of having Congress pass incentives that would provide more than $52 billion for domestic computer chip manufacturing and research. The implications for Idaho and the nation are striking, Raimondo said. "Obviously, Idaho is home to Micron, one of the largest employers in Idaho," Raimondo said. "Micron is the only U.S.-based manufacturer of memory chips, and there are 50 more chip-making facilities across the state. So there is a great deal at stake for Idaho in this legislation."
Boston Business Journal: Labor Secretary Walsh, NSC press for bill bolstering semiconductor industry
[By Benjamin Kail, 4/19/22]
Massachusetts' research institutions and local industries that rely on science and technology could see a significant boost with legislation working its way through Congress, the Biden administration said Monday. Pressing for support for the Innovation and Competition Act at a time of inflation and semiconductor chip shortages, U.S. Labor Secretary Marty Walsh and Tarun Chhabra, the National Security Council's senior director of technology and national security, told reporters the bill could bolster a host of sectors in which New England is already a national leader. […] "We're acutely aware of the impacts on New England, where the significant presence of the defense industry, the biomedical industry, robotics and all variety of technology enterprises are feeling the crunch, where advanced computing and chips are really at the heart of the next wave of innovation," Chhabra said. "We also see incredible opportunity." […] Walsh noted the semiconductor industry has announced investments of about $80 billion in domestic production. He said it's critical the U.S. takes advantage "of this momentum and ensures that our competitiveness, and the competitive edge, keeps moving forward."
KTVM (NBC Montana): Officials talk Montana impacts of bipartisan innovation act
[By Emily Wulfhorst, 4/13/22]
"At the moment the semiconductor shortage is really at a crisis level," said Secretary of Commerce Gina Raimondo. "A couple of years ago, the median inventory of semiconductors in the United States was about 40 days. Today, it's fewer than five days. Our extreme dependence on other countries for semiconductors means that we're very vulnerable." This bill would provide $52 billion to invest in incentivizing semiconductor production in the U.S., which could mean big impacts for Montana. "I think that your region is well poised to take advantage of the jobs that will be created and also, quite frankly, is quite vulnerable and at risk if we don't pass and don't increase domestic production of semiconductors," Raimondo said. Montana's U.S. senators Jon Tester and Steve Daines support the measure.
Joseph R. Biden, What They are Reading in the States: Biden-Harris Officials Tout the State and Local Impacts of the Bipartisan Innovation Act Online by Gerhard Peters and John T. Woolley, The American Presidency Project https://www.presidency.ucsb.edu/node/355565