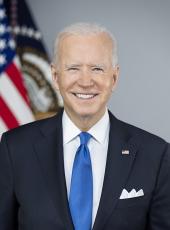 What They Are Reading in the States: Biden-Harris Administration Hits the Road After State of the Union Address to Tout Economic Agenda
Following President Biden's first State of the Union address last, the President, Vice President, First Lady, Second Gentleman and members of the Biden-Harris Cabinet fanned out across the country to speak directly to the American people about how the administration is building a better America.
Administration officials traveled to red states, blue states, big cities, small towns, rural areas, Tribal communities, and more to highlight the results President Biden has delivered for the American people and to discuss his vision for growing the economy from the bottom up and middle out, continuing our strong economic recovery, lowering costs for working families, and creating good-paying jobs.
The President, Vice President, First Lady, Second Gentleman, and Cabinet will continue traveling across the country this week to celebrate the one year anniversary of the American Rescue Plan, historic progress we are making thanks to the Bipartisan Infrastructure Law, the Unity Agenda the President laid out in the State of the Union, and more.
See a sampling below of what Americans are reading in the states.
President Joe Biden and First Lady Jill Biden in Superior, WI
Superior Telegram: Biden touts infrastructure bill at UWS
"There's 879 bridges in Wisconsin, 661 in Minnesota that are in poor condition," Biden said. "Now we're not just talking about it. We're going to get it done. Instead of an infrastructure week, we're going to have an infrastructure decade."
Star Tribune: Biden visits Blatnik Bridge, highlights $1 trillion infrastructure law in Twin Ports visit
[President Biden] highlighted the $1 trillion infrastructure law he signed in November and how it will help the 60-year-old Blatnik Bridge, already operating with load restrictions and in need of truss repair. The law would send about $4.8 billion to Minnesota and an estimated $5.4 billion to Wisconsin for roads and bridges over the next five years… the mayor of Superior described his city of nearly 27,000 as "the future of the United States of America."
WDJT (CBS Milwaukee, WI): Biden and First Lady visit Superior, Wisconsin to promote infrastructure
Biden discussed how the bipartisan infrastructure will improve roads and bridges and create "good-paying union jobs". "There are 979 bridges in Wisconsin, 661 bridges in Minnesota that are in poor condition," said Biden. Along with nearly 7,000 miles of highway between your two states that need repair. And now after years of talking about infrastructure, we're finally getting it done."
Vice President Kamala Harris and Labor Secretary Marty Walsh in Raleigh, NC
WRAL (NBC Raleigh, NC): David Crabtree Interview with Vice President Kamala Harris
The News and Observer: In Durham, VP Kamala Harris heralds union jobs as future of US economic recovery
The American economy is emerging strong from nearly two years of pandemic-induced disruptions and losses, and the best way forward is to create more jobs that allow workers to organize for better wages and save more money, Vice President Kamala Harris said Wednesday. In her third trip to North Carolina since taking office, Harris came to Durham, having most recently visited the Triangle while campaigning in 2020. For this visit, she was joined locally by Democratic Gov. Roy Cooper and Durham Mayor Elaine O'Neal along with Democratic state lawmakers and members of Congress at Durham Technical Community College, where she gave her speech. She spoke about the Biden administration's efforts to create more "good-paying, union jobs" throughout the country and promote collective bargaining in both the public and private sectors. Accompanying her from Washington was U.S. Labor Secretary Marty Walsh, as well as U.S. Reps. David Price and G.K. Butterfield.
WTVD (ABC Raleigh, NC): Vice President Kamala Harris touts, labor, jobs in visit to Durham Tech
Harris toured Durham Technical Community College. She was joined by Labor Secretary Marty Walsh, one of several Cabinet officials who were traveling on Wednesday. […] Last year, Biden tapped Harris and Walsh to lead a task force on labor. Earlier this year, the taskforce submitted a report listing 70 policy proposals. Those proposals, according to Walsh, would help strengthen workers' rights across the country.
WRAL (NBC Raleigh, NC): VP Kamala Harris gives nod to union workers, working class in speech at Durham Tech
Vice President Kamala Harris traveled to Durham on Wednesday to discuss the Biden administration's initiative to strengthen the economy and raise quality of life for working-class Americans. U.S. Secretary of Labor Marty Walsh joined Harris to discuss the administration's investments in union jobs.
Second Gentleman Doug Emhoff in Columbus, Ohio
The Columbus Dispatch: Second Gentleman Doug Emhoff visits Nationwide Children's to talk youth mental health
Second Gentleman Doug Emhoff, the husband of Vice President Kamala Harris, visited Nationwide Children's Hospital Wednesday to push President Joe Biden's focus on mental health of youth during the COVID-19 pandemic... "I just want to make sure you're taking care of yourselves," said Emhoff to health care workers, as he toured the hospital's behavioral health treatment and research center, the largest on a pediatric campus in the United States.
Treasury Secretary Janet Yellen in Chicago, Illinois
Bloomberg: Yellen Pushes for Repackaged Biden Plan to Boost Economy
U.S. Treasury Secretary Janet Yellen said Congress can boost long-term growth in the economy if it finds a way to pass the remainder of the Biden administration's economic policy proposals…"It's an economic policy that aims to expand our nation's economic potential through productivity-enhancing investments along with policies to encourage more people to join the labor market," Yellen said in remarks Wednesday at an event in Chicago.
Housing & Urban Development Secretary Marcia Fudge in Prince George's County, Maryland
WTOP (News Radio Washington, DC): Affordable housing on the table as HUD secretary Fudge visits Prince George's Co.
A day after President Joe Biden outlined his plan to lower costs for struggling Americans, U.S. Secretary of Housing and Urban Development Marcia Fudge met with elected officials from the D.C. region to discuss ways the federal government can help address housing shortages and increase affordable housing development.
WDVM (NBC Hagerstown, MD): U.S. HUD secretary talks affordable housing with local leaders
Secretary Marcia Fudge visited Prince George's County to discuss what is needed to achieve the local government's affordable housing goals…Prince George's County Executive Angela D. Alsobrooks said, "This is an example of how we were able to use some of the federal funding, through the home program, to buy down the cost."
EPA Administrator Michael S. Regan in Easley, SC
WSPA (Easley, SC): EPA administrator visits Easley to discuss water infrastructure improvements
EPA administrator Michael Ragan visited Easley Wednesday to showcase ongoing sewage upgrade projects that are happening as a result of the Bipartisan Infrastructure Law. The EPA is working with state partners to deploy a more than $50 billion dollar federal investment in water infrastructure projects. Regan joined city and state officials to discuss how local, state, and federal partners can work together to deliver benefits to underserved and overburdened residents.
Energy Secretary Jennifer Granholm in Lexington and Winchester, Kentucky
WLEX (NBC Lexington, KY): Powering the future: U.S. Energy Secretary visits Lexington, Winchester
One night after referencing clean energy and lower costs in his State of the Union address, President Biden's Energy Secretary joined Governor Andy Beshear in Lexington to further that discussion… Leaders from the clean energy sector took part in today's discussion, including Peter Hille, the president of the Mountain Association, which is working to help coal miners transition away from that line of work. "We work with people trying to find a new way into the workforce," Hille said. "What we're trying to do, though is build a new economy for a post-coal Appalachia," he continued.
WTQV (ABC Lexington, KY): Sec. Jennifer Granholm touts clean energy during visit to Central Kentucky
On Wednesday, U.S. Secretary of Energy Jennifer Granholm visited Central Kentucky, to talk about what her office calls the Biden Administration's approach to helping communities lower home energy costs, reduce air pollution and generate clean energy jobs through an equitable clean energy transition. The Secretary joined Gov. Andy Beshear at Schneider Electric in Lexington to tour the facility's state-of the-art energy-efficiency technology and participate in a roundtable discussion to highlight the impacts of clean energy investments across Kentucky and Appalachia.
Interior Secretary Deb Haaland in Connecticut
The Day: U.S. Interior secretary pays visit to Mashantuckets, Mohegans
Lynn Malerba, the Mohegan chief, said Haaland was accompanied by several staff members. "She's so down to earth," Malerba said. "She works so hard at understanding tribes and the people she represents. It's so important for tribes to share their culture. Every tribe is different, and she's interested in nuances." In a statement, James Gessner Jr., chairman of the Mohegan Tribal Council, called it "a historic day for the Mohegan Tribe." "She has been a fierce advocate for tribal communities," he said of Haaland, "and we're pleased that she visited the morning after President (Joe) Biden announced in his State of the Union that he was committed to investing in critical infrastructure in our communities.
Patch.com (Montville, CT): U.S. Interior Secretary Visits Mohegan Reservation
Mohegan Chairman James Gessner Jr. released the following statement: "This is an historic day for the Mohegan Tribe as our nation's first Native American cabinet secretary visits our reservation. We are honored to work side by side with her on key issues that impact our Tribe.
Commerce Secretary Gina Raimondo in Massachusetts
WGBH (Boston, MA): Sec. Raimondo visits MIT in push for domestic semiconductor production
U.S. Secretary of Commerce Gina Raimondo visited the Massachusetts Institute of Technology's MIT.nano laboratory Wednesday as part of a national push for increased domestic production of semiconductor chips….President Joe Biden has been urging Congress to pass $52 billion in spending related to semiconductor manufacturing as part of the so-called Bipartisan Innovation Act.
WCBV (ABC Boston, MA): State of the Union's designated survivor Gina Raimondo tours MIT facility
U.S. Commerce Secretary Gina Raimondo, the designated survivor for Tuesday night's State of the Union, is touring an MIT facility in Cambridge. Raimondo, the former governor of Rhode Island, was in Cambridge on Wednesday to visit MIT-nano - a nanoscience and nanotechnology research facility.
Joseph R. Biden, What They Are Reading in the States: Biden-Harris Administration Hits the Road After State of the Union Address to Tout Economic Agenda Online by Gerhard Peters and John T. Woolley, The American Presidency Project https://www.presidency.ucsb.edu/node/354790