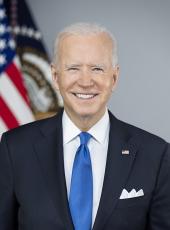 What They Are Reading in the States: Biden Cabinet Touts Build Back Better Nationwide
Following President Biden's trip to Howell, Michigan to underscore the direct impact his Build Back Better Agenda and Bipartisan Infrastructure Deal will have on working families by lowering costs, cutting taxes, and creating jobs, senior Administration officials traveled across the country to highlight how the President's plans will deliver for the middle class and American communities.
From Texas to New Hampshire, Cabinet members met with local leaders and Americans to talk about how the historic investments in child care, education, housing, clean energy, and more will level the playing field for working families, make our country more competitive, and position the U.S. to win the 21st century.
See below for a small sampling of local coverage across the country this week:
Vice President Harris in New Jersey
NJ.com: VP Kamala Harris visits N.J., makes strong pitch for plan to help parents pay for child care
[Jonathan Salant, 10/8/21]
As Congress begins drafting the next federal spending plan, Vice President Kamala Harris came to New Jersey on Friday and made a strong pitch to make sure new funding for child care was in the legislation.
Harris visited the Ben Samuels Children's Center at Montclair State University in Little Falls, her first stop on a day-long trip to the Garden State.
"Our nation is strongest when everyone is able to participate," Harris said during a roundtable discussion at the facility with Gov. Phil Murphy; U.S. Rep. Mikie Sherrill, D-11th Dist; and five educators. "This is fundamentally what the issue is about when it comes to working parents."
[…]
"A working person cannot go to work if they have no one to take care of their kids," the vice president said.
Asbury Park Press: Kamala Harris visits North Jersey, pushes for more child care funding
[Nancy Pascarella and Katie Sobko, 10/8/21]
Vice President Kamala Harris visited the Garden State Friday morning where she met with students and teachers and pushed for more child care funding at the Montclair State University day care center in Little Falls.
Joined by Gov. Phil Murphy and Congresswoman Mikie Sherrill, Harris took a tour of the Ben Samuels Child Care Center and met with students before leading an education round table.
Harris visited multiple classrooms, at one point joining students for a game of shapes bingo, according to pool reports.
[…]
"Our nation, I do believe, I think we all know, is strongest when everyone is able to participate, Harris said. "This is fundamentally what this issue is about as it relates to working parents."
HUD Secretary Marcia Fudge in Michigan and Illinois
Fox 2 Detroit: 'Housing will be more affordable:' How President Biden's 'Build Back Better' plan would benefit Michigan
[By Amy Lange, 10/5/21]
DETROIT (FOX 2) - President Joe Biden's Housing and Urban Development secretary shared how the "Build Back Better" plan would benefit Michigan.
"We cannot continue to let young people, babies, live in squalor. We cannot continue to let senior citizens sleep on our streets," HUD Secretary Marcia Fudge said. "It is a new day and we are going to do great things."
In Michigan, a minimum wage worker would need to work 77 hours to afford a two-bedroom rental, according to the National Low Income Housing Coalition.
[…]
State leaders say they're also addressing the problem by investing a hundred million dollars in American Rescue Plan funds in Michigan's housing trust fund, which is expected to leverage an additional $380 million in private investment.
[…]
Michigan senators have praised the president's plan that includes more than affordable housing.
[…]
WGN-TV: HUD Secretary Marcia Fudge in Chicago Tuesday to promote Biden's housing agenda | WGN-TV
[By Sean Lewis, 10/5/21]
HICAGO — Affordable housing and economic development are both part of President Joe Biden's massive infrastructure proposal.
On Tuesday, Marcia Fudge, the secretary of housing and urban development, was in Chicago to drum up support for the plan. One of the highlights for Fudge, the tour of 45 affordable housing apartments in the city's Pilsen neighborhood.
"It's time to look up and decide who we are," Fudge said.
In Washington, negotiations continue over a $3.5 trillion reconciliation bill, including funding for most of President Joe Biden's major domestic priorities, including education, climate security, and healthcare.
Tucked into the bill, more than $325 billion for housing would provide down payment assistance for lower-income families and rental assistance. In addition, the bill could shore up funding for major cities programs like Chicago's Housing Authority.
[…]
State and local leaders say the money is needed and will be used to correct long-term neglect for those in need, though it comes with a massive price tag for taxpayers.
[…]
Fudge said the lack of affordable housing in the nation is a crisis.
[…]
Univision Chicago: Secretaria de Vivienda visita Chicago para promover plan federal de vivienda asequible e infraestructura
[10/5/21]
La secretaria de Vivienda y Desarrollo Urbano, Marcia Fudge, llegó este martes a Pilsen, un vecindario históricamente inmigrante y en el que se encuentra una de las comunidades de origen mexicano más grandes del Medio Oeste. Fudge se reunió con la alcaldesa de Chicago, el gobernador de Illinois y otros funcionarios electos y en una mesa redonda se refirió al plan 'Build Back Better'.
Labor Secretary Marty Walsh in Maine
Associated Press: Workshare is 'phenomenal' in pandemic, labor secretary says
[10/5/21]
BRUNSWICK, Maine (AP) — A Maine program that lets state employers reduce worker hours instead of laying workers off entirely has been a "phenomenal tool" during the pandemic, U.S. Labor Secretary Marty Walsh said Tuesday.
The Workshare Program was used only by one or two employers before the pandemic hit in 2020 but that number has grown to more than 240, Gov. Janet Mills said. The programs prevented 3,044 layoffs, she said.
[…]
The program lets employers voluntarily reduce hours to avoid layoffs while employees collect partial unemployment benefits.
The program prevents downsizing and helps keep workers connected to their jobs, the governor's office said. It also helps them maintain their job skills, the office said. It was supported by a $382,579 grant from the U.S. Department of Labor to strengthen and promote the program.
"Not only is work sharing a phenomenal tool for employers to retain their experienced workforce, but it is a life saver for workers," Walsh said.
WMTW-TV 8 (Portland, ME): U.S. Labor Sec. Marty Walsh visits with Maine leaders in Brunswick
[By Terry Stackhouse, 10/5/21]
BRUNSWICK, Maine — U.S. Labor Secretary and former Boston Mayor Marty Walsh met with Maine officials including Gov. Janet Mills on the campus of Bowdoin College Tuesday.
Walsh was in Brunswick to discuss the state's WorkShare program alongside business and labor leaders. WorkShare is a program through the state's Department of Labor intended to prevent layoffs.
Struggling businesses volunteer to temporarily cut employee hours and workers, in turn, are able to collect partial unemployment benefits while maintaining work benefits such as health insurance.
[…]
The Maine DOL says between March 2020 and September 2021, 246 businesses signed. preventing more than 3,044 layoffs. The agency says 5,029 Maine workers had their hours reduced while collecting partial unemployment benefits.
"When you have a program that works like the WorkShare program you keep people in those industries because you made it work for them," Walsh said.
Education Secretary Miguel Cardona in Texas
The Monitor: 'Talking about Building Back Better': US Education Secretary visits RGV classrooms
[By Matt Wilson, 10/6/21]
U.S. Secretary of Education Miguel Cardona visited Rio Grande Valley students and educators Wednesday afternoon in a quick-paced tour of Hidalgo County.
The secretary, accompanied by U.S. Rep. Vicente Gonzalez, D-McAllen, walked through Achieve Early College High School in San Juan before participating in a forum with students from the University of Texas Rio Grande Valley in McAllen.
Cardona was in town, in part, as an ambassador for President Joe Biden's Build Back Better agenda, part of which aims at providing students with a pathway to higher education and two years of community college for students.
San Antonio Report: US Education Secretary Cardona visits Edgewood ISD to tout Build Back Better bill
[By Brooke Crum, 10/7/21]
If she had a magic wand and could change anything about school, Gus Garcia University School seventh-grader Briana Castellanos said she would have more teachers available after school to help with homework.
Eighth-grader Christopher Membreno said he wanted more individualized student support and challenging coursework.
As the students talked, U.S. Education Secretary Miguel Cardona jotted down notes, planning to take the suggestions back to Washington with him. U.S. Rep. Joaquin Castro (D-San Antonio) and state Sen. José Menéndez (D-San Antonio) sat beside him in the Gus Garcia cafeteria, listening to the half dozen middle school students talk about being back in the classroom after months learning remotely.
Cardona and Castro visited the Edgewood Independent School District campus Thursday morning to meet with students and staff and to bolster support for President Joe Biden's Build Back Better Agenda, a $3.5 trillion bill that is stalled as moderate Senate Democrats object to its price tag. Broadly, it aims to expand the country's social safety net and fight climate change. Under its education provisions, the legislation would fund two years of free community college, expand funding for Pell Grants, and provide universal pre-K for 3- and 4-year-olds.
EPA Administration Michael Regan in New Hampshire
WMUR-TV: EPA administrator in Merrimack to discuss PFAS mitigation efforts
MERRIMACK, N.H. — The administrator of the Environmental Protection Agency said the White House is on board with helping New Hampshire communities deal with PFAS contamination while he visited the Granite State on Wednesday.
"We have to set standards for our drinking water. We have to set standards for all these categories and we need the resources to do so," Regan said.
"We've got good funding to build back better and the bi-partisan infrastructure bill, we've got to get those two over the line so that the money will start to flow to these communities," Rep. Annie Kuster said.
Joseph R. Biden, What They Are Reading in the States: Biden Cabinet Touts Build Back Better Nationwide Online by Gerhard Peters and John T. Woolley, The American Presidency Project https://www.presidency.ucsb.edu/node/352877