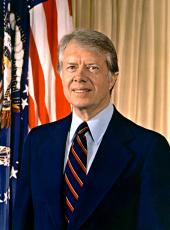 West Chester, Pennsylvania, Students Question-and-Answer Session With Students From Stetson Junior High School.
THE PRESIDENT. Hello, everybody. How many of you would like to be President someday? Raise your hands. Anybody? Okay, very good, very good. Well, when I was your age, I never had thought about it. At that time, I was planning to be a Naval officer all my life.
I know that this is an exciting time for you to come to our Nation's Capital, particularly less than a week after the Inauguration ceremonies. And I'm very grateful you have chosen to come to the White House to see me. This is the first group, by the way, that I've had to come to visit with me since I've been President. And I'm very glad it turned out to be you from a junior high school--Stetson, is that correct?
Have any of you ever heard of Jamie Wyeth? Well, he's one of my good friends, and his father and his grandfather, as you know, have done a great deal of painting very near where you live.
This is a home that belongs to you as it does to me. I and my family, my three sons, their wives, will be here a great deal. Two of my sons and their wives will be living here. We expect another grandchild to be born here in the first week in March. And my little girl, Amy, is 9 years old. She's in the fourth grade and goes to a public school near here.
I haven't been all over the White House yet; I haven't had a chance to see it. So you perhaps, know more about it than I. I haven't even been in the East Wing at all. But it's a good, pleasant place to work, and I am very glad to welcome you here to visit with me.
How long will you be in Washington, do you know? Just today? And what have you had a chance to visit so far? You can spend a whole week just in the Smithsonian. That is great.
Well, I want to welcome you here. Does anybody have a question or two?
B-1 BOMBER
Q. Are you going to cut funds for the B-1 bomber and other military expenditures?
THE PRESIDENT. I don't know yet. I had scheduled this morning--we've already had it--a National Security Council meeting with myself, the head of the Defense Department, the number one military officer in the Nation--General George Brown--the Secretary of State, and my special adviser on national security affairs.
The B-1 bomber is one of those items, of course, that we will have to consider, along with the cruise missiles and a new kind of intercontinental ballistic missile.
My own hope as President is to explore every possible way to work with the Soviet Union and with other potential enemies of ours, who at this point seem to be our friends, to cut down dependence on weapons of all kinds. And I would like for our Nation to take the leadership role.
But before I make a decision on the B-1 bomber, I will have to know more about its capability, its cost, what we have in the way of other weapons systems. And also, I think, over a few months, after my own Secretary of State meets with the leaders in Russia and after, later on this year, I meet with Mr. Brezhnev--who's the head of the Soviet Union Government-at that point, I can see how much they are willing to cut back on their defense capabilities.
I hope that the Soviet Union and the United States can take the leadership among all nations of the world to cut down dependence on weapons systems-atomic weapons systems and new systems like the B-1.
But I have not yet decided what to do about the B-1. I will probably decide later on this spring.
NATURAL GAS
Q. What are you going to do about the natural gas shortage?
THE PRESIDENT. We now have, as you know, the most severe winter in the history of our country, so far as I know.
I was informed by the Senator from Maryland, yesterday, that the ice in some of the little inlets around the Chesapeake Bay area is 24 inches thick. They've never seen it before, and fishermen's boats are being crushed, and a lot of the docks are being destroyed. The fishermen are out of work. So I gave a special allotment of your tax moneys to them to help them have money to buy food.
We have submitted to the Congress a special emergency legislation--that I hope the Congress will pass very quickly--that lets me have the authority to take natural gas from areas of our country where there is a lot of it and distribute it very quickly to other areas of the country where there is not very much of it. Under the present law, the President does not have this authority.
It also would give the gas companies the right to sell additional natural gas at a higher price. Now we have a very peculiar law that says that if you sell gas within the State where the gas comes from, you can sell it for any price you want; if you ship it across the State line, the price of the gas is very low.
Well, there are advantages both ways. So, in a case of emergency like we have now, I'm asking the Congress to let me authorize the shipment of natural gas across State lines at a higher price. That would be about 2 percent of the total natural gas.
And the last thing I'm doing is to ask everyone to cut down very strictly on the temperatures within homes. The whole White House is maintained at a temperature of 65 degrees. When you get a couple hundred people in a small room like this, the temperature goes up. But every thermostat in the White House, every thermostat in all Government buildings in this country are now set at 65 degrees, which is about 10 degrees lower. And if everybody will do that in private homes as well, and even cut back a little more at night, then that will make up half the shortage of natural gas--just that one thing.
Now, I want to make one closing statement about that. This is not a temporary thing. It's good for everybody in our country to get accustomed to wearing a pretty good, heavy sweater inside the home, because it's not going to be any better next winter or the following winter or the following winter.
We're running out of natural gas and oil. We only have enough to last 25 or 30 years. And it's going to mean that we are going to have to do without things we've done with in the past, and we're going to all have to make some small sacrifices-hold down speed limits, have smaller, more efficient automobiles, insulate homes better, cut down on temperature, and do more walking instead of riding. But those things will be coming to us in a very heavy way in the future.
But those three things right now are being done by the Government and by me personally and by you to help alleviate the natural gas shortage. It's serious. We have about 400,000 people out of work because of natural gas shortage, and I think about 4,000 factories are shut down. It's very serious.

One more question.
OIL TANKERS
Q. Taking the fuel crisis a step further, have you done anything to find out what has happened to all the tankers that have been disappearing--all the oil tankers? There is an awful lot of oil that seems to be wasted.
THE PRESIDENT. The ones that are sinking?
Q. Sinking, disappearing, hitting things, who knows what else?
THE PRESIDENT. Well, I think that we've only got one ship that's been completely lost, and they found debris from it in the North Atlantic, so undoubtedly it sank during a storm.
I think in the past we've been too lenient about letting unseaworthy ships come into our ports. As you know, we are very eager to get oil brought into our country. And quite often, when a ship is new and very well maintained, it flies an American flag. Later on, when it has trouble meeting our very strict standards, it shifts to another government--very cheaply, by the way. And although it might be owned by American people, it flies another flag, and the quality of that ship, its seaworthiness goes down. I personally would favor a stricter standard of ship quality maintained by all nations on an equal basis. We are planning to move in that direction.
I might say that this is just one tiny part, along with the natural gas shortage, of the overall energy problem. We've never had in this country what we call a comprehensive energy policy, so that I and you and your teachers and Governors and the Congress and business leaders and others could know what we hope to achieve at the end of a year, 5 years, 20 years, in natural gas, oil, coal, atomic energy, solar energy, conservation, imports, exports, prices, ships, and so forth.
By the end of April--we have a deadline date set for ourselves of April 20--Dr. James Schlesinger and I and many others will come forward for the first time with a national energy policy. And we will be addressing that kind of question that you just raised.
I've got to go back. I've got another conference over in my Oval Office.
Let me say in closing, I'm very glad that you came. The questions that you asked are equal in quality and difficulty to any that I get from any group.
As you probably know, I've always treated young people as adults. I've never been disappointed. In Georgia, we have had 18-year-old voting for more than 35 years. We put it into effect back in the forties. And I would hope that we could pass a law in this country which would not require any registration at all, so that whenever an American citizen reached the age of 18, that you would be automatically registered to vote. This is something that I'm going to propose to Congress, and I hope you will help me get it passed.
I hope that you will not only just enjoy the visit of beautiful places like the White House and Smithsonian Institution and looking at the Washington Monument, but that you will recognize what our Nation is--its failures and its shortcomings and its weaknesses and mistakes, plus its tremendous potential--and invest at least part of your own life in making our country what it ought to be.
I'm going to do the best I can. I've got a lot to learn, and I'm going to welcome hearing from you and from your parents and others. This is a great opportunity for me to have a chance to meet with you.
Good luck to all of you. Thank you for coming.
Note: The President spoke at 1:33 p.m. in the East Room at the White House.
Jimmy Carter, West Chester, Pennsylvania, Students Question-and-Answer Session With Students From Stetson Junior High School. Online by Gerhard Peters and John T. Woolley, The American Presidency Project https://www.presidency.ucsb.edu/node/243249