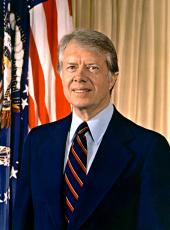 Washington Press Club Dinner Remarks at the Annual Dinner Honoring New Members of Congress.
Mrs. Carter--[laughter]--ladies and gentlemen, and Madam President:
So far I have enjoyed very much being in Washington. Many of the things I have heard about it have turned out to be true--[laughter]--I am sorry to say.
I had been anticipating the Inaugural ceremonies and parade for a long time. I could see the burst of glory that would come to me at the conclusion of the ceremonies, and I could hardly wait. As we entered the limousine at the conclusion of the oath ceremony and got out on Constitution Avenue, and all of us very quietly left the limousine and I started walking down the highway and streets and could hear the vast crowd saying, "Look, look, look"--and I was feeling very good until they said, "There goes Billy's brother." [Laughter]
The next day, Mayor Washington, who was born about 20 miles from where I live, called and said he wanted to thank me for restoring the faith in his city by walking on the street unprotected and by getting my brother back to Plains. [Laughter]
I feel at home with these other new kids in town. I know that some of them have not been here before--Barbara Mikulski and Jim Guy Tucker and others. I remember that when I went to the Naval Academy, as a plebe I was a new kid then, too. And they used to try to make me sing "Marching Through Georgia." I never would do it. [Applause] Two months ago, nobody would have clapped. [Laughter]
I always got a paddling with a long wooden spoon. One advantage about being President is that you can watch Griffin Bell take the punishment. [Laughter]
I went over today to administer the oath of office in the Department of Justice, and we very ceremoniously swung open the tremendous steel door that had been locked since 1970. I made a little talk for the benefit of the news media about not separating the people from their access to justice and to let our people come in, even the demonstrators. And Griffin later said, "Governor, I know you want to be honest and always tell the truth." I said, "That is right." He said, "Well, the truth is that is not why I opened the doors. I want to get out in a hurry if any of my problems evolve again." [Laughter]
Another thing I have in common with these people on the stage is that when we were all elected, we were all fuzzy on the issues--which is proven by the fact that we did get elected. [Laughter] There is an advantage in being a Presidential candidate. You have a much broader range of issues on which to be fuzzy. [Laughter]
I had a large staff in the transition period. I would have had much less trouble with some of my appointments had I been able to find them. I knew they were in Atlanta. They occupied a whole floor. They were trained very carefully by me on analyzing things and giving answers, and I never could find out exactly which floor they were on. [Laughter]
I will walk the straight and narrow path, Senator, between what is right and what is wrong.1 And I will do the best I can to measure up to the qualities of these other leaders in this auditorium. I have heard that Washington was a place of contrast--this banquet tonight and prayer breakfast in the morning. [Laughter]
1 In remarks delivered earlier in the evening, Senator Daniel P. Moynihan had advised the President to "follow the straight and narrow path between right and wrong."
My staff is quite frank with me. I told them that I wanted to put on the image of a common man, someone who didn't have the accolades of the crowd and the homage paid to a strong and able leader. They said so far I have succeeded very well. [Laughter] I told them I wanted them to prepare a talk for me to make tonight that was funny, and they didn't get around to it. [Laughter]
One of the newcomers said on the way over here that when a President tells a joke, whether its is funny or not, people in Washington laugh. And my wife, just as I walked in, said, "Yes, that is true with everybody except the press and the Congress." [Laughter]
So, you have proven it tonight. I thank you. We are partners together, and I hope we will do better in governing our country than we have in entertaining each other this evening. [Laughter]

Thank you very much.
[Following the President's remarks, Senator Robert C. Byrd spoke and then played three selections on his fiddle, concluding with the President's favorite hymn, "Amazing Grace." The President then resumed speaking as follows:]
First of all, I want to thank Senator Byrd for that beautiful, dedicated encore. Before I leave, I thought you might be interested in knowing how the Vice President is doing. To be serious for a few minutes, I have gotten some very frequent calls from him. They have been fairly incoherent, unfortunately. [Laughter]
I thought for a couple of days it was some kind of a secret scrambler telephone, but I find out from some of his staff members that he has put a little too much emphasis on the social aspect of the trip. [Laughter]
There was one message that came through this afternoon that was not garbled, I am very glad to report to you. The State Department informed me about it, I think inadvertently. [Laughter]
Senator Mondale pointed out that he was traveling almost alone, without his wife Joan, that tonight would be his first of two evenings to be spent in Paris, that although he couldn't be a hundred percent in being faithful to the people he left behind, he would like to be loyal to me, and that he wanted to be very careful not to violate my own high standards of ethics and mortality. He give the State Department an urgent call for a copy of my Playboy interview. [Laughter]
He will be home in about a week, Joan. We will see him together.

Thank you very much.
Note: The President spoke at 9:20 p.m. in the Sheraton Hall Ballroom at the Sheraton-Park Hotel. In his opening remarks, he referred to Ellen Wadley, president of the Washington Press Club.
Jimmy Carter, Washington Press Club Dinner Remarks at the Annual Dinner Honoring New Members of Congress. Online by Gerhard Peters and John T. Woolley, The American Presidency Project https://www.presidency.ucsb.edu/node/243077