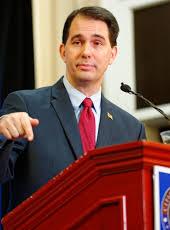 Walker Campaign Press Release - Walker National Campaign Chairman Releases Strategy Memo
To: Interested Parties
From: Walker for America National Campaign Chairman Mike Grebe
Re: Campaign Update
Date: Aug. 7, 2015
After a three-week announcement tour covering more than 15,000 miles in over ten states, it's been a great ride as we rolled into Cleveland for this week's debate. Whether it's a positive showing in early state and national polls, meeting fundraising goals or earning a top slot on the Fox debate stage, we couldn't have asked for a better entry into this race.
Our goal by August was to introduce Governor Walker and his big, bold reforms to America and show the country it isn't too late to turn things around. Scott Walker didn't win three elections in four years with luck. He did it by unapologetically making the case for his brand of bold and successful conservative reforms one voter at a time and out-working everyone.
This campaign is no exception. We are running a retail-style grassroots campaign unlike any other 2016 hopeful, and voters are responding. Our three-week campaign rollout, which kicked off July 13 in Waukesha, WI, was among the most aggressive of any 2016 candidate.
In the first week alone, we visited 16 cities in six states and traveled nearly 900 miles across Iowa on the campaign's Winnebago. We've pledged to complete the "Full Grassley" in the Hawkeye state and have already visited 16 of the 99 counties. We'll be campaigning in all 10 New Hampshire counties on a Harley and have impressive organizations we're building in South Carolina, Nevada and the rest of the early contest states.
Where many candidates see a pathway through one early state, we see pathways through them all.
Governor Walker's long list of conservative successes in Wisconsin, a blue state a Republican presidential candidate hasn't won since 1984, has provided him with a natural base of support that has helped fuel the campaign's momentum thus far. There are voters who admire his success in instituting big, bold conservative reforms and there are also state and local leaders who are inspired by Walker's ability to win tough policy fights in the face of relentless liberal opposition.
The task at hand for us is building on this groundswell of grassroots and grasstops support, and we will do so with a simple strategy: We are going to outwork every other campaign and candidate in the race.
In the nation's first contest, the Iowa Caucus, more than a third of Iowa state senators have already joined our team, and we've secured the full support and endorsements of more than 60 current and former state and local officials. This is testament to Gov. Walker's broad appeal among local leaders and will pay dividends in the coming weeks and months as we unveil an impressive roster of campaign chairs across the country.
And this is just the beginning. While Gov. Walker's resounding victory over liberal union bosses in the fight to reform collective bargaining is widely noted, his many other conservative achievements – creating jobs, cutting taxes, fixing Wisconsin's deficit, defunding Planned Parenthood, and passing Voter ID and Concealed Carry – aren't as well known. Governor Walker has yet to become the household-name that so many others have, yet we are in the mix in every state across the country because people are hungry for leadership – something badly needed in Washington.
On the stump and in the spotlight, Gov. Walker has earned a reputation for being unflappable, always focused on what's important in order to get the job done. Not surprisingly, our campaign has a similar approach. This is a marathon, not a sprint, and while many in the chattering class obsess over the news of the day, we will keep our eye on the ball and concentrate on the fundamentals that win campaigns. This primary will be fought and won one precinct, ward, county and state at a time, and next year the country and the Republican Party will be better off for it.
Scott Walker, Walker Campaign Press Release - Walker National Campaign Chairman Releases Strategy Memo Online by Gerhard Peters and John T. Woolley, The American Presidency Project https://www.presidency.ucsb.edu/node/312206