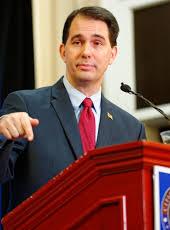 Walker Campaign Press Release - Walker Campaign Press Release - Governor Scott Walker Announces Iowa Leadership Team
Gov. Scott Walker today announced the first 65 members of his Iowa leadership team, which includes more than one-third of the state's senate Republicans, six state representatives and numerous other current and former elected officials, business leaders and party activists.
"Our Iowa leadership team includes a diverse range of party activists, elected officials and business leaders from every region of the state who are recognized as effective, positive leaders in their communities and throughout Iowa," said Walker. "Their support reflects the enthusiasm Iowans have for our big, bold conservative ideas to reform Washington. I'm thrilled to have the support of a leadership team with such depth and committed to carrying our message through the caucuses and beyond as we work to get America back on the right course."
Current Iowa legislators on Walker's leadership team include:
State senators: Jerry Behn, Boone; Mark Costello, Imogene; Randy Feenstra, Hull; Julian Garrett, Indianola; Mark Segebart, Vail; Tom Shipley, Nodaway; Amy Sinclair, Allerton; Brad Zaun, Urbandale, and Dan Zumbach, Ryan.
State representatives: Terry Baxter, Garner; Brian Best, Glidden; Dave Deyoe, Nevada; Dean Fisher, Garwin; Lee Hein, Monticello; and John Landon, Ankeny.
County and city officials: Dallas County Recorder Chad Airhart, Union County Treasurer Kelly Busch, Hardin County Treasurer Machel Eichmeier, Marshall County Treasurer Jarret Heil (who currently also serves as Chair of the Iowa Republican County Officials Association and President of the Iowa County Treasurers Association), Dallas County Sheriff Chad Leonard, Muscatine County Attorney Alan Ostergren, Winneshiek County Treasurer Wayne Walter, Urbandale Mayor Bob Andeweg, Clive Mayor Scott Cirksena, West Des Moines Mayor Steve Gaer and Waukee City Councilman Rick Peterson.
Also among Walker's Iowa leadership team are former state Sen. Nancy Boettger of Harlan and former state Sen. Dave Mulder of Sioux Center, plus:
Joe Batten, Urbandale;
Carole Boddicker, Cedar Rapids;
Chuck Brockmann, Long Grove;
Jenna Brownell, Clive;
Jack Cameron, Coralville;
Former Jackson County GOP Chair Jean Davidsaver, Bellevue;
Former Linn County GOP Chair Jim Dvorsky, Cedar Rapids;
Alyce Elmitt, Urbandale;
Shirley Geadelmann, Clarence;
Former congressional candidate Rob Gettemy, Marion;
Businessman Matt Giese, Dubuque;
Curt and Norma Hames, Marion;
Roger and Jane Hargens, Johnston;
Brenda Hart, Cedar Rapids;
Mark Havlicek, Clive;
Former Marshall County Auditor Jeff Heil, Haverhill;
Simpson College Republican Chair Austin Jacobs, Indianola;
Fred Johnson, Cedar Rapids;
Ankeny School Board Member Aaron Johnson;
Dordt College Republican Chair Steve Kelly, Sioux Center;
Cheryl Kramer, Dubuque;
John Maxwell, Donahue;
Pastor Michael Mudlaff, Clive;
Businesswoman and Iowa Federation of Republican Women member Kathy Pearson, Cedar Rapids;
John and Kathy Rapp, West Des Moines;
Connie Schmett and former congressional candidate Kim Schmett, Clive;
Radio talk show host Maxine Sieleman, Des Moines;
Laura Skogman, Marion;
Terri Steinke and President of Iowa Association of Independent Colleges Gary Steinke, Urbandale;
Wayne Van Heuvelen, Urbandale;
Jeff Walters, Dubuque; and
Ron Wheeler, Cedar Falls.
Additional members of Walker's Iowa leadership team will be announced in the coming months.
Scott Walker, Walker Campaign Press Release - Walker Campaign Press Release - Governor Scott Walker Announces Iowa Leadership Team Online by Gerhard Peters and John T. Woolley, The American Presidency Project https://www.presidency.ucsb.edu/node/312020