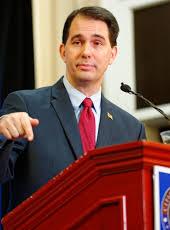 Walker Campaign Press Release - The Five Most Recent Hillary Clinton Attacks Against Scott Walker
After weathering a barrage of Democrat and big-government special interest protests over the years, Governor Scott Walker is no stranger to attacks. This time, it's Hillary Clinton leading the attack against Governor Walker for no other reason than he poses the greatest threat to the liberal agenda.
Here are five of the most recent attacks from Hillary Clinton that show how scared she is of Scott Walker's reforms.
"Take Governor Walker of Wisconsin, who seems to be delighted in slashing higher education in his state, in making it more difficult for students to get scholarships and pay off their debt, eliminating opportunities for young people who are doctors or dentists to actually work in underserved areas in return for having their debt relieved, ending scholarships for poor kids ... And, most surprisingly to me, [Walker rejected] legislation that would have made it tax-deductible for you on your income tax, to deduct the amount of your loan payment. I don't know why he wants to raise taxes on students, but that is the result." - Hillary Clinton, 8/11/15


After decades of huge tuition hikes, Governor Walker froze tuition in the University of Wisconsin System for a record 4 years running, and delivered historic levels of need-based financial aid. Those are real steps to making college more affordable for families.

"Republicans like Scott Walker and Jeb Bush are calling to defund Planned Parenthood, the country's leading provider of reproductive healthcare." - Hillary Clinton, 8/3/15.


One of Planned Parenthood's dirty secrets was revealed in a series of disturbing videos: their business sells the parts of the babies they abort. Like most Americans, Governor Walker does not want our tax dollars to be used to finance the buying and selling of human beings and he's proud to have cut off state funding for these callous acts.

"Governor Walker signed dangerous abortion restrictions into law in WI - without exceptions for rape or incest. Extreme and unacceptable." - Hillary Clinton, 7/20/15


Doctors believe that unborn babies can feel pain at 20 weeks, and Governor Walker signed legislation to protect those babies, which includes provisions to protect the life of the mother.

"Republican governors like Scott Walker have made their names by stomping on workers' rights." - Hillary Clinton, 7/13/15


Thanks to Governor Walker, workers in Wisconsin can now choose for themselves whether they want to belong to a union, instead of being forced to join and pay dues. His reforms also allow public sector workers to be paid on performance and promoted based on merit.

"In Wisconsin, Gov. Scott Walker cut back early voting and signed legislation that would make it harder -- for college students to vote." - Hillary Clinton, 6/4/15


Voter ID legislation makes it easier to vote and harder to cheat in Wisconsin. College students may use their school-provided photo ID (which they need for every school function) or may get a free state ID. It can't get much easier or cheaper.
Despite the Democrats' best efforts - bussing in tens of thousands to protest in the state capital and spending millions upon millions - Scott Walker is still standing and he's won three elections in four years.
How did he do it? Committed supporters just like you, standing up and joining Scott in his principled fight against the big-government special interests. Hillary Clinton is leading the charge against Walker and we're going to need all the help we can get. Add your name here if you're committed to standing with Walker.

Scott Walker, Walker Campaign Press Release - The Five Most Recent Hillary Clinton Attacks Against Scott Walker Online by Gerhard Peters and John T. Woolley, The American Presidency Project https://www.presidency.ucsb.edu/node/311956