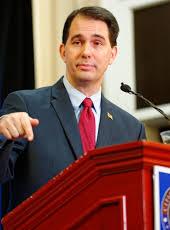 Walker Campaign Press Release - Robert C. O'Brien, Senior Adviser to Governor Walker, Statement on the Need to Terminate the Bad Deal with Iran
Today Robert C. O'Brien, a Senior Adviser to Governor Scott Walker and a former US Representative to the United Nations General Assembly, made the following statement on the need to terminate Obama's bad deal with Iran:
"The next president must terminate this disastrous deal with the Islamic Republic of Iran on Day 1, as Governor Walker has repeatedly pledged to do. In fact, the process of undoing this deal begins right now. We don't need more information, we don't need to wait to confirm the next Secretary of State, we need decisive leadership and we need it now. This won't be easy, but when America leads, and has a strong president with clear priorities who believes in American strength, the rest of the world will follow.
"At stake is our safety and the safety of our closest allies, especially Israel. We cannot delay. President Obama is trying to force his successor to swallow his bad deal at the same time he is showing complete disdain for the policies of his predecessors. For the last 36 years, every American President has organized their Middle East policy around challenging Iran's revolutionary regime. President Obama has reversed that policy, without support from Congress or the country. If Governor Walker is elected, America's policy will be to support our friends and stand up to our enemies. Iran—a regime that chants "Death to America" and wants to wipe Israel off the map—is our enemy whether Barack Obama realizes it or not."
Scott Walker, Walker Campaign Press Release - Robert C. O'Brien, Senior Adviser to Governor Walker, Statement on the Need to Terminate the Bad Deal with Iran Online by Gerhard Peters and John T. Woolley, The American Presidency Project https://www.presidency.ucsb.edu/node/312127