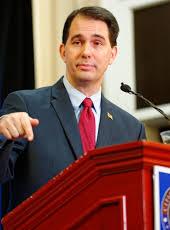 Walker Campaign Press Release - Iowa ♥'s Scott Walker
After a good trip through South Carolina back to Atlanta, we flew up to New Hampshire for the next day of the announcement tour. Fortunately, our first event was not till later in the morning, so we had more time to catch up on sleep.
@ScottWalker talking to the over flow crowd before going into Joey's Diner in Amherst NH #Walker16 pic.twitter.com/U86SQdSb9I— Andrew Snow (@AndrewSnow) July 16, 2015
Our first stop of the day was at Joey's diner in Amherst, NH. When we pulled up, there was another overflow crowd waiting to get into the event. Again, Dad got up on the back of pick up truck to speak with all the supporters that were waiting outside the event.
We had a great time visiting with supporters at Joey's Diner. Joey and his family were great hosts and his kids were ecstatic to be there. Joey told Alex and I that our Dad drew the largest crowd of any candidate that has come to visit his diner before.
Thanks to Joey and his family for hosting us! https://t.co/IKSfwahUmU pic.twitter.com/fVAv6lX7dZ— Matt Walker (@MattWalkerWI) July 16, 2015
Next, we went to a local TV station for Manchester, NH and our Dad filmed a town hall. He first sat down to do an interview with WMUR's Josh McElveen and then opened the floor to take questions from the audience.
Afterwards, we went to the Seacoast Harley Davidson dealership (of course, another Harley dealership). Senator Scott Brown joined us to introduce my Dad to the crowd. It was great to have Senator Brown there, but my Dad was pretty jealous that he rode his motorcycle to the event.
Thx to everyone who came out to Seacoast @HarleyDavidson in North Hampton, NH. See you next weekend. -SW pic.twitter.com/ieAiJpMBa6— Scott Walker (@ScottWalker) July 16, 2015
Next, we made our way to Boston to visit with a small group of supporters, before heading back to the hotel. Dad went to make an appearance on the Kelly File, while Mom, Alex and I made our way back to the hotel to rest after a long day. Alex and Mom had some time to relax, but unfortunately I had to work on classwork for a summer course.
Then, we had an early morning to fly out of Boston to the Quad Cities. Upon arrival we hopped in the new campaign Winnebago. We are taking it all across Iowa over the next three days and will be coming back to use it again and again.
"Teamwork makes the dream work" - grateful for our wonderful staff. #Walker16 pic.twitter.com/104lYkpewY— Tonette Walker (@TonetteWalker) July 17, 2015
So far, we have made one stop in Davenport at the Modern Woodmen Park, home of the River Bandits. It was another packed house in Davenport.
First stop in Iowa! Home of the River City River Bandits #Walker16 pic.twitter.com/prBMua0Siw— Kirsten Kukowski (@kakukowski) July 17, 2015
Yet, the best part of the stop was the stadium scoreboard. Check it out:
What a welcome -> Iowa ♥'s @ScottWalker! pic.twitter.com/42N8mO8iPl— Matt Walker (@MattWalkerWI) July 17, 2015
Alex and I will update more from the trail soon!
Matt
Scott Walker, Walker Campaign Press Release - Iowa ♥'s Scott Walker Online by Gerhard Peters and John T. Woolley, The American Presidency Project https://www.presidency.ucsb.edu/node/312069