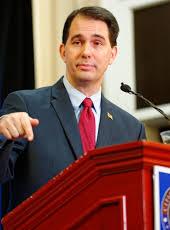 Walker Campaign Press Release - Governor Walker Op-Ed in Real Clear Politics: Our China Policy Must Be Based on Strength
Note: Following his call on Monday to cancel the Chinese State Visit, Governor Scott Walker penned the following op-ed in Real Clear Politics:
By Governor Walker

August 28, 2015

http://bit.ly/1KRZVmo
After the recent cyberattacks against the U.S. government, China needs to be taken to task -- not the White House.
On Monday, I called on President Obama to cancel the upcoming state visit by China to the United States. The pomp and circumstance that comes with an official state visit should be reserved for special friends and allies of our country.
On the president's watch, we have seen China become more aggressive with the United States. We've seen more cyberattacks against our country, a dangerous militarization of the South China Sea, and a disturbing crackdown on Christians and human rights activists.
Yet the president plans to reward China with an official state visit and lavish its leader with White House honors.
These planned honors for China are the disturbing culmination of President Obama and Hillary Clinton's many years of empty threats and symbolic summits.
Hillary Clinton claims to have made great strides in advancing American interests in the cyber realm during her tenure as secretary of state, yet we have seen increasingly brazen attacks against the United States. President Obama has refused to name China as the perpetrator of the cyberattack on the Office of Personnel Management, which resulted in the theft of over 20 million Americans' personal information. We need China to know that any cyberattack on America will be met with a fast and certain response.
Rather than allowing strategic competitors to undermine America, we need to stand up for our economic and national interests and ensure Asia is prosperous, peaceful, and free.
That optimistic vision will guide a Walker administration's strategy for China and the region.
First, we need to support free trade and exert real economic leadership in Asia.
As I have said for months, America must be the economic leader in the region. We need a Trans-Pacific Partnership trade deal that puts American workers first and levels the playing field. A deal that genuinely opens markets and ensures high standards for an area covering almost 40 percent of the world's GDP has huge potential to benefit Americans.
To read the rest of the op-ed, click here.
Scott Walker, Walker Campaign Press Release - Governor Walker Op-Ed in Real Clear Politics: Our China Policy Must Be Based on Strength Online by Gerhard Peters and John T. Woolley, The American Presidency Project https://www.presidency.ucsb.edu/node/310426