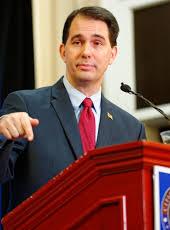 Walker Campaign Press Release - Four Things You Might Have Missed - Week of July 30
1. As he continues campaigning across America, Governor Scott Walker had quite the food week, enjoying local food fare from Chicago, Philadelphia and New York.
"This is the fun part. You get to eat your way around America." http://t.co/vNpBNIL8QJ @journalsentinel #Walker16 — Scott Walker (@ScottWalker) July 29, 2015
Monday -Chicago: Double Cheeseburgers and a beer from Billy Goat Tavern.
Tuesday - Philadelphia: Philly cheesesteak sandwiches from both Geno's Steaks and Pat's King of Steaks.
Thursday - New York: Red Velvet Cheesecake on the set of Fox and Friends.
2. While waiting in the San Francisco airport, Governor Walker took some time to film an impromptu video message calling on you to take a stand against Planned Parenthood and demand that Congress immediately defund this organization nationwide.
3. Governor Walker called out Hillary Clinton on Twitter for shutting down part of a high-end department store to get a $600 haircut AND for heading to Iowa to meet with the big-labor bosses instead of actual Iowans.
Heard @HillaryClinton got a $600 haircut. Here are a few of the things you could buy with that. #OutOfTouch #Walker16 pic.twitter.com/ZRcBXXTSqY — Scott Walker (@ScottWalker) July 30, 2015
READ my op-ed in @DMRegister on @HillaryClinton courting big union bosses in Iowa instead of actual Iowans. - SW http://t.co/7ZtvsZK4S9 — Scott Walker (@ScottWalker) July 28, 2015
The fact that Hillary is shunning everyday Iowans in favor of big-labor bosses sends a clear message about where her true loyalties lie. -SW — Scott Walker (@ScottWalker) July 28, 2015
4. The Scott Walker for President Winnebago is gassed up and ready to hit the road in Iowa again. Governor Walker will be in Iowa today, touring another five counties as he makes his way through all of Iowa's 99 counties.
Gassing up the #Walker16 RV. More events in Iowa on Friday! - SW pic.twitter.com/nlXzOyBoN2 — Scott Walker (@ScottWalker) July 29, 2015
Scott Walker, Walker Campaign Press Release - Four Things You Might Have Missed - Week of July 30 Online by Gerhard Peters and John T. Woolley, The American Presidency Project https://www.presidency.ucsb.edu/node/311991