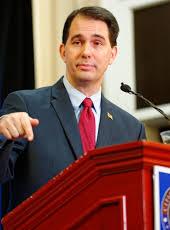 Walker Campaign Press Release - 4 Things You Might Have Missed This Week
While making his first stop at the Red Rock Harley in Las Vegas after announcing he's running for President, Scott Walker met 8-week-old patriot in training, Reagan!


After the President made a bad deal with Iran, Governor Walker made his position very clear and outlined what he would do if elected president.


#IranDeal threatens US safety and exemplifies Obama-Clinton foreign policy: reward our enemies and undermine our true friends like Israel-SW

— Scott Walker (@ScottWalker) July 15, 2015

By endorsing the #IranDeal, @HillaryClinton has betrayed Israel and its supporters: http://t.co/O6C5vuejyy - SW

— Scott Walker (@ScottWalker) July 15, 2015

I'll terminate this bad #IranDeal, reimpose crippling sanctions, and work w/ allies to roll back Iran's destructive regional influence-SW

— Scott Walker (@ScottWalker) July 15, 2015

Due to a severe thunderstorm and flight delays, Scott Walker was up for 40 hours straight and held not one, not two, not three, but four events in South Carolina and Georgia. His son Matt, chronicled the missed connections, 2AM Burger King runs and rent-a-cars in this Medium post.



My head hasn't been on a pillow in 30 hours. This really is around the clock campaigning. Crowds still pump us up. -SW

— Scott Walker (@ScottWalker) July 15, 2015

.@ScottWalker ordering Burger King @ Atlanta airport. Delays got us here at 230am.Driving to Charleston for 8am event pic.twitter.com/hcosp8cf9y

— Rick Wiley (@rick_wiley) July 15, 2015

Scott Walker announced that he's running for President! Chances are you didn't miss the news, but you might not have seen his announcement speech. You can catch the entire speech below and thirteen exclusive photos.
Scott Walker, Walker Campaign Press Release - 4 Things You Might Have Missed This Week Online by Gerhard Peters and John T. Woolley, The American Presidency Project https://www.presidency.ucsb.edu/node/311895