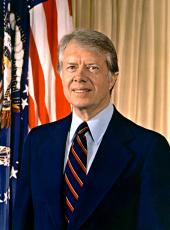 Visit of Vice Premier Deng of China Joint Press Communiqué.
At the invitation of the President of the United States of America and Mrs. Carter, the Vice-Premier of the State Council of the People's Republic of China Deng Xiaoping and Madame Zhuo Lin are on an official visit to the United States which lasts from January 29 to February 4, 1979. Vice-Premier Deng and President Carter held talks on questions of mutual interest in Washington. Accompanying Vice-Premier Deng in the talks were Vice-Premier Fang Yi, Foreign Minister Huang Hua and others. Accompanying President Carter in the talks were Vice President Mondale, Secretary of State Cyrus Vance, Assistant to the President for National Security Affairs Zbigniew Brzezinski and others.
The talks were cordial, constructive and fruitful. The two sides reviewed the international situation and agreed that in many areas they have common interests and share similar points of view. They also discussed those areas in which they have differing perspectives. They reaffirm that they are opposed to efforts by any country or group of countries to establish hegemony or domination over others, and that they are determined to make a contribution to the maintenance of international peace, security and national independence. The two sides consider that the difference in their social systems should not constitute an obstacle to their strengthening friendly relations and cooperation. They are resolved to work toward this end, and they firmly believe that such cooperation is in the interest of their two peoples and also that of peace and stability in the world and the Asia-Pacific region in particular.
Vice-Premier Deng Xiaoping on behalf of the Government of the People's Republic of China and President Carter on behalf of the United States Government signed an Agreement on Cooperation in Science and Technology and a Cultural Agreement. Vice-Premier Fang Yi and the President's Science Adviser Frank Press signed and exchanged letters of understanding on cooperation between the two countries in education, agriculture and space. Vice-Premier Fang Yi and Secretary of Energy James Schlesinger signed an Accord between .the two countries on Cooperation in the Field of High Energy Physics. Foreign Minister Huang Hua and Secretary of State Cyrus Vance signed an Agreement on the Mutual Establishment of Consular Relations and the Opening of Consulates General in each other's country.
Each side agreed to facilitate the accreditation of resident journalists by the other side.
The two sides agreed to conclude trade, aviation, and shipping agreements. These will be discussed during the visits to the People's Republic of China by Secretary of the Treasury Michael Blumenthal and Secretary of Commerce Juanita Kreps.
On behalf of the Chinese Government and Premier Hua Guofeng, Vice-Premier Deng Xiaoping extended an invitation to President Carter to visit China at a time convenient to him. President Carter accepted this invitation. President Carter extended an invitation to Premier Hua Guofeng to visit the United States. Vice-Premier Deng Xiaoping accepted this invitation on behalf of Premier Hua Guofeng. The specific time for these visits by the top leaders of the two countries will be discussed and decided upon at a later time.
Jimmy Carter, Visit of Vice Premier Deng of China Joint Press Communiqué. Online by Gerhard Peters and John T. Woolley, The American Presidency Project https://www.presidency.ucsb.edu/node/248035