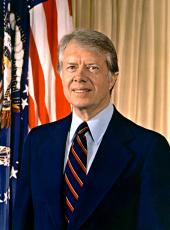 Visit of Prime Minister Takeo Fukuda of Japan Remarks of the President and the Prime Minister at the Welcoming Ceremony.
THE PRESIDENT. I'm going to say just a few words and then give you a chance to do the same.
As an indication of the friendship that we have toward the great nation of Japan, we have arranged this weather for the Prime Minister this morning.
First of all, I would like to express my deep thanks to Prime Minister Fukuda for the hospitality that he showed to Vice President Mondale on his trip to Japan in January.
When I was in Japan less than 2 years ago, Prime Minister Fukuda, who was then Deputy Prime Minister, received me with equal hospitality.
One of the most remarkable and encouraging developments on the international scene has been the constant growth in close relationships, constant consultation, and the sharing of mutual purpose and friendship between Japan and the United States of America during the last 30 or more years.
We have nations with greatly different historical and cultural background and characteristic. But we also have discerned very clearly the many things which we have in common. We're both powerful and beneficial and peaceful presences in the Pacific region. Japan has become one of the world's great economic powers.
And with a careful sensitivity to world affairs and to the hopes and dreams of mankind, Japan has been able to draw a sharp distinction between economic influence and power on the one hand and nonbelligerency, peace, the renouncement of nuclear weapon capability on the other.
In world trade, all the nations of the world recognize the .almost preeminent position that has been carved out by the hard work and dedication, the innovation of a Japanese economy.
We have in our own National Capital since 1912 been reminded every springtime about the close relationships that potentially could exist and which now do exist between Japan and our people. The cherry trees are now preparing to blossom forth with beauty and as a reminder of the friendship that binds our two nations together.
Last year on the 200th anniversary of our own Nation's founding, the Japanese people gave a major contribution to the Kennedy Center for arts and culture. And they also gave to the American people 53 bonsai trees, one of Which is in the Oval Office today, ranging from 50 or 60 years old to more than 350 years old, which shows the age and the strength of the Japanese society and also the beauty which has always been characteristic of the arts that exist in the minds and hearts of the Japanese people.
We appreciate this closeness and we look forward to great and increasing relationships with our friends in Japan.
In closing, let me remind the audience that in May, Prime Minister Fukuda and I will go to London to discuss mutual problems and mutual hopes and policies to 'be established for the future, among the major developed nations of the world, our relationships with one another, our approach to alleviating tensions with potential adversaries, and our policies in dealing with nations that are still developing and which have not enjoyed the bounties of nature as well as we have in our two countries.
But we'll go there in a spirit of cooperation and partnership, as equals, and the discussions between myself and Prune Minister Fukuda, my Cabinet officers and his, today and tomorrow, will ensure that the friendship that we now enjoy will be even more greatly enhanced in the months and years ahead.
So, it's with a spirit of appreciation, confidence, and friendship, that the American people welcome to our Capital City one of the great leaders of one of the greatest nations on Earth--Prime Minister Fukuda of Japan.
Thank you very much for coming.
THE PRIME MINISTER. Mr. President, Mrs. Carter, distinguished guests:
Thank you very much for your gracious comments, President Carter, on this White House Lawn, and this beautiful weather with the cherry blossoms in full bloom. I was deeply moved by your gracious words, Mr. President.
I would like to convey to you my deepest thanks on behalf of the Japanese people.
Two years have passed since we first met in Tokyo, President Carter, but we really haven't been out of touch since then. I have seen a great deal of you, your photographs carded widely throughout Japan, on television and in the papers. And I personally followed with great interest your campaign during the Presidential elections. We had a very enjoyable talk on the telephone about 2 months ago. So, I do not feel that it is only the second time that I am meeting you today I feel as I have known you for many years.
Since taking the office as Prime Minister late last year, I looked forward to the earliest opportunity to exchange views with you, Mr. President, who on January 20 was given the mandate of the American 'people as their President. And I appreciate very much today's opportunity to have the meeting with you.
Mr. President, the United States is number one as an industrial democracy. A little behind you as number two--ranks Japan. And together, I believe that we could cooperate for the future of mankind.
Three years ago, since we experienced the oil shock, the world economy has faced a very difficult situation.
We also have to grapple with the North-South questions and Indochina, the repercussions since Indochina has given still concern to the Asian nations. I believe that our two countries as major industrial democracies and as specific nations can identify our common responsibilities and what we can do to contribute toward world peace.
Since assuming the Prime Ministership of Japan, I have told our Japanese people that a spirit of cooperation and solidarity should be the principle of citizenship of Japanese. I believe the spirit of cooperation and solidarity also applies to the world scene, where nations together can also abide by such spirit.
I am looking forward to today and tomorrow where we can have meetings with you, Mr. President. I have called my own Cabinet in Japan a "let's work" Cabinet. And I want you to know that I am ready to go to work with you for the next 2 days for what we can accomplish in building an even more effective Japanese-American, partnership. Let's work together. Thank you very much.
THE PRESIDENT. Thank you very much. That's beautiful.
Note: The President spoke at 10:40 a.m. on the South Lawn at the White House. The Prime Minister spoke in Japanese, and his remarks were translated by an interpreter.
Jimmy Carter, Visit of Prime Minister Takeo Fukuda of Japan Remarks of the President and the Prime Minister at the Welcoming Ceremony. Online by Gerhard Peters and John T. Woolley, The American Presidency Project https://www.presidency.ucsb.edu/node/243207