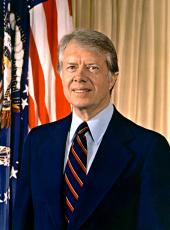 Visit of Prime Minister Morarji Desai of India Remarks at the Welcoming Ceremony.
THE PRESIDENT. Prime Minister Desai, distinguished visitors from the great nation of India:
It's with a great deal of pleasure that I welcome you to our country as friends and as counselors, sharing with us deep commitments which have historically bound our nations together in peace and friendship.
One of the most significant political events of this decade was the vivid reaffirmation in India, in the past election, of democratic principles and the rule of law. India enjoys the prestige of having the largest free electorate in the history of the entire world, a tremendous democratic nation dedicated to the principles which are vividly demonstrated by Prime Minister Desai.
He is a man of courage in protecting those principles in which he believes so deeply. Along with Mahatma Gandhi and, later, Prime Minister Nehru, Prime Minister Desai was willing to suffer in prison as a fruitful demonstration of his commitment to those principles which he still protects with his actions and with his deeds. He's a man who frequently says that the means to an end are just as important as the end itself. He abides strictly by his deep-felt standards of conduct and ethics. Recently on an interview in our country, he says that one cannot use untruth to further truth, and one cannot dispel darkness with darkness.
When I was in India a few months ago, Prime Minister Desai and I issued a carefully prepared declaration of common principles designed to spell out in clear terms the common beliefs and common purposes of our two nations.
We have been great admirers of the economic growth and prosperity that has come to India under this enlightened administration. India is now prepared to be independent of mandatory food imports; in fact, in some products, is even a heavy exporter of food in these days. India has been and is a leader in the developing world. The nonaligned movement has seen and has benefited from the leadership of that great nation.
India has always been in the forefront of the expansion of basic human rights. And the recent declaration of Prime Minister Desai at the Special Session on Disarmament at the United Nations set a standard for other leaders throughout the world to assess and to emulate.
Under Prime Minister Desai, the Government of India has reaffirmed its commitment not to acquire nuclear weapons and to refrain from the explosion of peaceful nuclear devices. The warmth of the welcome extended to me, to my wife, and on other occasions, to my own mother, are a personal proof of the friendship of the Indian people toward those of our own country.
When I was in New Delhi with Prime Minister Desai, he gave me a very cherished gift, a dual bust of Abraham Lincoln and Mahatma Gandhi, with inscriptions thereon which again confirm that our nations stand united in pursuing freedom, our adherence to the principles of democracy, the protection of human rights, our desire for world peace, and our deep religious convictions.
Mr. Prime Minister, it is with the authority of the entire American people that I welcome you, a great leader, to our country.
Thank you very much.
THE PRIME MASTER. Mr. President, Mrs. Carter, I am very grateful to you for your very warm words of welcome. I return to this beautiful country after 9 years and with a feeling of deep satisfaction that our bilateral relations are so much closer than they have been for some time in the past.
I have always strongly believed that friendship between the millions of people in our two countries and the governments which represent them is of great significance in a bilateral as well as global context. There is a vast fund of good will that binds us, an unshakable commitment to the dignity of the individual, to the vitality of the democratic way of life, which adds a special qualitative dimension to this relationship.
We have a similar vision of building a world free from strife and tension. There is no conflict or clash of fundamental interest between us. On the other hand, we are blessed with a great variety of shared interests, the potential for which has perhaps only begun to be tapped.
The complex and changing world in which we live offers to both of us a range of challenging possibilities for cooperative endeavor which may not have existed in the past. The United States, by virtue of its size and strength, cannot but greatly influence the course of human progress and human events. The quality of leadership in the United States is, therefore, of crucial importance to all of us.
I would like to take this opportunity, Mr. President, of expressing, if I may, the admiration and respect that we in India have for you personally, for your family, with which we can claim with pardonable pride of enjoying special links, and for the leadership you are providing to your great country at this delicate juncture in international affairs. And at this stage, Mr. President, may I make a special request and ask you to convey my very warm greetings to your distinguished mother, for whom we have much affection and regard.
Thank you very much.
THE PRESIDENT. I certainly will do that. Thank you.
Note: The President spoke at 10:38 a.m. on the South Lawn of the White House.
Jimmy Carter, Visit of Prime Minister Morarji Desai of India Remarks at the Welcoming Ceremony. Online by Gerhard Peters and John T. Woolley, The American Presidency Project https://www.presidency.ucsb.edu/node/248604