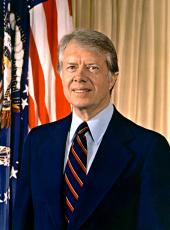 Visit of Prime Minister Margaret Thatcher of the United Kingdom Remarks at the Welcoming Ceremony.
THE PRESIDENT. It's indeed an honor for me, on behalf of the people of our Nation, to welcome to the United States the Prime Minister of the United Kingdom, Margaret Thatcher.
Our country has in its ancestry people from almost every nation on Earth. We are, Madame Prime Minister, indeed a commonwealth of almost every nation, located within the boundaries of one country. But there is no doubt that from your own country has come the heritage and the political faith and the civilization of our country, as the preeminent and the prime source.
We share a lot in common. Although our cars, or our automobiles, may drive on opposite sides of the highway, our people generally move in the same direction. And we share, or at least we attempt to share, a common language. Sometimes we don't succeed. But in the most important things, we do see issues and ideas, challenges, hopes, and expectations in the same way.
We're bound together with a common belief that our national security is intertwined with yours. When we deal with important issues of the present and future years, like energy, our consultations are very close. We are bound together through trade and through culture, through tourism and through blood kin. Perhaps the most important things, however, which bind us together are a common belief in freedom and democracy, the right of people to speak their own minds without interference, and the belief in equal justice for all.
We believe in the dignity of individual human beings, in the importance of it, and the enhancement of human rights throughout the world. We also set a benchmark for other nations to study and perhaps to emulate on how great and sovereign nations can deal with one another in a constructive and harmonious way, even when at times there are differences between us.
As another strong Prime Minister of the United Kingdom has said—Winston Churchill—"The price of greatness is responsibility." It's obvious to all Americans that in the last 7 months, Madame Prime Minister, you've exhibited greatness in the form of assuming responsibility; not only to deal with important and difficult domestic issues, which we also have in our own country, but in searching for ways in which you can meet the challenges of the international world.
You've helped us in the evolution of our SALT treaty, and your strong support for it plays a major role in shaping opinion in our own country. The recent decision made in the European Community, Atlantic Alliance nations on theater nuclear forces have felt the benefit of your strong leadership. We joined together many months ago in strengthening this NATO Alliance. And, of course, we share as well a determination that in the future our efforts on controlling both conventional and nuclear weapons will be successful.
We had long discussions in Tokyo earlier this year about how to deal with the increasing price of energy and the prospective shortage of energy on a worldwide basis. And I'm very grateful that we do share that responsibility, because you add great strength to our own efforts and help to induce other countries to be responsible and forthright in meeting this challenge in a successful way.
Our people have been deeply grateful and filled with admiration at the successful efforts that you have brought to resolving the longstanding problems in Zimbabwe-Rhodesia. And we hope that soon that nation, because of your own efforts, will be blessed with a majority-rule government, and will be free of war and combat, and can indeed have peace and join the democratic nations of the world.
I want the American people to get to know you, Madame Prime Minister, as I have come to know you and admire you. And I particularly want to emphasize that our people in Great Britain, the United Kingdom, and the United States have always 'seen our finest achievements in times of crisis and in times of challenge. I particularly want to thank you personally, on behalf of all Americans, and remind all the citizens of this country that from the very first moment when American hostages were captured and held illegally in Iran, your government has been in the forefront of those who have helped us in every way; both privately and through diplomatic means, and through public means, you've been staunch allies, staunch friends, staunch supporters of ours. And I deeply appreciate it.
I might say in closing, Madame Prime Minister, that this is typical of the interrelationship which our two nations have always enjoyed in the past. You are at home here. This is not your first visit. Many Americans already know you and admire you from a distance. And I'm very grateful that you've come at this time, not a time of dormancy or a time of self-satisfaction, but a time of crisis and a time of challenge, as a strong leader of one of the great nations on Earth.
Madame Prime Minister, we deeply appreciate your visit; the people of my government, the people of our Nation welcome you to the United States. Thank you very much. God bless you and the people whom you represent.
THE PRIME MINISTER. Mr. President, thank you very much for your warm welcome and for the very generous terms in which you expressed it. I'm delighted to be back in Washington and to have the opportunity of meeting you, Mr. President, and many other friends once again.
I don't need to dwell on the emotion which any British Prime Minister must feel on taking part in this ceremony on the White House lawn for the first time. The United States is the most powerful force for freedom and democracy the world over, and we salute and we honor you.
Our meeting, Mr. President, extends a long and historic series. The friendship between our two countries stretches far into the past. It rests on a natural affinity and affection which stand above the buffetings of fate and fortune. The relationship, as you've said, Mr. President, is indeed an exceptional one. It's exceptional in its ease; it's exceptional in its durability; it's exceptional in its consequences. And I look to see it deepened further in the talks that we are .about to begin.
Mr. President, this isn't an easy time for the United States, and I want you to know that every British home has followed anxiously the events of the last 6 weeks in Tehran. The cruel ordeal inflicted on the hostages has aroused the indignation of the civilized world, and our hearts go out to the hostages and our thoughts are with them and their families here.
Our admiration goes to the American people for their patience and wisdom and self-control. You yourself, Mr. President, if I may say so, have won enormous respect in Britain for the statesmanship, calmness, and courage with which you've faced an agonizing problem. At times like this you're entitled to look to your friends for support. We are your friends. We do support you. And we shall support you. Let there be no doubt about that.
Mr. President, as well as the grievous events in Iran, there is much to discuss; for example, Rhodesia, which you have mentioned, where we're deeply grateful for your understanding and support throughout the negotiations, and not least in the last few days; on defense, where we applaud the program that you've just .announced and where we take our full part in the modernization of the theater nuclear forces in NATO; on energy and economic problems, where we're both actively seeking to control inflation and to use our resources better; and on Europe, where I will tell you of my confidence that the 'Community will resolve its present difficulties and emerge a stronger partner for the United States. After this splendid welcoming ceremony, Mr. President, for which I do indeed thank you, I look forward to tackling our formidable agenda and on reaching a broad measure of agreement. We bring you affectionate greetings and good wishes to all the people of the United States of America.
Note: The President spoke at 10:09 a.m. on the South Lawn of the White House.
Following the ceremony, the President and the Prime Minister held meetings in the Oval Office and the Cabinet Room at the White House.
Jimmy Carter, Visit of Prime Minister Margaret Thatcher of the United Kingdom Remarks at the Welcoming Ceremony. Online by Gerhard Peters and John T. Woolley, The American Presidency Project https://www.presidency.ucsb.edu/node/248289