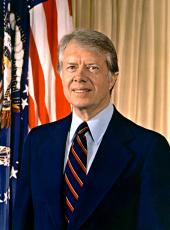 Visit of President Lopez Portillo of Mexico United States-Mexico Joint Communiqué.
President Jimmy Carter of the United States of America and President Jose Lopez Portillo of the United Mexican States, during two days of discussions in Washington, reconfirmed the special importance each places on close and friendly relations between the two neighboring nations. The two Presidents pledged that they would examine closely in the next few months the multiple aspects of the relations between Mexico and the United States with a view to developing policies that reflected the interrelated nature of mutual problems. The two Presidents concluded that the primary objective of each government would be to develop a mutually beneficial relationship that would contribute to the well-being of their nations. To this end they agreed to meet to review progress in the development of comprehensive policies of each of their governments.
The two Presidents also discussed the global situation and agreed to consult regularly on the search for world-wide peace, economic betterment and respect for the rights of man. They reaffirmed that the principles governing relations between the United States and Mexico were non-interference in internal affairs, respect for the sovereign rights of each nation and the recognition of the particular nature of the relationship of neighboring countries.
The two Presidents considered carefully a number of important subjects including economic and monetary questions, investment, trade, immigration, narcotics, smuggling, and some illicit activities, agricultural exchanges, energy, nonproliferation of nuclear arms, Mexico's desire for increased and improved access to international financial institutions and capital markets and the need to seek a better balance in trade between the two countries. They also agreed that it would be of mutual benefit to both countries to contribute to Mexico's development through an increase in the flow of trade between Mexico and the United States, and to stimulate tourism in both directions.
President Carter was impressed by the determination and ability of the Mexican Government to deal with these problems and offered his cooperation in seeking solutions.
President Carter and President Lopez Portillo agreed that the Secretary of Foreign Relations of Mexico and the Secretary of State of the United States should maintain close and frequent personal contacts to assure high-level coordination on actions that might affect both countries. They also agreed that other high officials in both countries should have direct access to each other to discuss pertinent issues when necessary and that mechanisms would be established to study these issues in detail.
The state visit of President Lopez Portillo and the open and friendly discussions between the Presidents of Mexico and the United States served to underscore and reaffirm the close and friendly relationship between the two countries.
Jimmy Carter, Visit of President Lopez Portillo of Mexico United States-Mexico Joint Communiqué. Online by Gerhard Peters and John T. Woolley, The American Presidency Project https://www.presidency.ucsb.edu/node/241493