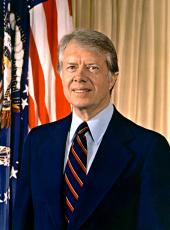 Visit of President Julius K. Nyerere of Tanzania Remarks of the President and President Nyerere at the Welcoming Ceremony.
PRESIDENT CARTER. Fourteen years ago, a young leader of our own Nation, John Kennedy, welcomed a young leader of a new nation, Julius Nyerere from Tanzania, to our country. There was a sharing of ideals and hopes and a mutual declaration of frustration about the hatred and racial discrimination and deprivation of the poor prevalent throughout the world. It was an honor for our country to have this new leader come to see us when his own country was only 2 years old.
He's a man who has come from a small village, with a father who shaped his concepts about caring for those who need help and public service, a mother who kept the family close together in times of trial and tribulation when it was dangerous to express one's views about political change; a man who has deep religious convictions and who's been successful in his own country in translating those convictions into demonstrable concern about freedom, justice, equality, the alleviation of hunger, poverty, and disease.
Now, this same man, President Nyerere from Tanzania, comes back to our Nation still a strong leader who in his own country is known as "Teacher." He epitomizes what his country is, what it stands for. But now he's much more than a national leader; he's a wise man, experienced, a superb politician who recognizes that the structure of government can be used for beneficial purposes. He is admired in every council of world leaders throughout this globe--a senior statesman whose integrity is unquestioned and which never has been questioned; a man who has forgone material wealth and ease in a sacrificial way for his own people.
In the troubled continent of Africa, he's recognized as preeminent in his commitment to the hopes and purposes of free people. He's a well-educated man, a scholar, a philosopher, a great writer, one who probes for new ideas and who expresses them succinctly and clearly to shape the minds of other people in a beneficent and constructive way.
Our own Nation is deeply concerned about and with Africa. As a new President myself, I need his advice and his counsel and his friendship and his guidance as we try to act in a responsible and constructive fashion to bring about peace with justice in the 30 or more nations in Africa in the years ahead.
He can help me and others take the right stand as we bring about proper change toward majority rule in Rhodesia or Zimbabwe, in Namibia, and in the alleviation of racial discrimination throughout the continent of Africa and the rest of the world. I value his friendship and look forward today and tomorrow in having a chance to learn from him.
It is with a great sense of appreciation of what he is and a clear recognition of the honor bestowed upon our country by the visit of President Nyerere, I would like to say, on behalf of the American people, Mr. President, welcome, or in your language, Karibu.
Thank you very much.
PRESIDENT NYERERE. Mr. President, you have been very kind and very generous in your remarks about myself. If I had not jotted down my remarks, I would have found it extremely difficult to say a few words, but I do thank you with great sincerity for the warmth of your welcome to me and to my colleagues. I can assure you that I have very great pleasure in coming to your country at your invitation.
We in Tanzania, Mr. President, and in Africa generally, follow American politics with close attention. There is the intrinsic interest of the affairs of the most powerful nation the world has ever known. But more to the point, your politics do affect us. Indeed, we in Tanzania sometimes think that the world should somehow join in the process of electing the American President--[laughter]--for though we realize that the American people do not elect an absolute monarch, the world power structure is such that other peoples in other nations have a vital interest in the person whom the American people choose as their executive head of state.
We appreciate your own recognition, Mr. President, of this fact in the message to audiences abroad which you issued on your inauguration.
Let me, therefore, once again offer you, Mr. President, our congratulations on the honor and the heavy responsibility which the American people have given you.
I'm very happy to be in the White House today as your guest, just as I was the guest of your distinguished predecessor and my friend, the late President Kennedy, in 1963.
Mr. President, I am glad of this opportunity to discuss with you the matters of common interest between our two countries, but in particular, the problems of southern Africa, for we in Tanzania have greatly welcomed your administration's new approach to matters related to the liberation of my continent from colonialism and racialism. I am, therefore, looking forward to my discussions with you and your colleagues and with Members of Congress.
I'm also very happy to have been invited to spend a few extra days in this country and to have been given the opportunity to visit different parts of the country. I do not expect to become an expert on America from my brief visits to the different States of your great country, but I'm sure that I shall learn a great deal of interest to me and to my countrymen.
Once again, Mr. President, I thank you very much.
Note: The President spoke at 10:37 a.m. on the South Lawn of the White House.
Jimmy Carter, Visit of President Julius K. Nyerere of Tanzania Remarks of the President and President Nyerere at the Welcoming Ceremony. Online by Gerhard Peters and John T. Woolley, The American Presidency Project https://www.presidency.ucsb.edu/node/243700