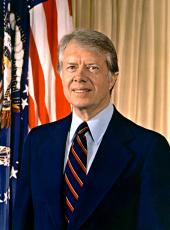 Visit of President Anwar al Sadat of Egypt Remarks of the President and President Sadat at the Welcoming Ceremony.
PRESIDENT CARTER. First of all, let me say that the weather is not at all indicative of the warmth that we feel in our own hearts and minds for the visit of President and Mrs. Sadat. He said that he's very glad to see the rain, that in Egypt they don't get quite as much as we have here. And this is kind of a treat for him. I am looking forward to an opportunity to go to his great country.
One of the most exciting experiences that I have had was to visit recently the tremendous exhibit of just a few of the precious items from the Tomb of King Tutankhamen, or King Tut as most of us refer to it. My wife and I and our family went to the National Gallery. And we were overwhelmed at its beauty and the ancient heritage that belongs to Egypt. I believe that the sending of this exhibit to our country--and it is now moving from one great city to another-has been a good omen for the relationship that is going to continue to improve between the people of Egypt and the people of the United States.
President Sadat, people stood in line all night long, waiting to go in to see the exhibit. And I think I can truthfully say that of the almost one million Americans who visited this exhibit in Washington, none of them were disappointed and they thought that the wait in line was well worth it when they saw these treasures.
I am very grateful that I have been lucky enough to be President during this year, a year when President Sadat and other leaders in the Middle East have established a very special goal of major achievements in bringing peace to that troubled region of the world.
There are no easy answers. There have now been about 29 years of search for accommodation among the nations who inhabit that precious area of ground. And I think it's fair to say that with President Sadat's close relationship with his own people, their trust in him as a leader, his superb demonstration of courage to make statements of hope and determination that 1977 will be a fruitful year for negotiations, that he has been an inspiration to us all. He understands the complexities of the issues there. But he also sees very clearly, as I am beginning to learn, the tremendous benefits that can be derived if leaders like him and others can meet with a common purpose to establish peace on a permanent basis in the eastern part of the Mediterranean and among those nations who share a common heritage, a common history, common ancestors, the opportunities for improved trade, economic benefits for citizens there, an end to the military arms race, and an opportunity to live in harmony, one with another.
I'd also like to say that I have been looking forward to a chance to establish a close and personal friendship with President Sadat. I have never talked to an American leader in this administration or the past administrations in the executive branch of Government or in the Congress who had met him who didn't come away impressed with his sensitivity, his intelligence, his vision, and his courage. I hope to learn a lot from him and to share with him, as best we can, the prospects for the interested parties this year to search out a common basis for a peaceful and permanent solution to that troubled region of the world.
Our own country will offer its good offices when called upon to do so, to share with nations located there to find this peaceful resolution.
We understand the common ground on which that peace might be brought. And I personally am willing to devote a great deal of my own time and the time of the American Government to cooperation in this worthwhile pursuit toward a great goal which might bring stability to the entire world.
So, I would like to say in closing that President Sadat is received here in our own country with a warm welcome, appreciation for his great achievements in the past, and a hope that with his leadership and that of others in the Mideast region, that the achievements might be even greater this year.
Thank you for coming to see us. I look forward to detailed discussions about many items that are on our agenda, and, Mrs. Sadat, we are very grateful that you could come and be with us also. President Sadat, welcome.
PRESIDENT SADAT. Mr. President, it is with great pleasure that I revisit your country and meet with such a statesman who is the personification of the new spirit that is emerging in America today.
For so long we have been told that politics is amoral and that international relations are not the domain of idealism or spirituality, but one of expediency and the pursuit of selfish interests.
But the unfortunate turn of events in the past decades and the suffering that has been inflicted upon many of our fellow men have shaken the foundations of these premises and confronted us with a new challenge.
We had to reexamine the postulates which we have taken for granted or acquiesced to for centuries. A process of soul-searching became inevitable for the salvation of mankind.
Only leaders with vision and exceptional wisdom were able to grasp the magnitude of the problem and recognize the pressing need for a bold change without delay.
It is quite evident, Mr. President, that you were amongst those farsighted and perceptive leaders. On the first day you assumed the awesome responsibility of your office, you took pride in the fact that your society was the first one to define itself in terms of both spirituality and human liberty. You pledged to spare no effort to help shape a just and peaceful world that is truly humane.
It is in this spirit that I come to your great country with an open mind and an open heart in order to work with you for strengthening the structure of peace and promoting the revival of idealism in international relations.
I am certain that you know, Mr. President, that Egypt ever since its emergence as a state more than 7,000 years ago, has been a land of ideals and principles. From time immemorial, the Egyptian has remained faithful to higher values and ideals which render human life more rewarding and fulfilling. His belief in the divine truth, the afterlife, and the day of judgment--all this has instilled in him an extraordinary sense of justice and a genuine conviction of the universal brotherhood of man.
It is not a mere coincidence, therefore, that we share with you the belief that the only way to improve the quality of our life is to reinstall the long-neglected idealism and spirituality which enrich our existence, individually and collectively.
Mr. President, a few weeks ago, you pledged to devote a major part of your time this year to efforts toward a lasting peace in the Middle East. Undoubtedly, this genuine determination stemmed out of thoughtful realization on your part of the possibility as well as the necessity to establish peace in the area after 29 years of devastating wars and stifling tension.
This also demonstrates your enlightened awareness that your country has a certain mission to fulfill and a major responsibility to contribute positively to the process of peace in the Middle East. More important, you registered your willingness and even enthusiasm to fully assume this responsibility.
In your speech at the United Nations on March 17, you reiterated that your country has the strength of ideals and that you are determined to maintain these ideals as the backbone of your policy.
I endorse this statement and hope to see it implemented in practice. Such ideals certainly coincide with the norms of legitimacy and legality in international behavior.
Thus, you cannot support foreign occupation of one's land or tolerate territorial expansionism. We know that attachment to one's land is a value which is deeply rooted in the fabric of the American society. It is the central force that made the realization of the American dream possible.
Mr. President, I am sure that you concur with me that it would be a grave mistake to waste this golden opportunity to put an end to a state of affairs that has plagued our area for decades.
There is every indication that you are aware of the centrality of the Palestinian cause to the entire dispute. It is the core and crux of the issue. No progress whatsoever can be achieved so long as this problem remains unsolved.
In your public pronouncements in recent weeks, you came very close to the proper remedy. What is needed is the establishment of a political entity where the Palestinians can, at long last, be a community of citizens, not a group of refugees. The humanitarian dimension of their plight is merely one of the aspects of the problem. Their yearning to exercise their normal rights remains the heart of the issue.
Mr. President, the Arab nation, with its long history of tolerance and cooperation with other nations, is eager to contribute further to the welfare and prosperity of mankind. It harbors no ill-feeling towards any people, nor has it ever experienced prejudice or hatred .against any creed or peoples. We remain committed to peace in our area and in the world at large.
Mr. President, over the past few years, I worked with your predecessors to develop ties of cooperation and mutual understanding between our two peoples. I am glad to say that we are satisfied with the development of our bilateral relations and are looking forward for an era of an ever-increasing exchange and interaction during your Presidency. In this respect, I must express my people's gratitude and mine, Mr. President, for the gallant action from your side, helping us in our economic problems lately. Really, it has shown the valiant American spirit after you have helped us in many ways in the last few years, especially in preparing the Suez Canal for the navigation and for the prosperity of the whole world.
Mr. President, I am carrying to every American a message of friendship and amity from 40 million Egyptians. We wish you all the success and gratification of fulfillment you are aspiring to. Let us pray to God Almighty so that the days ahead may witness a happy American family under every roof and a state of peace and solidarity in every community. Let us also pray that God grants us the strength to establish a better world for the generations to come.
Thank you, Mr. President.
Note: The President spoke at 10:43 a.m. in the East Room at the White House after greeting President Sadat at the North Portico. The welcoming ceremony was held in the East Room because of inclement weather.
Jimmy Carter, Visit of President Anwar al Sadat of Egypt Remarks of the President and President Sadat at the Welcoming Ceremony. Online by Gerhard Peters and John T. Woolley, The American Presidency Project https://www.presidency.ucsb.edu/node/242976