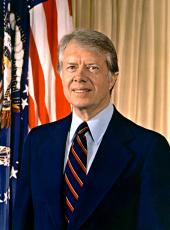 Visit of Chancellor Schmidt of the Federal Republic of Germany Remarks at the Entertainment Honoring Chancellor Schmidt.
Again I want to welcome all of you here tonight. We are very thrilled and pleased to have Chancellor Helmut Schmidt, his wife, Foreign Minister Genscher and his wife, and other distinguished visitors from the Federal Republic of Germany.
As a special treat for them and for us, we have a performance tonight put on by five artists from the Metropolitan Opera Company, and I think you'll all recognize the beautiful music which exemplifies so well and so delightfully part of the American heritage.
When I was a young midshipman at Annapolis we had four weekends off per year--the second year we were at Annapolis; none the first year. One of my weekends I went to New York, and the first and only musical play that I ever heard was "Carousel." And tonight we have selections from "Carousel."
Following this performance, I'd like to make a special introduction to you of an extraordinary guest that we have. But I'll delay that until after the performance is completed.
I think you'll enjoy this, and I hope you will express your appreciation to these fine singers who have come here to put on this performance and to our fine Marine Band.

Thank you very much.

[At this point, the entertainment began. At its conclusion, the President resumed speaking.]
Did you like the music?

Fifty years ago a young man began to write perhaps the most beautiful music that our country has ever heard. His name is Richard Rodgers, and he's here tonight, and I'd like to ask him to come up on the stage with his wife, Dorothy.
Mr. Rodgers has a problem that I know many of you wish the politicians had. He can't speak very well, but we are so proud to have him and his wife here tonight. He and Lorenz Hart, better known as Rodgers and Hart, wrote 28 musical plays before Mr. Hart became unable to write. And then he formed another partnership with Oscar Hammerstein, and they produced some of the most brilliant and famous musical productions in our lifetime.
"Carousel" is just one of them--"Oklahoma," "South Pacific," "Sound of Music," "The King and I," and many others.
He's a man who is an inspiration to us all, one of the human treasures of the United States. He's received 10 honorary degrees. He's won the Pulitzer Prize twice. He's won two Oscars, he's won five Tony awards, and he's a man who exemplifies the finest in ensuring that other people of our Nation and the world have an enjoyable and inspired life.
And I'm very grateful and honored that Mr. Rodgers has come here tonight to be with us. This music, "Carousel," is just one of many tremendous examples of his noted work. And we are honored, Richard Rodgers, that you would come here to the White House with me and with Chancellor Schmidt and all these distinguished visitors from the United States and from the Federal Republic of Germany this evening.
Thank you very much, and God bless you, sir.
Typically of one who loves the way notes are put together, he wants us to recognize a brilliant performance of the Marine Band, and I wish you would stand, too. Mr. Rodgers said you did a superb job.
Note: The President spoke at 10:30 p.m. on the South Lawn of the White House.
Jimmy Carter, Visit of Chancellor Schmidt of the Federal Republic of Germany Remarks at the Entertainment Honoring Chancellor Schmidt. Online by Gerhard Peters and John T. Woolley, The American Presidency Project https://www.presidency.ucsb.edu/node/243089