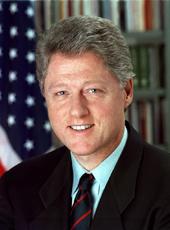 Videotaped Remarks to the "Safe Schools, Safe Students: What Parents Can Do" Teleconference
Hello, and welcome to the many parents, students, educators, and community leaders meeting in schools all across our Nation tonight. I want to thank you for taking part in this vital discussion about safe schools and safe students.
Several months ago, after the tragedy in Littleton, I called on the American people to wage a national campaign to keep our schools and our children safe. I am pleased that you and so many other Americans in so many communities are doing just that, stepping up to your responsibility, joining hands in the search for common ground and concrete solutions.
The tragic incidents of gun violence in recent months underscore the importance of your efforts. The shooting just this week at the Jewish community center in Los Angeles, like the recent shootings in Illinois and Indiana, appears to have been motivated by racial and ethnic hatred. If so, it's just another reason for us to rededicate ourselves to our common community and our common humanity and another compelling argument for the passage of hate crimes legislation and commonsense gun laws.
Acts of hate against individuals are acts of hate against our values and our entire Nation. So let us all speak clearly and with one voice: Our Nation will not stand for such acts. Acts of hate must strengthen our resolve and deepen our determination that Americans will come together and stand together and work together against violence, intolerance, and hatred.
In all these efforts, we must all first assume responsibility: at home and at school, in Hollywood and the heartland, and here in Washington. Parents play an especially crucial role, for no influence on a child is more important. I am very pleased that Secretary Riley and Attorney General Reno will focus this national conversation on the concerns and responsibilities of parents. You'll hear from experts who have some good and helpful ideas. But I know they, like the rest of us, are eager to hear from all of you who already are making a difference in young lives every day.
In spite of the tragedies of the last few weeks, the crime rate in America is at a 26-year low. Though it's still far too high, this shows that we can make progress. With your ideas and your hard work, America can meet this challenge. Together, we can make America the safest big nation in the world; we can put an end to the culture of violence and build in its place a culture of values we'll all be proud to pass along to our children.
Thank you.
NOTE: The President's remarks were videotaped at approximately 3:35 p.m. in the Cabinet Room at the White House for later transmission to the teleconference, which was sponsored by the Department of Education. A tape was not available for verification of the content of these remarks.
William J. Clinton, Videotaped Remarks to the "Safe Schools, Safe Students: What Parents Can Do" Teleconference Online by Gerhard Peters and John T. Woolley, The American Presidency Project https://www.presidency.ucsb.edu/node/227968