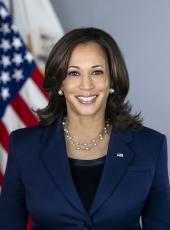 Vice Presidential Pool Reports of May 24, 2022
Pool Reports by Alexander Nazaryan, Yahoo News
Sent:
Reports:
May 24, 2022
14:54

VP Supplemental Pool #1: Swearing-in ceremony

Good afternoon from the EEOB, where Vice President Harris will be swearing in Alina L. Romanowski as ambassador to Iraq and Deborah Lipstadt as envoy to combat anti-Semitism. The swearing-in will take place in the VP's Ceremonial Office.

May 24, 2022
15:18

VP Supplemental Pool Report #2: Romanowski ceremony

Romanowski confirmation was brief and straightforward. A photo of the ceremony in my Twitter account:

https://twitter.com/alexnazaryan/status/1529179235448922112?s=21&t=GKUwoNQVPKHqjsMtBir-gg

May 24, 2022
15:35

VP Supplemental Pool Report #3: Lipstadt ceremony

In a second ceremony, Deborah Lipstadt was sworn in by VP Harris as special envoy to combat anti-Semitism.

Present were many family members, as well as Second Gentleman Doug Emhoff, Sen. Jacky Rosen (D-Nev) Rep. Debbie Wasserman Schultz (D-Fla).

VP Harris took pictures with the Lipstadt family, hugged the two above-mentioned legislators and then retreated into her offices.
Pool Report by Olympia Sonnier, NBC News
Sent:
Reports:
May 24, 2022
19:16

#7- VP Supplemental Pool - VP Harris' remarks on TX Shooting

Please see below the otter transcript of VP Harris' remarks on the TX Shooting.  Audio:https://otter.ai/u/SfYoefSONtvWFYkSkorDrU6gDuk

Please check against tape.

VP Kamala Harris  19:06:11
Thank you for that introduction for your leadership on so many levels for our great celebrations that are a multitude I have prepared comments about tonight because I was the first one. In Texas, as many of you know the report so that was a mass shooting elementary school and 14 children are coming in and of course the President is monitoring the situation.

19:07:04
While we don't know all the details, we lost children, families and many others. So I would normally say in my case, we would all say naturally that our hearts break

19:07:29
but our hearts keep getting broken you know, I think so many is so many elected leaders in this room we're not talking about

19:07:48
in our token price have nothing yet it keeps so, I think we all know that many times where each other enough. Enough is enough. As a nation we have to have the courage to take action. Understand the nexus between what makes reasonable and sensible public policy. One for something I've just never happened but the President will speak more about this later. Just to the people that are involved. Please note that this is a room full of leaders agreed and we are praying for you and we stand with you. And it is difficult at a time like this to think about much else. But I do look around this room and I know who's here. I know this is a room full of American leaders who know and have the courage to take a stand. So let us tonight as we do every time we all get together, recommit ourselves to having the courage to take action.
Kamala Harris, Vice Presidential Pool Reports of May 24, 2022 Online by Gerhard Peters and John T. Woolley, The American Presidency Project https://www.presidency.ucsb.edu/node/356095