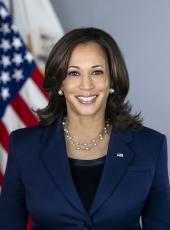 Vice Presidential Pool Reports of January 9, 2023
Pool Reports by Gerren Keith Gaynor, TheGrio
Sent:
Reports:
January 9, 2023
15:23

VP Supplemental Pool #1 - Brazil Ambassador swearing-in

Good afternoon,

I am your print pooler for Vice President Harris' swearing-in ceremony for Elizabeth Bagley as Ambassador to Brazil. The ceremony is scheduled for 3:30 p.m. and will take place at the VP Ceremonial office.

The pool is already gathered inside. Soon-to-be Ambassador Bagley is already present.

January 9, 2023
15:43

VP Supplemental Pool #2

On background from a White House Official:
Today, Vice President Harris will ceremonially swear in Ambassador Elizabeth Bagley as Ambassador to Brazil. Ambassador Bagley will be sworn in on a personal bible held by her son and daughter.
The Ambassador is joined by family members below.
- Vaughan Bagley, daughter
- Benjamin Maskell, son-in-law
- Conor Bagley, son
- Kevin Frawley, brother
- Brian Frawley, brother

January 9, 2023
16:09

VP Supplemental Pool #3

Vice President Harris walked into the ceremonial office at 4:03 p.m.

She immediately began to swear in Bagley.

Your pooler asked about the riots in Brazil, to which the VP said, "We condemn it." She expressed she is "confident" in Ambassador Bagley's ability to restore peace in the region.

The VP was also asked about Bolsonaro by another reporter and whether he should be removed from the U.S. The VP did not answer as she exited the ceremonial office.

I will work to send exact quotes very soon.

January 9, 2023
16:12

VP Supplemental Pool #4

Here are the exact quotes from VP Harris on Brazil:

"Well, let's be clear. This was an obvious and clear attack on a democratic process. And we condemn it. Of course, I will also say that as I've said to the ambassador, Ambassador Bagley, I'm very confident in her ability to represent the United States and to extend to President Lula all that we need in terms of the work that we will do together as allies on some of the most important issues facing our world. So we're very much looking forward to her leadership and to work with President Lula."

January 9, 2023
16:23

VP Supplemental Pool #5 - Pool dismissed

The pool was held for a bit inside the ceremonial office and was dismissed around 4:18. Nothing else from the VP office, but if there are any questions, please feel free to contact me!
Kamala Harris, Vice Presidential Pool Reports of January 9, 2023 Online by Gerhard Peters and John T. Woolley, The American Presidency Project https://www.presidency.ucsb.edu/node/359318