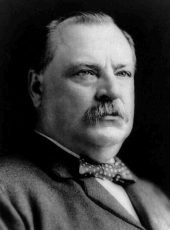 Veto Message
To the House of Representatives:
I return without approval House bill No. 10661, entitled "An act granting a pension to Mrs. Sophia Vogelsang."
The husband of this beneficiary was severely wounded in the military service of the United States, and in consequence of said wound his left leg was amputated. This was in 1862. In January, 1863, another amputation was performed higher up above the knee. He appears at that time to have been living, or at least was treated, at Detroit, Mich. He was pensioned at the rate of $30 per month at the time of his death, which occurred at Louisville, Ky., where he appears to have then resided, on the 21st day of July, 1885.
The beneficiary filed a claim for pension in November, 1885, alleging that her husband died of gangrene.
There does not, however, seem to be a particle of evidence establishing that cause of death. On the contrary, the report received at the Pension Bureau of his death attributes it to sunstroke, and this does not seem to be directly questioned.
The report of the House committee to whom this bill was referred proceeds upon the theory that death was caused from the use of opium to allay the pain of the wound. This theory is presented upon the alleged opinion of the surgeon living in Detroit, who made the second amputation in 1863. He says that the pain of the wound obliged the soldier to take morphine. But it does not appear that he observed the case for a long time preceding death. Instead of his giving an opinion that the disability and morphine produced death, he says, as it is reported to me, after describing the condition of the limb previous to its amputation in 1863 and immediately thereafter:
According to my opinion, said disability and the constant use of morphia in consequence of it may have been the cause of his death.
This and the statement of a druggist in Louisville that he sold him morphine to alleviate pain, and of two different persons with whom he boarded at that city in 1885 to the same effect, is all the evidence that I can discover tending in the least to hint that the death of the pensioner resulted from any cause but sunstroke, which really stands as the undisputed cause of death.
The allegation in the committee's report that the beneficiary's claim was rejected by the Pension Bureau on the ground that her husband's death proceeded from the use of morphine is erroneous. The cause of rejection is stated to be "that the death cause (sunstroke) was not the result of the soldier's military service."
We are not, therefore, left to the consideration of the question whether death from the use of morphine to allay pain can be charged to the disability incurred, for if death resulted from sunstroke it will hardly be claimed that it was in any way related to such disability.
GROVER CLEVELAND
Grover Cleveland, Veto Message Online by Gerhard Peters and John T. Woolley, The American Presidency Project https://www.presidency.ucsb.edu/node/205333