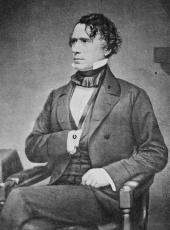 Veto Message
To the Senate of the United States:
I return herewith to the Senate, in which it originated, the bill entitled "An act to remove obstructions to navigation in the mouth of the Mississippi River at the Southwest Pass and Pass a l'Outre," which proposes to appropriate a sum of money, to be expended under the superintendence of the Secretary of War, "for the opening and keeping open ship channels of sufficient capacity to accommodate the wants of commerce through the Southwest Pass and Pass a l'Outre, leading from the Mississippi River to the Gulf of Mexico."
In a communication addressed by me to the two Houses of Congress on the 30th of December, 1854, my views were exhibited in full on the subject of the relation of the General Government to internal improvements. I set forth on that occasion the constitutional impediments, which in my mind are insuperable, to the prosecution of a system of internal improvements by means of appropriations from the Treasury of the United States, more especially the consideration that the Constitution does not confer on the General Government any express power to make such appropriations, that they are not a necessary and proper incident of any of the express powers, and that the assumption of authority on the part of the Federal Government to commence and carry on a general system of internal improvements, while exceptionable for the want of constitutional power, is in other respects prejudicial to the several interests and inconsistent with the true relation to one another of the Union and of the individual States.
These objections apply to the whole system of internal improvements, whether such improvements consist of works on land or in navigable waters, either of the seacoast or of the interior lakes or rivers.
I have not been able, after the most careful reflection, to regard the bill before me in any other light than as part of a general system of internal improvements, and therefore feel constrained to submit it, with these objections, to the reconsideration of Congress.
FRANKLIN PIERCE.
Franklin Pierce, Veto Message Online by Gerhard Peters and John T. Woolley, The American Presidency Project https://www.presidency.ucsb.edu/node/203060