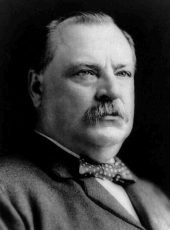 Veto Message
To the House of Representatives:
I return without approval House bill No. 473, entitled "An act granting a pension to William Boone."
There is not the slightest room for doubt as to the facts involved in this case.
No application for pension was ever made to the Pension Bureau by the beneficiary named in this bill. He enlisted in August, 1862; was in action November, 1862, and taken prisoner and at once paroled. During his parole, and at Aurora, in the State of Illinois, he took part in the celebration of the 4th day of July, 1863, and while so engaged was terribly injured by the discharge of a cannon. He is poor, and has a wife and a number of children.
These facts are derived from the report of the committee in Congress to whom the bill was referred, and from a letter written by the soldier since favorable action was had upon said bill by both Houses of Congress, which letter is now before me. In this letter he says: "I never thought of trying getting a pension until my old comrades urged me to do so."
This declaration does not in the least, I think, militate against the present application for pension, but it tends to show the ideas that have become quite prevalent concerning the facts necessary to be established in order to procure a pension by special act of Congress.
Let it be conceded that during the three months which elapsed between the soldier's enlistment and his capture and parole he was constantly in the field and bravely did his duty. The case presented is that of a brave soldier, not injured in any engagement with the enemy, but honorably captured, and by his parole placed in a condition which prevented for the time being his further active military service. He proceeded to his home or to his friends and took his place among noncombatants. Eight months afterwards he joined the citizens of the place of his sojourn and the citizens of every town and hamlet in the loyal States in the usual and creditable celebration of our national holiday. Among the casualties which unfortunately always result from such celebrations there occurred a premature discharge of a cannon, which the present claimant for pension was assisting other citizens to discharge and manage.
Whether any of those thus engaged with him were injured is not disclosed, but it is certain that the paroled soldier was very badly hurt.
I am utterly unable to discover any relation between this accident and the military service, or any reason why, if a pension is granted as proposed by this bill, there should not also be a pension granted to any of the companions of the claimant who chanced to be injured at the same time.
A disabled man and a wife and family in need are objects which appeal to the sympathy and charitable feelings of any decent man; but it seems to me that it by no means follows that those intrusted with the people's business and the expenditure of the people's money are justified in so executing the pension laws as that they shall furnish a means of relief in every case of distress or hardship.
GROVER CLEVELAND
Grover Cleveland, Veto Message Online by Gerhard Peters and John T. Woolley, The American Presidency Project https://www.presidency.ucsb.edu/node/204576