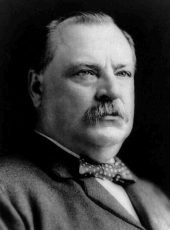 Veto Message
To the Senate:
I hereby return without approval Senate bill No. 1850, entitled "An act granting a pension to Mrs. Annie C. Owen."
The husband of the claimant was mustered into the service as second lieutenant December 14, 1861, and discharged October 16, 1862. It appears that he died in 1876 from neuralgia of the heart. In 1883 the present claimant filed her application for pension, alleging that her husband received two shell wounds, one in the calf of his left leg and one in his left side, on the 1st day of July, 1862, and claiming that they were in some way connected with the cause of his death.
On the records of his command there is no mention made of either wound, but it does appear that on the 8th day of July, seven days after the date of the alleged wounds, he was granted a leave of absence for thirty days on account, as stated in a medical certificate, of "remittent fever and diarrhea." A medical certificate dated August 5, 1862, while absent on leave, represents him to be at that time suffering from "chronic bronchitis and acute dysentery."
The application made for pension by the widow was rejected by the Pension Bureau February 1, 1886.
There is nothing before me showing that the husband of the claimant ever filed an application for pension, though he lived nearly fourteen years after his discharge; and his widow's claim was not made until twenty-one years after the alleged wounds and seven years after her husband's death.
If the information furnished concerning this soldier' s service is correct, this claim for pension must be based upon a mistake. It is hardly possible that wounds such as are alleged should be received in battle by a second lieutenant and no record made of them; that he should seven days thereafter receive a leave of absence for other sickness, with no mention of these wounds, and that a medical certificate should be made (probably with a view of prolonging his leave) stating still other ailments, but silent as to wounds. The further facts that he made no claim for pension and that the claim of his widow was long delayed are worthy of consideration. And if the wounds were received as described there is certainly no necessary connection between them and death fourteen years afterwards from neuralgia of the heart.
GROVER CLEVELAND
Grover Cleveland, Veto Message Online by Gerhard Peters and John T. Woolley, The American Presidency Project https://www.presidency.ucsb.edu/node/204320