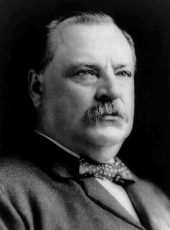 Veto Message
To the House of Representatives:
I return herewith without approval House bill No. 4658, entitled "An act granting a pension to Hiram R. Rhea and repealing an act approved March 3, 1871."
The person named in the title of this bill was pensioned under the provisions of a private act passed March 3, 1871. In 1892 a letter from the Commissioner of Pensions was presented to Congress exhibiting facts which established in a most satisfactory manner that the claim for pension allowed by said special act was a barefaced and impudent fraud, supported by deliberate perjury. This letter appears to be the moving cause of the passage of the bill now before me. Payment of pension under the fraudulent act has been suspended since January 28, 1893, and since that time no information has been received from the fraudulent pensioner.
The circumstances developed called for the repeal of the law of 1871 placing him upon the pension roll. This is accomplished in the second section of the bill under consideration, which section I would be glad to approve. This repeal, however, is accompanied by a provision in the first section of the bill directing the Secretary of the Interior to place upon the pension roll this identical fraudulent pensioner, under a certificate numbered precisely the same as that heretofore issued to him, "at a rate proportionate to the degree of disability from such gunshot wounds as may be shown to the satisfaction of said Secretary to have been received at the hands of Confederate soldiers or sympathizers while said Rhea was attempting to cooperate with the Union forces," etc.
Inasmuch as the letter of the Commissioner of Pensions to which reference has been made, and which forms part of the committee's report on this bill, is the basis of this repealing provision, and inasmuch as this letter furnishes evidence that the pensioner was when injured a very disreputable member of a band of armed rebels and was wounded by Union soldiers, I can not understand why the same bill which for this reason purges the pension rolls of his name should in the same breath undo this work and direct his name to be rewritten on the rolls.
If the facts before Congress justify the repeal of the law under which this man fraudulently received a pension for nearly twenty-two years, they certainly do not justify the provision directing his name to be put on the rolls again with a view to further examination of his case or for any other purpose.
GROVER CLEVELAND.
Grover Cleveland, Veto Message Online by Gerhard Peters and John T. Woolley, The American Presidency Project https://www.presidency.ucsb.edu/node/206379