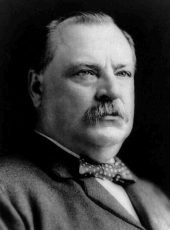 Veto Message
To the House of Representatives:
I return without approval House bill No. 1394, entitled "An act authorizing the Secretary of the Treasury to purchase additional ground for the accommodation of Government offices in Council Bluffs, Iowa."
A new public building at Council Bluffs will be completed in a short time. The ground upon which it is located has a frontage of 192 feet and a depth of 106 feet and 10 inches. The proposition is to add 30 feet to its depth. The act under which this building has been thus far constructed provides that the ground purchased therefor shall be of such dimensions as to leave the building unexposed to fire by an open space of at least 40 feet, including streets and alleys. The building is located on land now belonging to the Government sufficient in size to comply with this provision, and in point of fact more than the open space required is left on all sides of the same. There is no pretense that any enlargement of the building is necessary or contemplated.
The report of the committee to which this bill was referred in the House simply states that" the grounds on which said building is situated are inadequate for its proper accommodation and safety."
If this is so, I can see no reason why additional ground should not be purchased for "the proper accommodation and safety" of a large proportion of the public buildings completed and in process of erection, since the provision that there shall exist 40 feet of open space on all sides is, I think, contained in all the bills authorizing their construction. In this view the proposed legislation would establish a very bad precedent.
It is provided in the bill that the additional 30 feet mentioned shall be purchased for a sum not to exceed $10,000. The adjoining 106 feet and 10 inches, located on the corner of two streets, were purchased in the year 1882 by the Government for $15,000. The permission to purchase this addition at a price per foot greatly in excess of that already owned by the Government seems so unnecessary, except to benefit the owner, that I am of the opinion it should not be granted.
GROVER CLEVELAND
Grover Cleveland, Veto Message Online by Gerhard Peters and John T. Woolley, The American Presidency Project https://www.presidency.ucsb.edu/node/204990