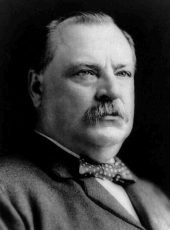 Veto Message
To the Senate:
I return without approval Senate bill No. 347, entitled "An act to provide for the erection of a public building in the city of Youngstown, Ohio."
By the census of 1880 the population of Youngstown appears to be 15,435. It is claimed by those urging the erection of a public building there that its population has nearly doubled since that date. The amount appropriated in the bill herewith returned is $75,000. There does not seem to be any governmental purpose to which such a building could be properly devoted except the accommodation of the post-office.
I have listened to an unusual amount of personal representation in favor of this bill from parties whose desires I should be glad to meet on this or any other question; but none of them have insisted that there is any present governmental need of the proposed new building even for postal purposes. On the contrary, I am informed that the post-office is at present well accommodated in quarters held under a lease which does not expire, I believe, until 1892. A letter addressed to the postmaster at Youngstown containing certain questions bearing upon the necessity of a new building failed to elicit a reply. This fact is very unusual and extraordinary, for the postmaster can almost always be relied upon to make an exhibit of the great necessity of larger quarters when a new public building is in prospect.
The fact was communicated to me early in the present session of the Congress that the aggregate sum of the appropriations contained in bills for the erection and extension of public buildings which had up to that time been referred to the House Committee on Public Buildings and Grounds was about $37,000,000.
Of course this fact would have no particular relevancy if all the buildings asked for were necessary for the transaction of public business, as long as we have the money to pay for them; but inasmuch as a large number of the buildings proposed are unnecessary and their erection would be wasteful and extravagant, besides furnishing precedents for further and more extended reckless expenditures of a like character, it seems to me that applications for new and expensive public buildings should be carefully scrutinized.
I am satisfied that the appropriation of $75,000 for a building at Youngstown is at present not justified.
GROVER CLEVELAND
Grover Cleveland, Veto Message Online by Gerhard Peters and John T. Woolley, The American Presidency Project https://www.presidency.ucsb.edu/node/204959