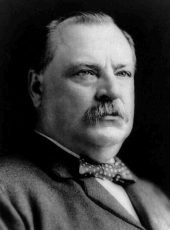 Veto Message
To the Senate:
I return without approval Senate bill No. 3038, entitled "An act for the relief of P. E. Parker."
Mr. Parker was a surety with six other persons upon an official bond given by one Franklin Travis, a collector of internal revenue, which bond was dated on the 9th day of May, 1867. A few years after that the collector became a defaulter to the Government for something over $27,000. Suit was commenced against the sureties upon the bond, and the defense was presented in their behalf that by reason of the imposition of new duties and responsibilities upon the collector after the execution of the bond his sureties were released. Judgment, however, passed against them, and the property of the beneficiary named in this bill was sold upon said judgment for the sum of $2,366.95. But only $1,793.16 of such amount was paid into the United States Treasury, the remainder having been applied to the payment of fees and expenses.
After the application of this sum to the payment of the judgment a bill was passed by the Congress relieving all these sureties from liability upon the bond. It appears that the amount above stated was all the money collected thereupon. The grant of the relief of these sureties by the Congress apparently was the same interposed by them to the suit in which the judgment was recovered.
The present bill directs the Secretary of the Treasury to pay to the surety Parker the sum of $2,336.95, the entire amount for which his property was sold, though the Senate committee to which the bill was referred reported in favor of reducing this sum to $1,793.16, the amount actually received by the United States upon its indebtedness.
It seems to me that the action of Congress in relieving these sureties was generous in the extreme, and if money was to be refunded which was apparently legally recovered and collected it should not exceed the amount the Government actually received. The Government is in no default and should be put to no expense in refunding the small sum recovered on account of the defalcation of its officer whose good conduct this beneficiary guaranteed. I think it would better subserve public interests if no further relief should be granted than that already afforded.
There is another fact reported to me which deprives this surety of any equitable claim for further relief. It appears from an examination of this matter that the man who is now attempting to be reimbursed this money from the Government Treasury commenced a suit against his cosureties for this identical money on the ground of their liability with him, and that he actually collected from two of them in such suit the sum of $1,747.16.
If this is true, it is speaking mildly of the claim he now makes against the Government to say that it should not have been presented.
GROVER CLEVELAND
Grover Cleveland, Veto Message Online by Gerhard Peters and John T. Woolley, The American Presidency Project https://www.presidency.ucsb.edu/node/205182