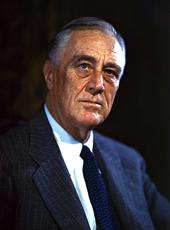 Veto of Crop Production Loans Bill.
To the Senate:
I return herewith, without my approval, S. 3612, a bill entitled "To provide loans to farmers for crop production and harvesting during the year 1936, and for other purposes."
This bill authorizes an appropriation of $50,000,000 from the general fund of the Treasury for loans to farmers during the year 1936 for production of crops—principally seed loans.
In approving the bill providing $40,000,000 for crop production loans for 1934, I stated that I did so on the theory that it was proper to taper off the crop loan system, which had been initiated on a large scale as early as 1931, rather than to cut it off abruptly, particularly since such loans would serve a useful purpose in aiding certain farmers unable to qualify for crop production loans through the newly established farmers' production credit associations, and that the 1934 loan by the Government should thus be considered as a tapering-off loan.
It is true that I gave my approval to a $60,000,000 crop production loan for 1935, but this loan was primarily for relief purposes principally in the drought-stricken areas, and I recommended to the Congress that the cost of such loans should properly be defrayed from the appropriation for relief purposes. Accordingly $60,000,000 was reappropriated from unobligated balances under allocations from the appropriation of $525,000,000 for relief in stricken agricultural areas contained in the Emergency Appropriation Act passed the previous year. In my budget message, transmitting the 1937 Budget, I stated:
"If the Congress enacts legislation at the coming session which will impose additional charges upon the Treasury for which provision is not already made in this Budget, I strongly urge that additional taxes be provided to cover such charges."
No provision was made in the financial program for the fiscal year 1936, or the fiscal year 1937, for additional crop loans, and, notwithstanding my budget statement, quoted above, the Congress by this bill authorizes an additional draft upon the Treasury for $50,000,000 for new crop loans, without making provision for any revenue to cover such loans.
However, while I am returning this bill without my approval, I recognize that there still exists a need for crop production loans to farmers whose cash requirements are so small that the operating and supervisory costs, as well as the credit risk, make credit unavailable to them at this time through the usual commercial channels and who, unless extended assistance of this character, would no doubt find it necessary to seek some other form of relief from the Government. This is particularly true with respect to those areas in which unusual conditions prevail because of drought, dust storms, floods, rust and other unforeseen disasters.
I fully agree with the Congress that provision should be made for such. borrowers during the year 1936, but I feel that other borrowers should seek credit elsewhere.
I am convinced that the immediate and actual needs to which I have referred can be met during the year 1936 by an expenditure of funds materially less than that proposed in the bill under discussion.
Furthermore, these needs can be met, without the necessity of enacting authorizing legislation, through an allocation of funds by me from the appropriation provided in the Emergency Relief Appropriation Act for 1935, which appropriation, I am informally advised by the Comptroller General of the United States, can be utilized for such loans as I might indicate by Executive Order to be desirable and necessary for relief measures.
I believe, therefore, that a special appropriation by the Congress at this time is both inadvisable and unnecessary. That being so, and in the absence of such legislation, I proposed in order to meet this need to issue an Executive Order within the next few days.
Franklin D. Roosevelt, Veto of Crop Production Loans Bill. Online by Gerhard Peters and John T. Woolley, The American Presidency Project https://www.presidency.ucsb.edu/node/208591