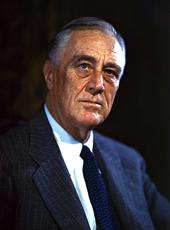 Veto of a Bill Restricting Representatives of Friendly Nations in the United States.
To the House of Representatives:
I return herewith, without my approval, H. R. 6269, "To amend the Act entitled 'An Act to require the registration of certain persons employed by agencies to disseminate propaganda in the United States, and for other purposes,' approved June 8, 1938, as amended."
This bill was drafted in peacetime to protect a Nation at peace. It was properly designed to force the disclosure of the activities of foreign agents who may abuse the hospitality of our country or weaken our national unity by fostering discord and distrust.
The bill, however, obviously was not drafted with a view to the situation created by the Axis assault upon our country and our entry into the war in fighting partnership with twenty-five United Nations and in active cooperation with other Nations whose defense we deem vital to our own defense.
To achieve victory we must be certain that there is a minimum of interference with the strengthening and perfecting of joint action. Active collaboration of a military or economic nature with friendly countries requires the fullest and most constant exchange of representatives between us.
Just as we are anxious to see nothing interfere with the functioning of our representatives in friendly countries, so we must do everything we can to facilitate their functioning with us in the common cause. It is far from clear that the requirements of this legislation would not in many instances be unnecessary, inappropriate, and onerous in respect to the representatives of friendly Nations who are constantly coming to and from the United States to cooperate with us.
I recommend that this bill be adjusted to meet these changed conditions resulting from our entry into the war. Such adjustment might be achieved by granting broad discretionary powers to the Attorney General during the emergency, to enable him to administer the bill so as to meet these new conditions.
Franklin D. Roosevelt, Veto of a Bill Restricting Representatives of Friendly Nations in the United States. Online by Gerhard Peters and John T. Woolley, The American Presidency Project https://www.presidency.ucsb.edu/node/210326