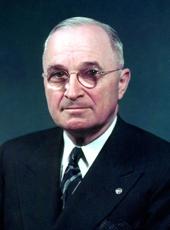 Veto of Bill Relating to the Promotion of Veterans of World War II in the Field Service of the Post Office Department
To the House of Representatives:
I RETURN herewith, without my approval, H.R. 87, a bill relating to the promotion of veterans of World War II in the field service of the Post Office Department.
This bill, for purposes of promotion and salary, would grant veterans who first entered the postal field service after the conclusion of their services in the armed forces full credit for such military service during the war. Its benefits are limited to those who are in the postal field service on the date of enactment, or who shall enter such service after such date, but prior to July 1, 1950- They would receive pay increases of $100--one pay grade--for each year of military service on a pro rata basis. Under section 2 also, any substitute postal employee who failed of promotion to regular employee because he was in the military or naval forces of the United States during World War II shall, for the purposes of determining his postal salary, be held to have been promoted to such regular position as of the date of a vacancy to which he, as senior substitute, could have been promoted. I do not object to the provisions of section 2.
There are four basic weaknesses in the remaining provisions of this bill.
First, H.R. 87 is based on the bad principle of allowing credit for service in no way related to a civil career. It would thus violate the long established principle of granting promotions or increases in pay on the basis of satisfactory performance.
There is a big difference between the principle on which this bill is based and the principle, now recognized in law, of granting credit for military service to employees whose civilian careers were interrupted by wartime service in the armed forces. There is a good basis for presuming that civilian employees who are called into the armed forces and who performed creditable service in military jobs would have performed with equal merit if they had stayed on their civilian jobs. The records of their promotions since the war, both in the postal service and in other branches of the civil service, have demonstrated the soundness of the presumption under which they have gained credit.
By the same token there is also a sound basis for the granting of credit for service in the armed forces to those who were on registers of eligibles awaiting appointment to the postal service when they were called to duty in the armed forces. On the other hand, it cannot reasonably be presumed that the veterans to be benefited by this law intended to enter the postal service. They were not in the postal service before the war; they were not on lists of eligibles for appointment to the postal service; many of them by reason of age, lack of experience, or other work history, could not have obtained any eligibility until after completion of their military service. Therefore, I believe that to extend the benefits proposed in this measure to them would be tantamount to giving what might be called an indirect bonus or adjusted service payment in recognition of military service. This would be a far reaching step in an undesirable direction.
Second, H.R. 87 is discriminatory and would be detrimental to the efficiency of the postal service and of the Federal civil service at large. It is limited to a small fraction of the veterans in the employ of the Federal Government and to one group of employees in the Post Office Department. If permitted to become law, its consequences could be only discontent and a demand for similar treatment for other branches of the Federal service. This fact becomes even more apparent when it is recognized that it would promote veterans over the heads of nonveterans of equal ability and capacity and that the veteran appointed on June 30, 1950, would obtain its benefits while a veteran appointed a day later would not.
Third, H.R. 87 cannot be defended even as a veterans' benefit bill. It provides a special benefit to a special group of veterans without reference to a real and distinctive need. There is no more effective way of undermining the soundness and integrity of a veteran's status than by the enactment of legislation which does not apply equally to all veterans similarly situated under that law. In the aggregate, fewer than 100,000 of the more than 15,000,000 World War II veterans--of whom about 900,000 are in Government service--would receive pay increases under this bill. Thus, I believe it is apparent that these pay increases cannot logically be related either to the program of the Federal Government for assisting disabled servicemen to overcome service handicaps or to the broader program of facilitating the readjustment of other ex-servicemen to productive civilian life. The benefits of those programs are available to the veterans affected by this measure. It is to be expected that they either have received or will receive such of the benefits as are applicable to their particular cases, including the important element of preference for appointment and retention to positions in the Federal civil service. That "veterans' preference" is important is demonstrated by the fact that veteran eligibles have replaced all but a handful of war service non-veterans appointed to the postal field service between October 23, 1943 (when competitive examinations for the postal field service were suspended) and the end of the war. To grant some of these veterans pay increases solely on the ground of prior military service would certainly be a pyramiding of benefits which I feel cannot be justified.
Fourth, H.R. 87 would require large additional budget expenditures at a time when postal service throughout the nation is being curtailed in an effort to reduce a postal deficit which currently exceeds half a billion dollars a year. This bill would cost almost $24 million in the fiscal year 1951 and would have a total cost of over $163 million. My objection to the bill on this score is based partially upon the absence of any provision for increasing postal revenues to reduce the postal deficit.
Furthermore, I feel that this objection is reinforced by the fact that since 1945, very substantial pay increases have been given to postal employees. The legislation cannot be defended on the grounds that in the absence of a general pay adjustment, a pay increase for one group is warranted. This bill would not help to maintain the integrity of the pay system in the postal field service. It would merely cause dislocations of a kind which are 'particularly bad, not only because of cost, but more important, because the bill would afford advancements beyond those already earned in a service which has relatively limited promotional opportunities. I believe that the comparatively small number of supervisory positions in the postal service should be reached in the normal manner and not by resort to a costly measure which would distort accepted relationships between work performance and salary.
For the foregoing reasons, I believe that the principal provisions of H.R. 87 are intrinsically without merit. I am, therefore, compelled to return it without my approval.
HARRY S. TRUMAN
Harry S. Truman, Veto of Bill Relating to the Promotion of Veterans of World War II in the Field Service of the Post Office Department Online by Gerhard Peters and John T. Woolley, The American Presidency Project https://www.presidency.ucsb.edu/node/230826