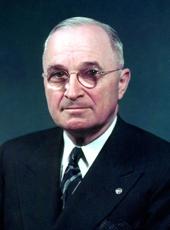 Veto of Bill Modifying Eligibility Requirements for Pension Payments to Certain Widows of Veterans.
To the House of Representatives:
I return herewith, without my approval, H.R. 3549, 82nd Congress, a bill "To modify eligibility requirements for payment of pension to certain widows of veterans of the Civil War, Indian Wars, and Spanish-American War, including the Boxer Rebellion and the Philippine Insurrection."
This bill would remove dependency as an eligibility requirement for payment of nonservice-connected death pensions to certain widows of veterans of the Civil War, Indian Wars, and Spanish-American War who married the veterans some 20 to 40 years after the respective termination dates of these wars.
The immediate effect of this bill would be to add a comparatively small number of widows of veterans of the Civil, Indian, and Spanish-American Wars to the list of those receiving nonservice-connected death pensions, and the first year's cost would be relatively small. Even in its entirety the cost would not be very great. Nevertheless, the fact remains that the bill would completely abolish the dependency requirement for the particular group to which it applies, and would not substitute any minimum income requirement in its place. This would establish a dangerous precedent and one which the legislative history clearly indicates was not intended. I believe that such action would represent a serious departure from sound financial and social policy, both from the standpoint of immediate effect and of long-range consequences. While relatively few individuals would be affected by this particular bill, acceptance of the principle underlying it would inevitably bring a demand for its extension to thousands of widows of veterans of World War I and World War II. Clearly such an extension would have serious budgetary consequences.
Existing laws require that widows of the veterans in question must be dependent in order to obtain pensions. Under present laws and regulations, the basic test of dependency is whether such a widow has income sufficient to provide for her reasonable support. In making this test, the Veterans' Administration does not limit the widow to bare necessities; its administrative determinations are guided by the facts and circumstances of the individual case. The obligations of the widow to provide maintenance for those members of her family whom she is under a moral or legal obligation to support are taken into consideration. Medical and hospital expenditures are likewise considered. In determining dependency, certain items of income are disregarded, including charitable assistance and pension or compensation under laws administered by the Veterans' Administration. I believe the existing statutory requirement of dependency is not only reasonable but entirely equitable. I also believe that the Veterans' Administration in administering the present law has fairly applied appropriate tests of dependency, and will continue to do so.
However, I would not object to legislation to provide that these widows shall not be denied pensions because of the dependency requirement in any case where the widow's income does not exceed the income limitations provided in subsection 1(c) of the Act of June 28, 1934, for nonservice-connected death pensions to widows of veterans of World Wars I and II. This would mean that a widow would not be denied a pension because of the dependency requirement if her income did not exceed $1,000 a year for a widow without a child or $2,500 a year for a widow with a child or children; and that, if her income exceeded those specified amounts, she might or might not receive a pension depending on whether or not there is a showing of dependency in the particular case.
HARRY S. TRUMAN
Harry S Truman, Veto of Bill Modifying Eligibility Requirements for Pension Payments to Certain Widows of Veterans. Online by Gerhard Peters and John T. Woolley, The American Presidency Project https://www.presidency.ucsb.edu/node/230542