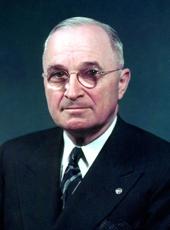 Veto of Bill To Increase the Pensions of Certain Disabled Veterans.
To the House of Representatives:
I am returning herewith, without my approval, H.R. 3193, 82nd Congress, "An Act to establish a rate of pension for aid and attendance under Part 3 of Veterans Regulation No. 1(A), as amended."
At the outset, I want to make clear that this bill does not affect compensation to veterans who were disabled as a result of military service. It is concerned solely with pensions paid to disabled veterans whose disabilities have no connection with their military service.
Under H.R. 3193 certain veterans now receiving nonservice-connected pensions would have their pensions substantially increased. Those veterans needing the aid and attendance of another person would have their pensions increased from the present rates of $60 or $72 a month to $120 a month. The bill would apply to a few veterans of the Spanish American War, and to veterans of World War I, World War II, and the present conflict.
Enactment of the bill would cost the Government, in the first year of operation, approximately $16,700,000. This, however, is not the full story. As the veterans of the two world wars and the present conflict advance in age through the years, the cost would increase very substantially. A projection of the cost on the basis of experience under pension legislation for Spanish American War veterans indicates that toward the end of this century the cost of this bill would approach $400,000,000 a year, including only the eligible veterans of World War I and World War II.
Enactment of H.R. 3193 would aggravate an already existing disparity in the Government's treatment of non veterans and veterans whose disabilities are in no way connected with military service. Under present law a veteran and a non veteran permanently disabled, for example in the same automobile accident, would not be treated alike even if they are equally deserving and are in equal need. The veteran would be eligible for a disability pension, subject to certain income limitations. The non veteran would have no eligibility for disability benefits.
I do not believe that aggravation of this disparity is sound and I am convinced that it is contrary to the fundamental philosophy that should guide our provision of benefits to veterans. On several occasions I have said that new legislation dealing with veterans problems should be limited to meeting those special and unique needs which arise directly from military service. The other needs of veterans--those which do not arise directly from military service--should be met through comprehensive programs for veterans and non veterans alike.
Those veterans who would be affected by H.R. 3193 will continue to receive their present pensions. Hospital and medical care and other benefits will also be available to those who can qualify for them under existing law.
In view of the foregoing considerations, I feel obliged to withhold my approval from H.R. 3193.
HARRY S. TRUMAN
Note: On September 18 the Congress passed the bill over the President's veto. As enacted, H.R. 3193 is Public Law 149, 82d Congress (65 Stat. 324).
Harry S Truman, Veto of Bill To Increase the Pensions of Certain Disabled Veterans. Online by Gerhard Peters and John T. Woolley, The American Presidency Project https://www.presidency.ucsb.edu/node/230546