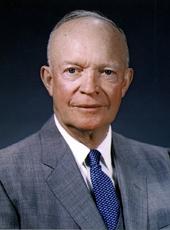 Veto of Bill for the Relief of Theodore W. Carlson.
To the House of Representatives:
I am returning herewith without my approval H.R. 3109, 83rd Congress, "An Act For the relief of Theodore W. Carlson."
The bill proposes to grant to Theodore W. Carlson all of the rights, benefits, and privileges which are granted to persons who served on active duty with the United States Army during World War II, and who were honorably discharged from such service after having suffered permanent total loss of vision in one eye as a result of such service.
The evidence discloses that Theodore W. Carlson served in the Army of the United States from February 1941 to October 1941, and from February 1942 to November 1945. In February 1947, he filed a claim for service-connected disability compensation with the Veterans' Administration, alleging an eye condition. In developing that claim, he contended that in February 1945, a foreign body blew into his right eye and had inflamed and infected it; that he was treated at his unit's dispensary, and experienced some relief; that in July or August 1945, the eye condition returned, and he lost the sight in that eye for a short period of time; and that when he again visited the dispensary, he was instructed to apply warm applications, which again resulted in some improvement. In this connection, the medical records of the Army do not confirm the alleged treatment for his eye condition, and when discharged, the veteran claimed no injury to his right eye and the physical examination at that time disclosed no pathology of the eye. Mr. Carlson also claimed that after discharge he suffered recurring periods of blindness, and beginning in August 1947, his sight in that eye was limited to light perception only. He submitted affidavits from his private physicians stating that he was treated on several occasions from December 1945 to August 1947 for moderate inflammation of the eye, and that in November 1947, a diagnosis of retinal detachment and tear involving the macular area of the right eye was established. A third physician stated in 1950 that his examination disclosed an old retinal detachment in the right eye and that it was possible that this could have been produced by injury to the eye while Mr. Carlson was in service.
Since 1947 the veteran's claim for service-connected disability compensation has been very carefully considered on numerous occasions by Veterans' Administration rating boards and at least five times by the Board of Veterans' Appeals. After each consideration it was concluded that the eye disability was not shown to have been incurred in or aggravated by his military service.
The question at issue in this case is basically one of medical judgment, and should not be overruled by private legislation. The possibility raised by the last mentioned physician that Mr. Carlson's eye condition of retinal detachment could have been produced by injury to the eye while he was in service has been considered by the Veterans' Administration. However, based on sound and accepted medical principles, they have held that the evidence does not permit a conclusion that the separated retina initially diagnosed in November 1947 was due either to the inflammatory eye disease first treated approximately two years earlier or causally related to trauma allegedly caused by a foreign body being blown in Mr. Carlson's eye during service.
I consider it unwise to set aside the principles and rules of administration prescribed in the general laws governing veterans' benefit programs. Uniformity and equality of treatment to all who are similarly situated must ,be the steadfast rule if the Federal programs for veterans and their dependents are to be operated successfully. Moreover, in my opinion the present case does not warrant preferred treatment. Further, I am informed that this would be the first case in which a World War II veteran would, in effect, be placed on the compensation rolls by special legislation. Since there are well over a half million veterans of World War II alone whose claims for disability compensation have been denied in accordance with public laws because the disabilities for which compensation is claimed were not incurred in or aggravated by their military service, approval of this bill would constitute a far-reaching precedent, which I cannot justify.
DWIGHT D. EISENHOWER
Dwight D. Eisenhower, Veto of Bill for the Relief of Theodore W. Carlson. Online by Gerhard Peters and John T. Woolley, The American Presidency Project https://www.presidency.ucsb.edu/node/232119