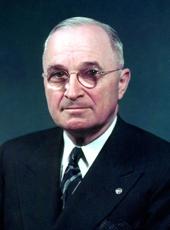 Veto of Bill for the Relief of the City of Reno, Nevada
To the United States Senate:
I return herewith, without my approval, S. 41 "An Act for the relief of the City of Reno, Nevada."
This bill would authorize the payment to the City of Reno of $1,620, representing the amount which would have been assessable for street improvements against property owned by the United States and used by the Forest Service in this city, if the property had been privately owned.
Under the doctrine of intergovernmental tax immunity, Federally owned real property is exempt from State and local taxes, including special assessments, unless the Federal Government has specifically authorized taxation. The Congress has authorized payments of taxes, or payments in lieu of taxes, in a few instances, such as real property held by Federal lending agencies, the Reconstruction Finance Corporation, and public housing projects. There has not been adopted, however, any comprehensive overall program for payments on account of Federally owned property.
The lack of such a program has resulted in numerous cases of hardship in particular communities. The problem presented in the case of Reno is not limited to any one locality. Federal buildings have been constructed in a great many cries and towns and in many more the Federal Government has acquired property for use in its programs. Following the doctrine of immunity of the sovereign to taxation, the Public Buildings Administration in administering its construction programs has not shared the cost of improvements either when constructing buildings or when benefiting, as in the instant case, from locally authorized repaving work. Federal responsibility has stopped at the property line.
The desirability of adopting general legislation designed to provide a comprehensive program for payments on account of Federally owned property has heretofore been indicated to the Congress. On May 26, 1943, there were presented to it the recommendations of the Federal Real Estate Board, which, after extensive study of this problem, proposed specific measures to meet the situation. In addition, general legislation is now pending dealing with the over-all aspects of this problem, including proposed provisions for payment of special assessments with respect to some Federal properties.
Were I to approve S. 41, the precedent established would give rise to innumerable petitions for similar special relief of many other communities affected by the location therein of Federal real estate. Any legislation providing relief should be of general application, should not be retroactive in its coverage, and should deal with the problem on a comprehensive basis.
HARRY S. TRUMAN
Harry S. Truman, Veto of Bill for the Relief of the City of Reno, Nevada Online by Gerhard Peters and John T. Woolley, The American Presidency Project https://www.presidency.ucsb.edu/node/229684