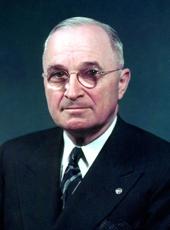 Veto of Bill To Convey Lands to the City of Miles City, Montana.
To the House of Representatives:
I return herewith, without my approval, H.R. 3589, entitled "An Act to convey to the city of Miles City, State of Montana, certain lands in Custer County, Montana, for use as an industrial site."
The bill authorizes the conveyance of three tracts of land comprising 426.88 acres more or less, upon payment of a just and reasonable consideration to be determined by the Secretary of the Interior, and the granting to the city of Miles City of an easement for right-of-way purposes containing 14.67 acres. All rights to oil, coal, gas, and other minerals are reserved to the United States.
The land covered by the bill is an important part of the lands of the U.S. Range Livestock Experiment Station at Miles City. It is adjacent to station headquarters and its conveyance will interfere seriously with important beef cattle research under way there which is designed to assist livestock producers of this country. It is the only available land near station headquarters which can be used for assembling station cattle for such important operations as branding, weaning, and similar operations where it is necessary to assemble large numbers of experimental animals at headquarters. If this land were transferred, relocation of station headquarters may be required as industrialization progresses. Relocation costs are estimated to be $1,300,000.
The Federal government has cooperated with the city of Miles City on a number of occasions in the past in furthering the growth of the area. The last occasion was the transfer of 37.26 acres of land for industrial and recreational purposes in 1946. Up to the present time none of the land last transferred has been used for industrial purposes.
Inasmuch as the land now proposed for transfer is presently serving a very useful purpose to the livestock industry of this country, and the cost of relocating the station headquarters would apparently far exceed any return to the Treasury from the sale of land, its transfer cannot be justified. However, there is a tract of 133 acres of easily accessible land on the experiment station lying south of Miles City, which the Department of Agriculture is willing to make available to the city immediately and which could be transferred by legislation. Since the city of Miles City is desirous of obtaining lands for further development, I am requesting the Secretary of Agriculture to consider the needs of the city for industrial expansion and the release of lands which would not impose hardships upon the research program which the station exists to perform.
I believe that if representatives of the Department of Agriculture and of Miles City will sit down together and work on this problem, a solution satisfactory to both can be found.
HARRY S. TRUMAN
Harry S Truman, Veto of Bill To Convey Lands to the City of Miles City, Montana. Online by Gerhard Peters and John T. Woolley, The American Presidency Project https://www.presidency.ucsb.edu/node/230054