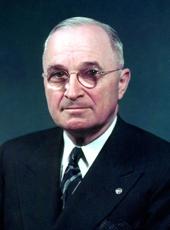 Veto of Bill Authorizing Coins Commemorating the 100th Anniversary of the Territory of Minnesota.
To the Senate:
I am returning herewith, without my approval, S. 1304 "To authorize the coinage of 50-cent pieces in commemoration of the one hundredth anniversary of the organization of Minnesota as a Territory of the United States".
The proposed legislation would authorize the coinage of not to exceed one hundred and fifty thousand silver 50-cent pieces in commemoration of the one hundredth anniversary of the organization of Minnesota as a Territory of the United States.
We are all proud of the fine achievements of the people of Minnesota. I believe that it is proper for the Nation to share in commemorating the milestones of Minnesota's development. But I am convinced that it is not a wise national policy to issue special coins for this purpose.
On July 31, 1947, I withheld my approval of H.R. 1180, a bill "To authorize the coinage of 50-cent pieces in commemoration of the one hundredth anniversary of the admission of Wisconsin into the Union as a State". In my memorandum of disapproval I pointed out that the fundamental difficulty of issuing special coins for commemorative occasions is that such coins would be full legal tender. It is clearly unwise to require a multiplicity of designs on United States coins, which would create confusion in our monetary system, facilitate counterfeiting, and encourage traffic in commemorative coins for private profit.
This point was well stated by President Hoover, in vetoing a similar bill in 1930. He said:
"There are a great many historical events which it is not only highly proper but desirable to commemorate in a suitable way, but the longer use of our coins for this purpose is unsuitable and unwise. This would seem to be clear from the very number of events to be commemorated, and past experience indicates how difficult it is to draw the line and how such a practice, once it is recognized, tends constantly to grow. If this bill is to become law, it is not apparent on what grounds similar measures, no matter how numerous, may be rejected. Yet their enactment in such numbers must bring further confusion to our monetary system."
The bill which I am now returning illustrates the difficulty of establishing any rule denominating the events of national importance which should be commemorated by the issuance of special coins. Thus, each of the forty-eight States has an anniversary of statehood to celebrate. Many of them have anniversaries of their formation as territories and some could appropriately commemorate their establishment as colonies. Furthermore, there are many historic cities and towns whose anniversaries are of national importance. The United States has participated in a number of celebrated wars and campaigns. Moreover, we have had our great explorers, our great pioneers, our great statesmen--our great heritage of notable men and women. If we were to commemorate them all with special coins we would be starting down an endless path.
The accuracy of this statement is indicated by the fact that bills are now before the Congress to issue special coins commemorating no less than seventeen other notable events in our history. I am sure that there are many other events equally worthy of national recognition.
In 1890, the Congress of the United States laid down a rule that the design on the coins of the United States should not be changed oftener than once in twenty-five years. The purpose of this rule was to prevent multiplicity of coinage issues and the consequent confusion of the public and the facilitating of counterfeiting. Every issuance of a special coin is in derogation of this wise rule, and I cannot approve such a practice.
There is a further difficulty. In almost every case in which a commemorative coin is issued, a part of the issue finds its way into the hands of dealers in coins, and the greatest profit is made by them rather than by the worthy organization which sponsors the issue. In this connection, I call to the attention of the Congress a fine report issued in 1939 (H. Rept. No. 101, 76th Congress) by the late Congressman John Cochran in which he graphically revealed the abuses which have resulted from multiple issues of commemorative coins.
It is for these reasons that President Hoover and president Franklin Roosevelt recommended that commemorative medals, rather than coins, should be issued for events of national importance. I believe this policy is sound, and in February 1947 I recommended that the Congress enact appropriate legislation. I am pleased to note that in January 1948 the Senate passed S. 865, which would carry out this recommendation. I hope that the Congress will complete its action on this legislation in the near future, and that the Congress will then approve a commemorative medal for the 1949 anniversary of Minnesota's organization as a Territory.
For the reasons stated above, I feel compelled to return S. 1304 without my approval.
HARRY S. TRUMAN
Harry S. Truman, Veto of Bill Authorizing Coins Commemorating the 100th Anniversary of the Territory of Minnesota. Online by Gerhard Peters and John T. Woolley, The American Presidency Project https://www.presidency.ucsb.edu/node/229350