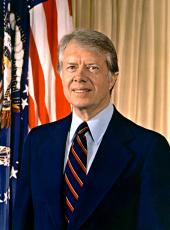 U.S. Special Representative for Non-Proliferation Matters Nomination of Gerard C. Smith.
The President today announced that he will nominate Gerard C. Smith, of Washington, D.C., to be United States Special Representative for Non-Proliferation Matters, to be Ambassador at Large while serving in that capacity, .and to be U.S. Representative to the International Atomic Energy Agency (IAEA).
As Special Representative for Non-Proliferation Matters, Smith will be responsible for coordinating preparation of executive branch studies, policies, and positions on the issues to be covered by this international effort and for carrying out negotiations and discussions here and abroad. The President has directed the heads of the U.S. departments and agencies concerned to give full support to this work.
Smith's responsibilities will also include coordinating and guiding, under the direction of the Secretary of State, overall U.S. efforts internationally to carry out non-proliferation policies, and he will be responsible for negotiations to that end. The President is nominating Smith as U.S. Representative to IAEA in view of the important role which that agency plays in non-proliferation matters.
In announcing Smith's nomination, the President stressed that international measures aimed at stopping the spread of nuclear explosives capabilities are of paramount importance to the security of this Nation and the world.
Smith was born May 14, 1914. He received a B.A. from Yale University in 1935 and LL.B from Yale Law School in 1938. He served in the U.S. Army from 1941 to 1946.
After practicing law in New York City from 1946 to 1950, Smith joined the Atomic Energy Commission as a Special Assistant. From 1954 to 1957, he was Special Assistant to the Secretary of State for Atomic Affairs. He served as Director of the State Department's Policy Planning Staff from 1957 to 1961.
From 1969 to 1972, Smith was Director of the Arms Control and Disarmament Agency and chief of the U.S. delegation to SALT. Smith has been a member of the Washington law firm of Wilmer, Cutler and Pickering since 1972.
Jimmy Carter, U.S. Special Representative for Non-Proliferation Matters Nomination of Gerard C. Smith. Online by Gerhard Peters and John T. Woolley, The American Presidency Project https://www.presidency.ucsb.edu/node/244095