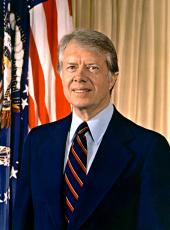 Urban Mass Transportation Administration Nomination of Richard S. Page To Be Administrator.
The President today announced that he will nominate Richard S. Page, of Seattle, Wash., to be Administrator of the Urban Mass Transportation Administration. Page is executive director of the Municipality of Metropolitan Seattle (METRO).
Page was born August 3, 1937, in Fayette, Mo. He received an A.B. from Oberlin College in 1959, an M.P.A. from Princeton University's Woodrow Wilson School of Public and International Affairs in 1961, and an M.A. (1962) and Ph.D. (1967) in politics from Princeton University.
From 1962 to 1964, Page was a research assistant to the U.S. Senate Committee on National Security Staffing and Operations. He was legislative assistant to Senator Henry M. Jackson from 1964 to 1966.
From 1966 to 1968, Page was program director for Forward Thrust, Inc., the Seattle-King County civic development program. He was assistant professor and assistant dean of the Graduate School of Public Affairs at the University of Washington in 1968-69.
Page was special assistant for Federal-State programs and deputy mayor of Seattle in 1970 and 1971. In 1971 and 1972, he served as special assistant to Senator Jackson for urban and environmental affairs. From 1972 to 1974, he was director of the department of public services, Municipality of Seattle, and since 1974 he has been director of METRO, which provides public mass transit service and water pollution control and planning for the Seattle metropolitan area.
Page is a member of the board of the American Public Transit Association and chairman of the policy planning subcommittee.
Jimmy Carter, Urban Mass Transportation Administration Nomination of Richard S. Page To Be Administrator. Online by Gerhard Peters and John T. Woolley, The American Presidency Project https://www.presidency.ucsb.edu/node/243694