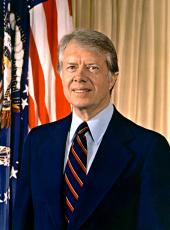 United States Representative to the United Nations Remarks at the Swearing In of Donald F. McHenry.
THE PRESIDENT. One of the great challenges and opportunities of a President is to analyze the problems which confront our Nation and to try to choose the best possible partners to work with him in the resolution of those problems and in the meeting of those challenges.
The problems, of course, and the responsibilities are broad-ranging: how to make our cities better places in which to live, how to give economic justice and support and a new opportunity in life for the poor and those who have felt the burden of discrimination, how to provide for the health needs of our country, how to provide a sense of unity in a. nation which struggles against the divisive elements of a modern-day world, how to have a strong defense, which is a prerequisite on a super power like ours, to maintain peace for ourselves and for our allies and friends and all nations.
I've chosen allies like that—Eleanor Holmes Norton and Pat Harris and Clifford Alexander and others, who've worked closely with me with a special sensitivity about the problems of those that have, in the past, been deprived. We've made some progress. We all still have a long way to go.
There's another commitment, and that is one to maintain the standards of a basic morality, to honor the ethics and the principles on which this Nation was founded, not only among the Americans who are blessed to live in this great country but as an example to other people as well—the principles of human worth, freedom; the preservation and the enhancement of basic human rights; the spread of democracy in societies which have known the heel of totalitarian governments; the welcoming of refugees who, like our own ancestors, have found a better life in America; this bridging of gaps between our own Nation and other people, which have been long existent and where, in the past, very few attempts have been made to build those bridges.
In our Ambassador to the United Nations, we find that opportunity for me to form a partnership. And more than 2 1/2 years ago, I formed a good partnership with a great American, who has served his country well and who will continue to serve it well in whatever role he chooses to play—my friend and the friend of the world, Andy Young. And I thank you, Andy.
I might say in passing that any claims or allegations that American Jewish leaders or anyone else urged me to ask Andy for his resignation are absolutely and totally false, and neither did anyone urge Andy to resign. He made his judgment on what was best for our country and him. And his role in the future, in my judgment, to help his Nation will be undiminished.
When Andy and I had a private discussion about his future, one of the questions that came up was about a successor. I wanted someone to carry on, in an undiminished way, the thrust of what has been achieved in the last 2 1/2 years. There was an instant realization that such a successor was at hand—a man who is a foreign policy professional in the finest sense of the word; a man who has been at the United Nations, working in a very top position in the most sensitive areas of international life; a man whose moral character is unstained, who's proven his ability in times of strain and with the focus of public attention on him, as was the case recently in a New York airport; a man who will take this position, I believe, with the highest degree of personal knowledge of the inner workings and the hidden mechanisms and the ultimate purposes and the challenges and the solutions of the United Nations than anyone who's ever served there.
And with the choice of Don McHenry, which has been almost unanimously, so far as I know, unanimously approved, four messages will go out in a very clear tone. One is that we are continuing to bridge the gap between the developed nations of the world, like our own, and the developing nations of the world, who search for friendship, understanding, and a better life for their people; secondly, to let the world know that we staunchly are committed as a nation and as a government to ending racism and apartheid in southern Africa and we will never yield on this point; third, that our commitment to human rights and basic human freedoms is an accurate commitment that expresses the will of 220 million Americans and that this will never cease so long as our country exists; and that we are a nation committed to peace, a strong nation committed to peace.
In the Middle East, we've made good progress. The sensitivities there are perhaps as complex as any which have ever confronted negotiators or diplomats. The progress that has been made in the last 13 or 14 months is far beyond anything that we had dreamed. We still have a long way to go. But we have a man in the United Nations who understands those sensitivities, and our Ambassador there will be able to contribute greatly to what I am able to accomplish—Secretary Vance, Ambassador Bob Strauss, and others—in bringing peace to that troubled region. I am indeed grateful that Don McHenry has accepted this position.
And now I would like to ask Andy Young to say just a brief word and to introduce, at the close of his words, Judge Parker, who will administer the oath of office to Don McHenry. And then, if Don has no objections, I would like for him to respond to you.

Andy Young.
AMBASSADOR YOUNG. Thank you very much, Mr. President, Mr. Vice President, Mr. Secretary.
It really gives me great pleasure to be here to see, in some sense, the passing on of a baton. In a very real sense, I think, I ran my part of the race, and while I wasn't getting tired, my time was probably over. [Laughter] And I really and truly have no regrets. In fact, I'm quite proud to be able to pass on the baton of responsibility at the United Nations to Don McHenry.
Let me hasten to say that I didn't recommend Don for this job, not because I have any reservations about his competence or the fact that, as the President says, he does bring more knowledge of the United Nations and of our foreign policy to this job than perhaps any other person we've ever had in the position, but because I happen to know how rough the next General Assembly is ,going to be. And I really didn't feel free to wish that on a friend of mine. [Laughter]
But one thing about being Ambassador to the United Nations—and maybe this is also true for the first time in our Nation's history—never has the United Nations had the kind of commitment from the President of the United States and from the Secretary of State and the entire State Department that it has in this administration. And there has been a commitment to doing many of the things that are in the national interest of this great Nation through the multilateral diplomatic forum of the United Nations.
And there has been a tremendous amount of teamwork that has existed between the staff at the United Nations and the Assistant Secretaries. In fact, even in passing on to Bob Strauss, the former Deputy Permanent Representative of the United Nations, Cy Vance suggested that there was a sense of continuity and interrelationship between the United Nations and the rest of the decisionmaking apparatus of our foreign policy. And so, Don will move in as a very important part of what I feel to be a very great team.
And it's my pleasure at this time to ask Judge Parker if he will administer the oath of office to my good friend, Don McHenry.

[At this point, United States District Judge Barrington Parker administered the oath of office.]
AMBASSADOR McHENRY. Mr. President, Mr. Vice President, Judge Parker, friends:
I am very proud of this moment. I feel in one sense as if I am continuing a journey for which I have prepared for a long time, and at the same time I am very conscious of that warning which Andy gave and of which I am well aware. We probably face the most difficult General Assembly that we've ever faced in the last 10 years or so.
I should say that I approach this opportunity and this responsibility with every intention of doing the best I can, with a very competent and dedicated staff and supported and working with the other members of the foreign policy team here in Washington.
I do not expect that in our time, the immediate time, that we will be able to magically come up with solutions to all of the problems which face us. Indeed, we will be lucky if we can come up with the solution to a very few. But I believe in the importance of diplomacy. I believe in the importance of trying very hard, with imagination and hard work, to resolve problems, to bring people to devote their best efforts to the resolution of those problems.
The United Nations today is not the United Nations of 34 sessions ago, yet I believe it is a reflection of the world in which we live. And anyone who wishes to accomplish anything in that forum or, indeed, if we wish to resolve many of the foreign policy problems which face us, we have to live and deal with the United Nations of today and the world of today, and not the ideal which we may have set many years ago.
Yet, the ideal is important. And I look upon the Charter of the United Nations very much as I have always looked upon the Constitution of the United States: It is something that we work toward. And as long as, it seems to me, that there is a commitment toward the goal of those principles set down in the Charter or those principles set down in the Constitution, I am prepared to devote my best efforts to achieving those goals—frustrated sometimes, to be sure; angry sometimes, more than the press realizes, to be sure— [laughter] —but nevertheless trying as best I can to move ahead and always recognizing that no accomplishment in our lives is that of a single individual.
Many of you here have worked very long and very hard with me over the 19 or so years that I have been in Washington and working in foreign affairs. On some occasions, I cannot say that I enjoyed some of the things that I have done, but I hope that I have learned the full measure of the responsibilities which I will need in the days ahead.
I am heartened by an observation which, I think, Ambassador Young has made, but which I would like to make also. In the many years that I have observed American foreign policy, I know of no instance where we have gotten such strong support in the United Nations, in our efforts to live in the world as it is today, than we have gotten from the President of the United States and the Secretary of State.
It has been with that support that we have been able, in the last 2 1/2 years, to turn our image in the United Nations from one in which everyone knew what we were against, but very few people knew what we were for. We are no longer the abominable "no man." [Laughter] We stand for and work for positive goals in the United Nations.
And I hope that the partnership which was formed 2 1/2 years ago and which consisted, in many instances, of Andy Young on the outside and Don McHenry on the inside—I hope that that partnership will continue outside in a new place. But nevertheless, I look forward to the support which Ambassador Young and all of you can give us in this responsibility which we are about to undertake.
And so, may I conclude by thanking you, Mr. President, for the confidence which you have shown in me, and thanking you, the American people, for the confidence which you have shown, and reminding you that I can't do it alone.

Thank you.
Note: The President spoke at 2: 08 p.m. in the East Room at the White House.
Jimmy Carter, United States Representative to the United Nations Remarks at the Swearing In of Donald F. McHenry. Online by Gerhard Peters and John T. Woolley, The American Presidency Project https://www.presidency.ucsb.edu/node/248307