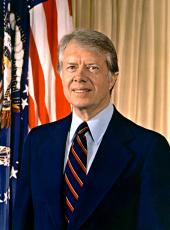 United States Citizens Living Abroad Letter to the Speaker of the House and the Chairman of the Senate Foreign Relations Committee.
Dear Mr. Speaker: (Dear Mr. Chairman: )
Section 611 of Public Law 95-429, as amended by Section 406 of Public Law 96-60, required that I transmit a report to you on Federal statutes and regulations which "treat United States citizens living abroad differently from United States citizens residing within the United States or which may cause, directly or indirectly, competitive disadvantages for Americans working abroad relative to the treatment by other major trading nations of the world of their nationals who are working outside their territory".
On August 27, 1979, I transmitted to you such a report, addressing many of the legal provisions that affect U.S. citizens residing abroad and comparing those provisions with the treatment accorded U.S. citizens residing in the United States. Modest but useful recommendations were made, and this Administration has taken steps to follow up on them, as noted at the end of the report enclosed with this message.
The additional report I am now transmitting concentrates on the taxation of Americans living abroad. It is clear to me that the phrase "competitive disadvantage" refers primarily to Federal taxation. Therefore, as I noted in my message of August 27, 1979, I asked the Secretary of the Treasury to prepare a report on this complicated subject, which, as you know, has involved the Congress and this Administration in long deliberations in recent years.
The various studies undertaken on the taxation of Americans living abroad do not yet provide clear evidence of competitive disadvantage and its impact on American economic interests. In addition, the Foreign Earned Income Act of 1978 has been in place for only one year. Consequently, the Treasury Department has not yet had a chance to submit to Congress, as required by that Act, a report on the operation of the new provisions for tax year 1979 and on the economic and revenue effects of the new law. Until some assessment is made for at least the first year's operations, I believe it prudent not to recommend changes in the law.
I believe, however, that this report will be helpful to the Congress and to the Administration in understanding the complicated and controversial area of tax policy and law. I fully intend to explore these important matters and to work with the Congress in developing any needed improvements.

Sincerely,
JIMMY CARTER
Note: This is the text of identical letters addressed to Thomas P. O'Neill, Jr., Speaker of the House of Representatives, and Frank Church, chairman of the Senate Foreign Relations Committee.
The 25-page report is entitled "Equitable Tax Treatment of United States Citizens Living Abroad."
Jimmy Carter, United States Citizens Living Abroad Letter to the Speaker of the House and the Chairman of the Senate Foreign Relations Committee. Online by Gerhard Peters and John T. Woolley, The American Presidency Project https://www.presidency.ucsb.edu/node/249541