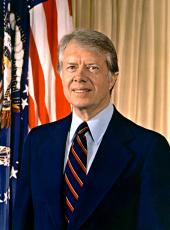 United States Arms Control and Disarmament Agency Remarks at the Swearing In of Paul C. Warnke as Director.
So far, I've had an opportunity to preside at some very important ceremonial installations of major officials--Cabinet officers and others.
I doubt, though, that there is a more significant appointment that can be made than the one that we are consummating this afternoon with the swearing in of Paul Warnke as the Director of the Arms Control and Disarmament Agency.
During very few times in the history of human beings has there been an opportunity for progress toward peace that affected every single person on Earth or which had the good will and good wishes of so many people in every nation on Earth, as we witness this afternoon.
For 30 years now, we've had with us the destructive power of atomic weapons, and we've almost become complacent about the terrible nature of the threat that exists.
I was very concerned about this threat and also hopeful about the opportunity to lessen the threat. And I thought and I prayed a lot about who ought to be chosen for this position. There was no doubt in my mind that Paul Warnke is the best man in this country to represent our Nation in dealing with the Soviet Union and, later, with all nuclear powers in reduction of nuclear threat to us.
I asked him to take the job a couple of times before he finally agreed. And I can say that he's been well trained for tough negotiations by some of the distinguished Senators behind me and their fellow Senators.
I appreciate what they've done in the Senate. He was confirmed for this position with, I think, 78 votes, just a few against him, and for the even tougher and more controversial job of negotiator for us, by a lesser vote, but still with a strong demonstration of confidence in him.
I think it's accurate to say that the 40 Senators who voted against Paul Warnke for negotiator share with me and with him, with Cy Vance, with Vice President Mondale, and with all the other Americans, hope that this year and later years might be productive in negotiating with the Soviet Union and others a new perspective of how we might alleviate the threat against us from atomic weapons.
I want to express my personal thanks to those Senators behind me who helped so much, and my mutual partnership with other Members of the Senate who did oppose this particular appointment, but who combined their efforts with mine in the future and with those of Paul Warnke to reach a successful negotiation with the Soviet Union.
This is a year when I believe the chances are fairly good for progress. We've been encouraged at some early signs, but it's going to take a man with a genuine desire for reduction of weapons-which is what Paul Warnke wants--with superb intellect, a knowledge of the history of the escalation in weaponry, a clear concept of what the American people want and will accept, and the ability to represent our own Nation's security at all times when he probes for better circumstances for world peace.
This is a hard thing, or a group of criteria, to put together in one person, but I believe it does exist in the heart and mind of Paul Warnke. I'm very grateful that he's been willing to accept this job. It's been difficult for him already. The tough cross-examination and the unwarranted criticisms, I think, have been weathered by him in good spirits.
And I want to pledge to him this afternoon that I personally, as President, and our Secretary of State, other officials in our executive branch of Government, I think the unanimous Members of the Congress, and the American people all wish him well.
Paul, I want to thank you again for being willing to serve.
And now Judge Gesell will administer the oath of office.
[At this point, Judge Gerhard A. Gesell, of the United States District Court for the District of Columbia, administered the oath of office. Mr. Warnke spoke briefly, and the President then concluded his remarks as follows:]
I would like to say before we adjourn that Secretary Vance will be leaving in a few days for the Soviet Union, and Paul Warnke will accompany him there.
This week the National Security Council, which has been working on the question of SALT negotiations for a number of weeks with me, will evolve a fairly final position that Secretary Vance and Director Warnke will take with them. I believe the Soviet Union leaders attach a great deal of significance to this trip, and I think we have our own Nation's position in good hands.
I want to thank the Members of Congress who came to share in, with us, this ceremony. And I think, Paul, this indicates the strong support that you have, no matter what the votes were in the past. We're all behind you.

Thank you again.
Note: The President spoke at 1:35 p.m. in the Rose Garden at the White House.
Jimmy Carter, United States Arms Control and Disarmament Agency Remarks at the Swearing In of Paul C. Warnke as Director. Online by Gerhard Peters and John T. Woolley, The American Presidency Project https://www.presidency.ucsb.edu/node/243060