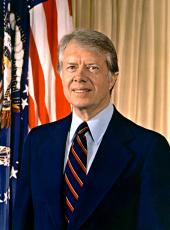 United States Ambassador to the Union of Soviet Socialist Republics - Nomination of Malcolm Toon
The President today announced that he will nominate Malcolm Toon, of Bethesda, Md., to be Ambassador Extraordinary and Plenipotentiary of the United States to the Union of Soviet Socialist Republics. He is presently serving as Ambassador under appointment made during the last recess of the Senate.
Toon was born on July 4, 1916, in Troy, N.Y. He received an A.B. from Tufts University in 1937 and an M.A. in 1938 from the Fletcher School of Law and Diplomacy. He served in the U.S. Navy from 1942 to 1946.
From 1939 to 1942, Toon was a research technician for the National Resources Planning Board. He served as administrative officer in Warsaw from 1946 to 1949 and as political officer in Budapest from 1949 to 1950.
From 1951 to 1952, Toon was consular and political officer in Moscow. He was political officer in Rome from 1952 to 1953, and political officer, then chief of consular affairs in Berlin from 1953 to 1956.
From 1956 to 1958, Toon served as deputy director of the East-West contacts staff. From 1958 to 1960, he was special assistant for Eastern European affairs, and an adviser to the U.S. Test Ban Treaty Delegation in Geneva in 1958, the U.S. Berlin Four Power Conference in Geneva in 1959, and the U.S. Disarmament Delegation in Geneva in 1960.
Toon served as political officer for Eastern European affairs in London from 1960 to 1963, and as political counselor in Moscow from 1963 to 1965. From 1965 to 1968, he was Director of Soviet Affairs at the State Department.
In 1968 and 1969, Toon was Acting Deputy Assistant Secretary of State for European Affairs. From 1969 to 1971, he was Ambassador to the Czechoslovak Socialist Republic, and from 1971 to 1975 he was Ambassador to Yugoslavia.
Toon served as Ambassador to Israel from 1975 until 1976, when he received the recess appointment as Ambassador to the Union of Soviet Socialist Republics.
Jimmy Carter, United States Ambassador to the Union of Soviet Socialist Republics - Nomination of Malcolm Toon Online by Gerhard Peters and John T. Woolley, The American Presidency Project https://www.presidency.ucsb.edu/node/243628